HOMELAND and SLEEP NO MORE's William Popp Brings CALLOWAY'S SALON to Joe's Pub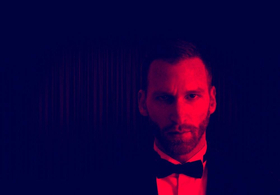 Calloway is an absurd floozie who loves to sing and tell stories. Calloway's Salon is an evening of debauchery, and storytelling backed by a brilliant jazz trio, Join Calloway as he finally divulges his deepest secrets; where he comes from and why is he the way, well...the way he is. Come and experience Calloway Salons for yourself!
William Popp (Calloway, Co Writer) is a truly multi-faceted artist, who created the original jazz cabaret "Calloway's Salon" . He can currently be seen recurring on the final season of Showtime's "Homeland," HULU's "The Path," ABC's "Time After Time," Starz "Power," as well as "The Americans," and "The Blacklist." WILLIAM was most recently seen on Broadway in "Waitress," and has performed with the New York City Opera at Lincoln Center. He has played many different roles in the Off-Broadway sensation "Sleep No More."
Taylor Myers (Co-Writer, Performer) is Artistic Director of ROLL THE BONES, a New York-based theatre immersive theater company founded in 2013. Recent productions include: HAMLET IN THE GOLDEN VALE (a feature film shot in Grantstown Castle in Co. Tipperary, Ireland and winner of Best Feature at this year's Manhattan Film Festival) and KING OF INFINITE SPACE (a VR experience made with production support from The National Theatre, London). As a performer, he has appeared in Punchdrunk's SLEEP NO MORE, as well as Third Rail Projects' THE GRAND PARADISE and THEN SHE FELL.
Kate Douglas (Director) is a NYC-based writer and director with an emphasis on subversive storytelling and multidisciplinary experiences. She is the recipient of a Lower Manhattan Cultural Council grant in support of her immersive work Extinct, which will debut this year. Her piece Middlemist Red is currently in development as part of New Victory LabWorks 2017-2018 season and she will be in residence with the project at SPACE on Ryder Farm this fall. Additional projects in development include co-writes with Todd Almond and Shayfer James. She currently serves as Associate Artist and performer at Sleep No More Off-Broadway.
Additional Performers:
The show will be presented at Joe's Pub at The Public Theater. The venue is located in The Public Theater, 425 Lafayette Street (between East 4th and Astor Place) NYC. . For tickets - which cost $25 - call (212) 967-7555 from 10:00 AM to 7:00 PM or visit joespub.com, or visit in person at The Public Theater Box Office at 425 Lafayette Street from 2:00 PM daily. There is a $12 food / two (2) drink minimum per person per show, unless otherwise noted.
Named for Public Theater founder Joe Papp, Joe's Pub at The Public opened in 1998 and plays a vital role in The Public's mission of supporting young artists while providing established artists with an intimate space to perform and develop new work. Joe's Pub consistently presents the best in live music and performance nightly, continuing its commitment to diversity, production values, community and artistic freedom. The organization also offers unique opportunities like New York Voices, an artist commissioning program that provides musicians the resources and tools needed to develop original theater works. Commissioned artists have included Ethan Lipton, Toshi Reagon, Bridget Everett, Allen Toussaint and more. In 2011, the Pub received a top-to-bottom renovation, leading to improved sightlines, expanded seating capacity and a new menu from acclaimed Chef Andrew Carmellini. With its intimate atmosphere and superior acoustics, Joe's Pub presents talent from all over the world as part of The Public's programming downtown at its Astor Place home, hosting approximately 800 shows and serving over 100,000 audience members annually.
Photo Credit: Zach McNally
More Hot Stories For You