Ethan Slater, Drew Gehling & More Perform The Music & Lyrics Of Drew Gasparini At 54 Below Tomorrow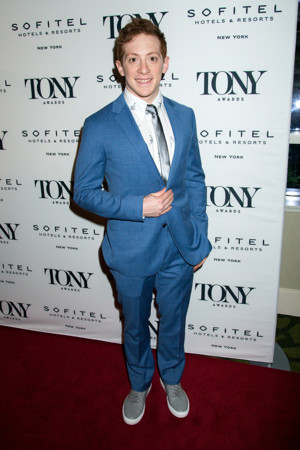 FEINSTEIN'S/54 BELOW, Broadway's Supper Club, will present RAISE A GLASS: THE MUSIC & LYRICS OF Drew Gasparini on Thursday, October 4th at 9:30pm to a SOLD OUT audience. The cast features 2018 Tony nominee Ethan Slater (SpongeBob SquarePants), Kathryn Gallagher (Jagged Little Pill), Drew Gehling (Waitress, Dave), Gizel Jiménez (Avenue Q, Miss You Like Hell), Ben Fankhauser (Newsies), and Andrew Kober (Twelfth Night), among others.
Composer Drew Gasparini returns for his annual back-to-school special at Feinstein's/54 Below! This show will be "part two" in a series of new, autobiographical songs he's been writing for a new, upcoming album. As ever, it will be an evening that simultaneously pulls at your heartstrings, poses existential questions, and makes you want to raise a glass in celebration of life. Brand new songs. Huge Broadway stars. Same kick-ass party, but with a personal twist (take two).
Drew's music will be performed by Slater, Gallagher, Gehling, Jiménez, Fankhauser, Kober, Colton Ryan (Dear Evan Hansen), Tiffany Mann (Be More Chill), Keith White (A Bronx Tale), Julia Mattison (Godspell), Rozi Baker (Bonnie & Clyde), Josh Walker (Rent Tour), Kasie Gasparini (Mamma Mia!), Chloe Gasparini (Saint Adeline), Morgan Mabry, Michael Coale Grey, and Alexis Myles, accompanied by Justin Goldner, Beth Callen, and Tom Jorgensen. The evening is produced by Erica Rotstein and Julia Dunetz.
?
RAISE A GLASS: THE MUSIC & LYRICS OF Drew Gasparini will play Feinstein's/54 Below (254 West 54th Street) tomorrow, October 4, 2018 at 9:30pm. Tickets and waitlist information available at?www.54Below.com or by calling?(646) 476-3551.
MORE ABOUT Drew Gasparini
Drew?Gasparini?is committed to forging a new sound in the intersection between theatre and pop, and to nurturing the next generation of artists.? Named one of?Playbill.com's?"Contemporary Musical Theatre Songwriters You Should Know," Drew is currently developing a number of new stage musicals including an adaptation of the film?Night Shift for Warner Bros. Theatre Ventures, an adaptation of the film?It's Kind of a Funny Story?for?Universal Theatrical Group, an adaptation of the Newberry Award-winning children's book?The Whipping Boy (the latter two titles with bookwriter Alex Brightman), and The Drum Bridge (with Brandon Ellis). He also wrote music for Everything in its Place: The Life and Slimes of Marc Summers, a one-man-show by Brightman that premiered at Bloomington Playwrights Project in April 2016. Drew was a contributing composer for Hit List on the NBC television series "SMASH," and his unique brand of musical theatre concerts have been performed to sold-out houses at esteemed venues from NY to London, ranging in size from Feinstein's/54 Below to The Kennedy Center. Drew can often be found sharing the stage with his talented sisters, Kasie and Chloe, performing their signature brand of folk pop as Saint Adeline; with his teacher Louis Sacco performing re-interpretations of jazz standards as "Louis & Drew"; or with his three best friends-Broadway's Alex Brightman, F. Michael Haynie, and Andrew Kober-performing obscene comedy as The (M)orons. An educator at heart, Drew has taught master classes for students around the world. He is signed with Razor & Tie Music Publishing, his sheet music is available for purchase at www.NewMusicalTheatre.com, and his albums are available on iTunes. For more about Drew's work as a composer, performer, and educator, visit www.thedrewgasparini.com.
?
MORE ABOUT FEINSTEIN'S/54 BELOW
Feinstein's/54 Below, Broadway's Supper Club & Private Event Destination, is a performance venue in the grand tradition of New York City nightlife. A few blocks from the heart of Times Square and just below the legendary Studio 54, Feinstein's/54 Below is a classically designed state-of-the art nightclub in the theatre district that hosts audiences with warmth and style. Feinstein's/54 Below presents iconic and rising stars from the worlds of Broadway and popular music and has set a new standard for culinary excellence worthy of the world-class entertainment on the stage.
In their description of the venue, The New York Times writes, "Feinstein's/54 Below has the intimacy of a large living room with unimpeded views and impeccable sound; there is not a bad seat in the house. Its sultry after-hours ambience is enhanced by brocade-patterned wall panels planted with orange-shaded lanterns. And the atmosphere is warmer and sexier than in Manhattan's other major supper clubs."
Located at 254 West 54th Street, Feinstein's/54 Below features up to three shows nightly with cover charges ranging from $5-$105. www.54Below.com/Feinsteins
Photo Credit: Jennifer Broski