Birdland Presents The Saxophone Summit And More Week Of February 18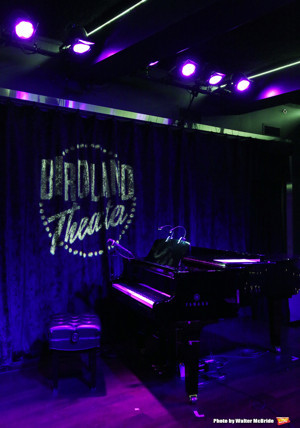 Birdland will kick-off their great week of programming with the following acts:
February 18 (Monday) at 7:00PM
The Broadway at Birdland concert series is proud to announce that "The Crown Prince of New York Cabaret," Steve Ross will return to the stage in "How Do You Like Your Love: A Post-Valentine Cabaret." In his new show, Steve will take the audience on a sentimental journey from rue ("Blame It On My Youth," "I'm Through With Love") and reflection ("Once Upon a Time," "Sorry, Grateful") through romance ("When I Fall In Love," "The Nearness of You") and hopefulness ("Taking a Chance On Love," "My Shining Hour"). Composers heard from will be Cole Porter, Charles Aznavour, Victor Young, Vernon Duke, Strauss & Adams and most particularly, that master of Romantic Realism, Stephen Sondheim.
All tickets $35-40, $10 food/drink minimum
February 18 (Monday) at 8:30PM
Judi Silvano at the Birdland Theater
Singer/composer/artist Judi Silvano, who brings her formidable talents as a singer and songwriter to Birdland, is a well-known presence in the New York Jazz scene. In her stint at Birdland she will be presenting material from her recently released CD of all original songs, "Lessons Learned." This project with her 2-guitar Zephyr Band brings her personal stories of life and love to the fore in unique original songs about a life fully lived.
All tickets $20-30, $10 food/drink minimum
February 18 (Monday) at 9:30PM
Jim Caruso's Cast Party
Jim Caruso's Cast Party is a wildly popular weekly soiree that brings a sprinkling of Broadway glitz and urbane wit to the legendary Birdland in New York City every Monday night. It's a cool cabaret night-out enlivened by a hilariously impromptu variety show. Showbiz superstars, backed by Steve Doyle on bass, Billy Stritch on piano and Daniel Glass on drums, hit the stage alongside up-and-comers, serving up jaw-dropping music and general razzle-dazzle.
All tickets $30, $10 food/drink minimum
February 19 (Tuesday-Saturday) at 7:00PM
Merman and Martin: An American Pops Orchestra Tribute at the Birdland Theater
Maestro Luke Frazier and members of the critically acclaimed American Pops Orchestra will be joined by featured APO performers from the group's first four seasons in a tribute to two titans of the broadway stage, Ethel Merman and Mary Martin. Cast members include Liz Callaway, Rayshun Lamar ("The Voice"), Ali Ewoldt (Phantom of the Opera), Kate Davis (Acclaimed Bass Player and Vocalist), Paige Faure (Miss Saigon), Mary Michael Patterson (Phantom of the Opera), Vishal Vaidya (Groundhog Day) and more!
All tickets $30, $10 food/drink minimum
February 19-23 (Tuesday-Saturday) at 8:30PM and 11:00PM
Saxophone Summit
Saxophone Summit features Jay Lovano, Dave Liebman and Greg Osby (saxes), Phil Markowitz (piano), Cecil McBee (bass) and Billy Hart (drums).
All tickets $30-40, $10 food/drink minimum
February 19 (Tuesday) at 9:45PM
Ladybugs at the Birdland Theater
The Ladybugs' music features the dreamy, dulcet tones of voices and trombones. Lead by Martina DaSilva, their unique instrumentation of two lead singers (both doubling in percussion & ukulele), two trombone players, guitar, and bass allows for a lush sound that uplifts and attracts all audiences. The Ladybugs' repertoire includes favorites from the 1920s, '30s, and '40s, infused with country, blues, latin, and classical music. The band has received high praise for recent performances at the Kennedy Center, Jazz At Lincoln Center, the NY Hot Jazz Festival, the NYC Winter Jazzfest, and the Catskill Jazz Factory. With an uplifting sound that attracts all audiences, The Ladybugs effortlessly keep listeners smiling and moving.
All tickets $20-30, $10 food/drink minimum
February 20 (Wednesday) at 5:30PM
David Ostwald's Louis Armstrong Eternity Band
Inspired by the noble jazz pioneers Louis Armstrong, Bix Beiderbecke, Duke Ellington, Jelly Roll Morton and their colleagues, David Ostwald's Louis Armstrong Eternity Band breathes life and passion into America's own great art form. Now in its 14th year of residency at Birdland, the weekly post-workday engagement is the city's best musical bargain! Tuba player David Ostwald leads a rotating lineup that features talents such as clarinetist Anat Cohen, trombonist/vocalist Wycliffe Gordon, pianist Ehud Asherie, drummer Marion Felder and more!
All tickets $30, $10 food/drink minimum
February 20-23 (Wednesday-Saturday) at 7:00PM
Jessica Molaskey with The John Pizzarelli Trio at the Birdland Theater
Jessica Molaskey is a veteran of a dozen Broadway shows including the revival of Stephen Sondheim and James Lapine's Sunday in the Park with George, which was nominated for nine Tony Awards. She has appeared in A Man of No Importance at Lincoln Center, Parade (directed by Hal Prince), Dream, Tommy, Crazy for You, Les Misérables, City of Angels, Chess, Cats and Oklahoma! She most recently played the role of Marie in The Encores critically acclaimed production of The Most Happy Fella at City Center. Off Broadway: Songs For A New World, Dream True, Wise Guys (Stephen Sondheim, Sam Mendes) Weird Romance (All Original Cast Recordings).
All tickets $30-40, $10 food/drink minimum
February 20-21 (Wednesday-Thursday) at 9:45PM
Augie Haas at the Birdland Theater
Augie Haas currently lives in New York City where he is a professional trumpeter, composer, and teacher. As one of the most in-demand trumpet players in New York, Augie has worked with artists including Harry Connick, Jr., The Maria Schneider Orchestra, The Vanguard Jazz Orchestra, The Gil Evans Project, Birdland Big Band, various Broadway shows, and The Radio City Orchestra. Augie is currently a regular member of the orchestra for Aladdin on Broadway.
All tickets $30, $10 food/drink minimum
February 21 (Thursday) at 5:30PM
Matt Hall Sextet
The Matt Hall Sextet makes its debut performance featuring Matt Hall (trombone/arranger), Charlie Arbelaez (alto saxophone), Jon Faddis (trumpet), David Hazeltine (piano), Dr. Todd Coolman (bass) and Kenny Washington (drums).
All tickets $30, $10 food/drink minimum
February 22 (Friday) at 5:30PM
The Birdland Big Band
Founded by drummer and musical director Tommy Igoe, the Birdland Big Band features the finest musicians in New York! Celebrating 10 years at the club, the BBB roars into action every Friday, playing the finest Jazz, Latin and Brazilian music from the world's best arrangers. After work or before a show, drinks or a great dinner, come hear one of the world's best drummers driving the hardest swinging band in New York. Experience why the BBB is the must-see weekly jazz event in New York and kick off your weekend with what critics are calling "the best live music bargain in all of NYC!"
All tickets $30, $10 food/drink minimum
February 22-23 (Friday-Saturday) at 9:45PM
Tony Lustig Quintet at the Birdland Theater
Tony Lustig is a dynamic saxophonist hailing from Fraser, Michigan. He in an alum of the illustrious Juilliard School and has been a member of the Birdland Big Band since 2013. He spent his childhood years in Detroit where he had the opportunity to play with and learn from several Detroit jazz greats such as Marcus Belgrave and Rodney Whitaker.
All tickets $30, $10 food/drink minimum
February 23 (Saturday) at 5:30PM
Combining the skills of an old school entertainer and virtuoso jazz man, bassist, vocalist and composer Jay Leonhart has been a fixture of the New York scene for over forty years. When Jay was fourteen he started playing the bass in The Pier Five Dixieland Jazz Band in Baltimore and never looked back. He will be joined by Kenny Ascher (piano) and Vito Lesczak (drums).
All tickets $30, $10 food/drink minimum
February 24 (Sunday) at 6:00PM
Emilio Solla Tango Jazz Orchestra
Emilio Solla has written music for and recorded/performed with Paquito D'Rivera, Arturo O'Farrill, Edmar Castañeda, and many others tango and latin jazz greats. On keys and as conductor, Sollo will be joined by Alejandro Aviles, Todd Bashore, Tim Armacost, John Ellis and Terry Goss (reeds), Alex Norris, Jim Seeley, Johnatan Powel and David Neves (trumpets), Noah Bless, Sam Blakeslee, Eric Miller and James Rodgers (bones), Julien Labro (bandoneon), Pablo Aslan (bass) and Ferenc Nemeth (drums).
All tickets $30, $10 food/drink minimum
February 24 (Sunday) at 7:30PM
The Ktet at the Birdland Theater
Kira Goidel is a well-seasoned vocalist and arranger with a natural presence on stage. Kira leads her group the Ktet with a confident air and captivates her listeners with catchy arrangements and improvisation. She writes fresh, contemporary jazz arrangements of Broadway classics. She will be joined by Jack Redsecker (piano), Mikey Migliore (bass), Jason Wastor (drums), Cameron Carrella (trumpet) and Alex Slomka (trombone).
All tickets $20-30, $10 food/drink minimum
February 24 (Sunday) at 9:00PM and 11:00PM
The Afro Latin Jazz Orchestra
Grammy Award winning pianist, composer and educator Arturo O'Farrill -- leader of the "first family of Afro-Cuban Jazz" (NY Times) -- was born in Mexico and grew up in New York City. Son of the late, great composer Chico O'Farrill, Arturo was Educated at Manhattan School of Music, Brooklyn College Conservatory and the Aaron Copland School of Music at Queens College. He played piano in Carla Bley's Big Band from 1979 through 1983 and earned a reputation as a soloist in groups led by Dizzy Gillespie, Steve Turre, Freddy Cole, Lester Bowie, Wynton Marsalis and Harry Belafonte.
All tickets $40, $10 food/drink minimum
TICKET INFORMATION:
Purchase tickets at: www.BirdlandJazz.com
For more information and reservations call 212-581-3080.
Ticket prices will vary by performer.
At the tables, there is a $10 food/drink minimum per person in addition to the music charge.
At the bar, the music charge will include one complimentary drink with no additional minimum.
Named for alto saxophonist and jazz pioneer Charlie "Bird" Parker who dubbed it "The Jazz Corner of the World," Birdland opened on December 15th 1949. For 60 years it has been home to jazz legends, from Parker, John Coltrane Duke Ellington and Count Basie to Oscar Peterson, Hank Jones, Diana Krall and everyone in between. The original 52nd street location was a cultural barometer and meeting place, inspiring the songs "Birdland" and "Lullaby of Birdland," and serving as a regular haunt for celebrities and cultural figures. The modern incarnation is a state of the art nightclub featuring award winning Southern and Cajun cuisine, first rate sound and lighting and a who's who of contemporary musical artists, 7 nights a week.