BWW Review: Sierra Boggess Enchants At 54 Below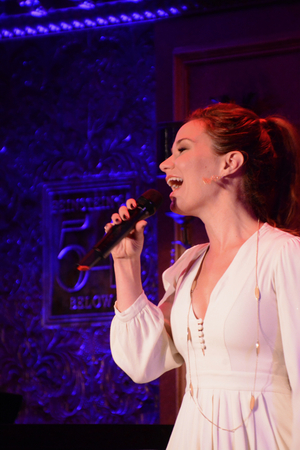 Fresh off a brief stint as Cinderella in Into the Woods at The Hollywood Bowl, Sierra brings some Broadway, Disney and Boggess magic to the devoted fans overflowing the room for her return to Feinstein's/54 Below.
The beautiful alum of Broadway's recent School of Rock was all elegant simplicity in her black chiffon gown and stunning jewelry as she took the stage, but she let all know that she is just regular folk, like us, by sharing stories about her life growing up in Colorado and what it's like being personally chosen by Sir Andrew Lloyd Webber at a young age for an important job in his most famous show.
Ms. Bogess wasted no time getting to her audience, either - one song down and she was ready to chat, telling us "these are crazy times we're living in" and that she wants us all to just live in love and light for the next hour because "The debates! Why are there so many people on my tv?!"
Keeping it light, but heartfelt, Boggess dedicated "Think of Me" to beloved Broadway legend Hal Prince and to the late Gillian Lynne, but performed the song in three different languages, English, French, and Britney Spears (the Spears impression alone is worth the price of admission) before enthralling with her music and her wish that we all "Marinate in love".
Boggess' soulful "Unusual Way" indicates she would be a perfect Claudia Nardi in "Nine", while back to back performances of "I Could Have Danced All Night" and "Feed the Birds" will make you long for a bio-musical on Julie Andrews. And her epic finale number (no spoilers, it must be seen live to be believed) will have you praying for a Sweet Charity revival.
Her three songs from The Secret Garden were superbly sung to a weeping audience holding their breath - even the servers stopped moving during the sublimely sensitive "How Could I Ever Know?"
The most moving moment of the show on opening night was Sierra Boggess, her radiant face illuminated by little more than a pin spot, tears shining in eyes as brilliant as the gems on her ears, singing "Wishing You Were Somehow Here Again" just for Hal Prince. No person in the room was exempt from their own tears during this most precious moment.
Joining Ms. Boggess onstage were her exquisite musical director and arranger, Brian Hertz, and her very own sister and Broadway-employed Summer Boggess on the cello, and together they make music worthy of The Philharmonic, particularly during a mind-blowing number in which Boggess creates an uncanny impersonation of Barbra Streisand, also appearing in town this week, so if you can't afford a ticket to her show, this is the show to see instead.
Though Ms. Boggess' prowess with a song is intoxicating, it is her way with words that is invigorating, especially when she shares inspirational poems by the likes of Ram Dass ("I'm obsessed with trees"), or when, during a segment she insists must be in every concert or cabaret she does, she puts a spotlight on the lost art of letter writing ("I want to bring back letter writing.")
Reliving the excitement of hanging out in her Grandparents' attic in her youth, she shared some of their love letters written during World War 2 to an enraptured audience, oohing and sighing, and even laughing with Sierra when one of the letters became a bit risque, and while her stunningly personal performances of "Part of Your World" and "No One is Alone" were enough to be happy you had seen this show, it is these personal glimpses into the bewitching Bogess's life that send you home, glad that you came.
Sierra Boggess will play Feinstein's/54 Below August 2, 3, 4 at 7 pm.

Related Articles View More Cabaret

Stories

Shows