Click Here for More Articles on NEW YORK CITY
BWW Review: Harvey Granat Spotlights Jimmy Van Heusen to an Enthusiastic Audience in His Latest SONGS AND STORIES at 92Y
Though all of Harvey Granat's midday events are illuminating and entertaining, his most recent SONGS AND STORIES on March 16 at 92Y could've easily continued at least another half hour buoyed by audience enthusiasm. The event's special guests, author/producer/journalist Will Friedwald (who has his own 92Y series), and President of Jimmy Van Heusen's catalog, his great nephew, Brook Babcock, were both knowledgeable, engaging raconteurs. It was also a great pleasure to watch the two men join infectiously enjoying the afternoon.
James Van Heusen (Edward Chester Babcock, 1913-1990) was born in, as Granat introduces, "the musical capitol of the world... Syracuse." At 16, unhappy with his given name, the composer (then a disc jockey) was inspired to change it to Van Heusen when a friend saw a billboard advertising the shirtmaker's collars. Or so the official story goes. Years later, as homage, a character played by Bob Hope in one of the Bing Crosby/Bob Hope ROAD TO ... films (for which Van Heusen and Johnny Burke wrote songs) would be named Chester Babcock.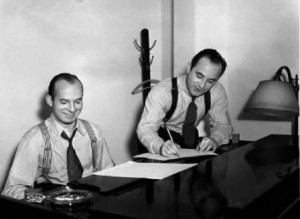 With an impressive catalog of over 800 songs, the talented, frequently nominated writer won four Academy Awards and an Emmy working predominantly with lyricists Burke and Sammy Cahn. He apparently had close relationships with both men (Van Heusen parted with Burke when his collaborator made it clear he preferred Broadway).
The most important artist/friend in his life, however, was, our experts agree, Frank Sinatra. Aligned when the crooner was still a skinny kid with big dreams, long before they worked together, it's generally thought that Van Heusen was a role model for Sinatra. The composer loved women, seriously drank---the refrigerator in his New York bachelor pad held only rows of chilling martini glasses---and partied with flair. Angie Dickinson has said his magnetism was irresistible. "The trouble with Sinatra," Sammy Cahn quipped, "is that he thinks he's Van Heusen."
The men were so close, Babcock tells us, that there are unsupported but plausible stories of Van Heusen's preventing a suicide attempt by Sinatra during the Ava Gardner debacle, and quite true: Jimmy Van Heusen is buried in the Sinatra family plot.
Vocally, we start with "I Thought About You" co-authored by a young Johnny Mercer. Granat delivers each phrase like a gently swinging hammock. David Lahm's piano accompaniment is a stylish soft shoe. The two giants only wrote one other song together, 1976's beautiful "Empty Tables."
Next, is "Imagination," a tender reverie Granat's performance gives the weight of a milkweed pod on the breeze. "Burke," Friedwald notes, "had a gift of telling a whole story in 32 bars." Though the comment is undoubtedly true, one might remember the old quip about Ginger Rogers and Fred Astaire: "She did it, too, but backwards and in heels." Van Heusen also managed to finesse tales with brevity and universal appeal. With the palpably warm, lush "Lately" and "Polka Dots and Moonbeams" (Sinatra's first hit with The Tommy Dorsey Band), our host continues in top balladeer mode. Some of the audience clearly remembers when these were first released.
Among stories Babcock shares are the origins of "Nancy with the Laughing Face" and "Swinging on a Star" (from GOING MY WAY). The first song began with Phil Silvers, aided by Burke, as a birthday gift for the latter's wife, Bessie. Hers was the name originally in its title. "Someone from Sinatra's camp heard it and a couple of weeks later, they were approached about changing the song--- for Sinatra's daughter's birthday." Van Heusen channeled his royalties to the new subject for her college fund.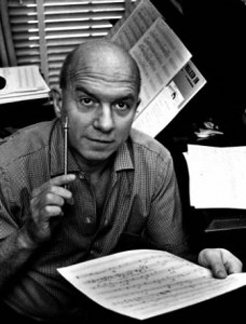 The second came directly from a dinner admonition by Bing Crosby to one of his complaining sons: "If you don't go to school, you might grow up to be a mule." (No kidding.) Granat feeds us partial lyrics. Everyone cheerfully sings the chorus, which they know by heart. This happens often during the series.
Other upbeat numbers include "Come Fly With Me," during which the vocalist manages to musically conjure iconic cocked-hat-coat-slung-over-shoulder cool, and a bouncy "High Hopes" (both written by Cahn), which had an "afterlife" in 1960 as John F. Kennedy's campaign song: Everyone wants to back... Jack / Jack is on the right track. / 'Cause he's got high hopes...
We close with the eclectic "All My Tomorrows Belong to You" (written with Cahn for HOLE IN THE HEAD) which emerges heartfelt, cowed but hoping, and leaves a sighing echo: Today I may not have a thing at all except for just a dream or two / But I've got lots of plans for tomorrow and all my tomorrows belong to you. As always, accompanist David Lahm adds his own symbiotic interpretation to rendition.
Aren't you sorry you weren't there?
---
The next SONGS AND STORIES WITH Harvey Granat is April 6 at 12 PM and will honor Alan & Marilyn Bergman (with special guest Terry Teachout). For tickets and information, visit 92Y.org.
Archival photos courtesy of Brook Babcock.
Alix Cohen writes about theater, music and creatives in all walks of life for BroadwayWorld, Theater Pizzazz, Cabaret Scenes, and Woman Around Town.