BWW Review: Ayla Schwartz Learns Her Lesson in EVERYTHING I LEARNED I LEARNED BY GROWING TWO INCHES At The Green Room 42
Teen Takes Town by Ice Storm!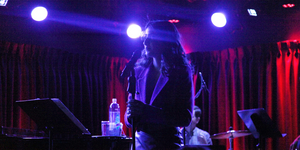 Little Elsa Does Not Stay FROZEN In Time, And It's About Time
Heigh-Ho, My Merry Rainbow Tribe! Bobby Patrick, your RAINBOW Reviewer here. Putting the silent T in cabareT to bring you all the T!
"How would you like to go see Ayla Schwartz at The Green Room 42 on Saturday night?" says editor Mosher to Little Bobby. "What the CAT HAIR is a LeSchwartz?" says Bobby to he ... "AYLA... Ayla Schwartz, she was in the original company of FROZEN The Musical on The Broadway," says he. Well, always being one to catch a true blue veteran of our stages doing a nightclub act, we started packing up our reporters pad and pencil. "BTW," says editor boss man, "She's 14 years old." "OHHHHHH HE!! NO!!! Bobby is no babysitter reporter! These rainbow reviews are SERIOUS JOURNALISM!!" One withering stare from Stephen Mosher's so dark brown their almost black eyes and well... Off to TGR42 to ...babysit, and are we ever glad we did. A real Teen Titan, Miss Schwartz gave her audience a trim 8 number setlist with a fully scripted story that engaged and enlightened on the few stellar ups and many, many downs of being a "kid" in the biz. With a stage presence that belied her years, a young teen's energy that gave her performances a real ebullience (What? Bobby knows words!?) Ayla opened with THE young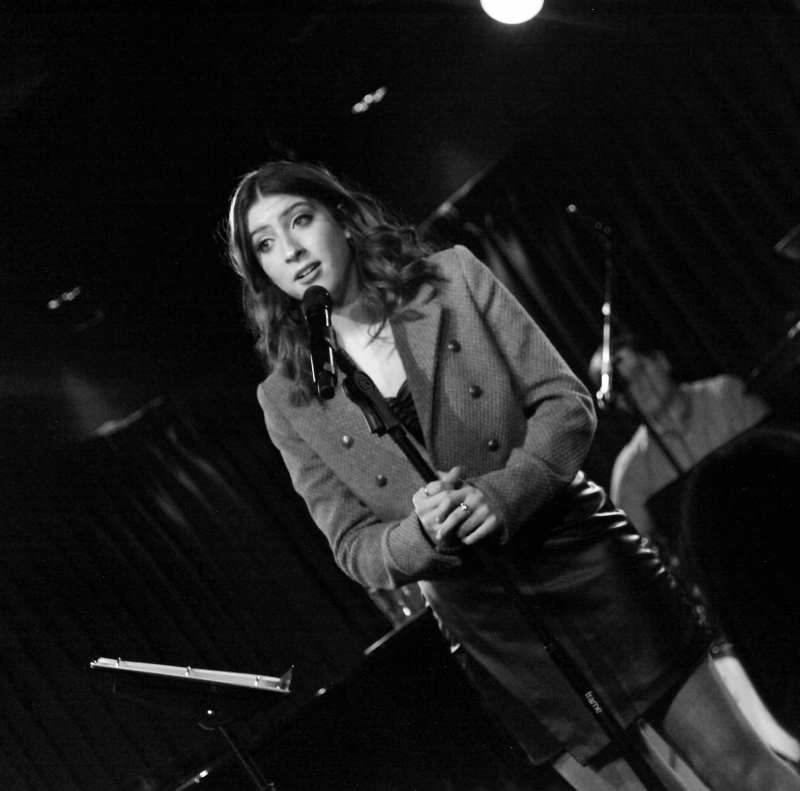 girl power ballad, I WISH from HOME THE MUSICAL, giving it all the vocal range and acting layers the song needs to tug at the heartstrings of all present. With a wide, bright voice using little or no vibrato, she conveyed a tweens dilemma palpably and with great earnestness, and then she started talking to us. Unafraid to show her bouncy enthusiasm, the touch of angst from her first song fell away immediately and she was 14, talking to her peeps about her life in the theatre thus far, giggling a bit, and displaying a slight but funny potty mouth (Thank God for Liberal Parents!!) In fact, Her next number was titled SHIT I DIDN'T BOOK - a medley of little girl audition songs culled from shows with kids; Mary Poppins, FunHome, Matilda... you get the idea. Moving from one song to the next, getting bigger and bigger laughs, her timing was as impeccable as her pitch and range. In a surprise turn for her 3rd song, she chose Cyndi Lauper's '80's opus, TIME AFTER TIME to tell the story around her audition journey to get cast in her first Broadway show. Throughout the performance, there was an everpresent slide & video reel running showing little Ayla being... well, little Ayla. Little Ayla singing and playing at home, little Ayla singing and playing backstage, little Ayla ... you get the idea. All culminating in the video of her mom revealing to her (in a really novel way) that Little Ayla got the part of Little Elsa in FROZEN THE MUSICAL.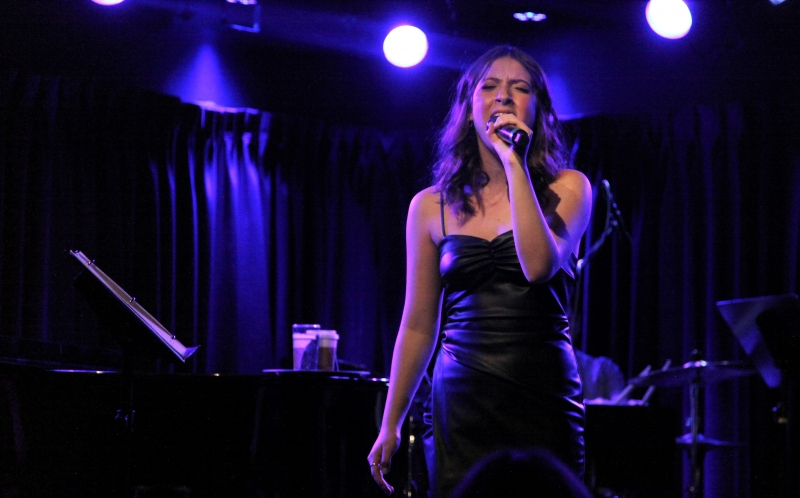 Well, Little Ayla ain't little anymore. She is a full-on talented teen growing up in show business thanks to her supportive parents who watched her get bit by the theatre bug at 5 and have been there for her all the way. The irony of her show title, EVERYTHING I LEARNED I LEARNED BY GROWING TWO INCHES, refers to the day when Broadway kids must take it on the chin and leave their beloved shows because mother nature has aged them out. As Ayla said, "Adults stay in shows as long as they want. Kids stay in a show as long as they tell us to." As you can read, one of the most charming and affecting things about La Schwartz's show is her self-written script that details as much of her near misses and disappointments as it does her triumphs. Her 8 musical monologues folded beautifully into the framework of her writing with spoken words and songs being necessary to the whole storytelling experience, truly causing yours truly to marvel at her maturity as much as her talent. Her rendition of Olivia Rodrigo's JEALOUSY, JEALOUSY had the real POW/BANG one would expect from a performer twice her age. Now to bring a little rain with the rainbow and ad some critic to this critique...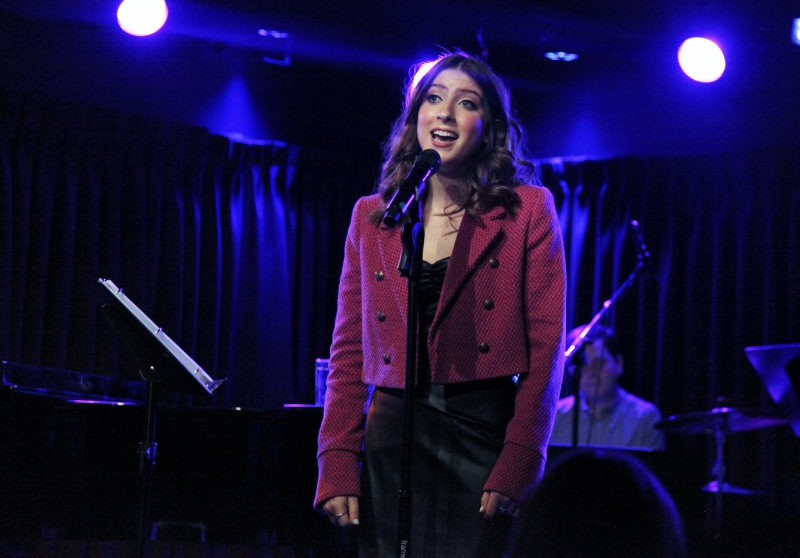 That well-written script, which resided on a music stand to her right throughout the show became a bit of an anchor round her neck as she depended more and more on reading and, distractingly, turning pages, BUT the lady's charm and solid acting chops in her musical selections buoyed her up above that small bump in the road, mostly, though Bobby must confess to a slight, ironic snicker when she spoke about memorizing lines in her stage career. Doffing her matador-style jacket after her second number and fully revealing an attractive, mature spaghetti strap leather mini also created a somewhat distracting tendency to adjust those straps for the remainder of the show. Finally, after taking the stage with the biggest bottle of water in the free world AND a Starbucks tea, her little nips upstage to take little sips (or chugs), while made cutesy by her holding up one finger towards the audience before each one, did break her flow at times and extend transitions needlessly. I would offer to young Miss Schwartz that 93-year-old Marilyn Maye refuses to sip water on stage before her audience and all cabaret artists should aspire to her level of performance.
These little dings are offered in the spirit of observations in the "Needs Improvement" column as they did not diminish the enjoyment of discovering this burgeoning talent who took to the cabaret spotlight in a post-PAINdemic world as well as she did the lights of Broadway, and while FROZEN THE MUSICAL may be her one and only credit from the street, we feel certain that it was only the beginning. It is this Bobby's sincere hope that this young woman will keep taking her lumps, learning her lessons and continue to polish this diamond named Ayla for we can't help but give her a SOLID...
4 Rainbows Out Of 5
Ayla Posts Her InstaPictograms: HERE
She Keeps Her Official WebbySite: HERE
And her Mom (Elaine) Posts Ayla On The YouTubes: HERE
All Photos By Your Truly, Bobby Patrick