Click Here for More Articles on NEW YORK CITY
BWW Review: Amanda Duarte Puts on a Performance of Certainty in STAYING ALIVE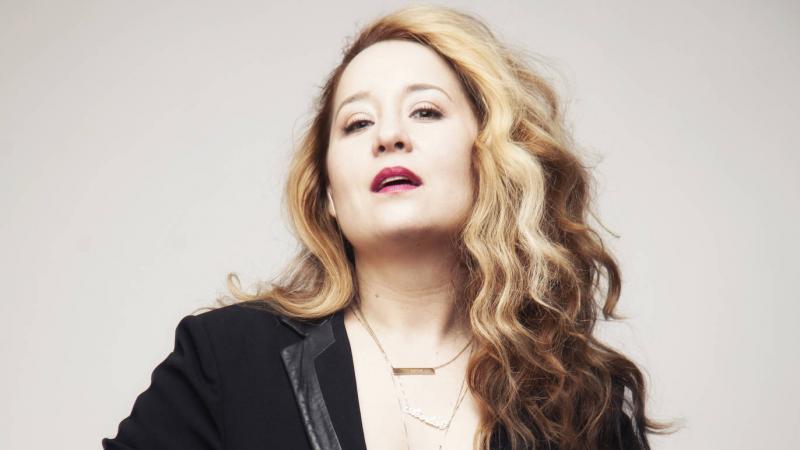 The title of Amanda Duarte's show at Joe's Pub, STAYING ALIVE, suggests that she is hanging by a thread. Perhaps the desperation implied in the title led me to think we'd see Duarte portraying a woman in the middle of a crisis. Instead, we were given a still-struggling-but-mostly-strutting-on-the-other-side-of-trauma kickass woman, captivating us with her presence, singing, playful dancing, and storytelling.
Duarte began the show by summarizing its namesake: STAYING ALIVE, the highly-disappointing sequel to SATURDAY NIGHT FEVER. While the first movie left its hero "semi-woke," as she called it, STAYING ALIVE undid all the good the first movie might have done and involved a love triangle that depicted every woman in it poorly and didn't make any sense. She sang and danced---or maybe "pranced"---to a Bee Gees song with her ensemble of backup performers, The Gay Agenda: Becca Blackwell, Jenn Harris, and Matthew Cleaver. While the tie-in to STAYING ALIVE (the film) didn't consistently track through the show as a whole, it clearly served as a rich springboard for Duarte's voice.
Duarte is a writer in addition to a performer, and her precision with language struck me immediately. Though script-reading from a music stand can make me wary, I took the following rather embarrassing note as I watched: "Am I drunk or is the music stand thing really working?" (I blame the two-drink minimum.) Even earlier, however, I noticed Duarte's striking ability to be present. This is apparent from the moment she steps on stage: before saying a word, she lands a moment of total, badass stillness.
This only became clearer during the number of times in which she elicited audience reactions, whether from passionate statements or clever verbiage. Lines like, "They say tragedy plus time equals comedy, but we don't have time!" and, "They say the future is female, but we have no future!" got many whoops and hollers. She played with word usage to great effect, with lines like, "You can't feminist your way out of it," or, "He just can't you anymore." Her sharp line delivery aids this, of course. My favorite might have been, "You're too much," she said, referring to herself in the second person, "But who wants to be a little?!" At one point later on, after revealing something awful about her ex-husband, an audience member shouted in disbelief, "Are you fucking kidding me?" and, without skipping a beat, Duarte shouted back, "No, I'm not!"
Duarte's awakeness made her utterly compelling as she took us through what might have been a story we've (unfortunately) already heard: a husband leaves his wife of 20 years to run away with a much younger woman, and said wife moves on and finds she is better off. In addition to the way she performed, Duarte kept us compelled by especially focusing on the unique way she coped and grew and how her life improved in the wake of this upheaval in her life.
A large part of STAYING ALIVE describes Duarte's sexcapades with a certain Nordic writer she met, younger than her, who wished for her to dominate him. In doing so, she related to us, she was forced to the realization that she had no idea what she wanted because, for her whole marriage, she had tried to condense her "large personality" into a person who didn't want anything at all. This desire not to take up any space---mentally and/or physically---is such a large part of so many women's experience, and the unique way in which Duarte wrestles with it was so compelling to watch. "Fucking him like a man makes me feel like a woman," she says of her pegging the writer. The way she remade herself by exploring her desires came through here and throughout the script.
While it might seem self-evident that a writer would perform her own words with the feeling with which she wrote them, it can often be the opposite--- writing the feelings down distances the writer from the feelings, and thus the emotional resonance gets lost in the recitation. Duarte was grounded and connected to the material throughout, not only performing her words with specificity but also staying emotionally present with those words, never allowing them to feel stale.
This groundedness underscored the ongoing theme of certainty that Duarte continually explored. Another element in Duarte's efforts to stay alive in the wake of her divorce (and the election, which was an omnipresent backdrop to all of this) was a persistent pain in her leg, which she uses as a way to talk about how women are led to doubt themselves in every area, sometimes in ways that can have disastrous effects on their health. "I learned to believe my ailments as lies my body tells me," she said. Of another ailment, she supposed, "I probably thought it had something to do with my weight," casually addressing the way women's bodies are always perceived as being wrong and that their wrongness is that woman's fault.
Toward the end, Duarte depicted for us the ultimate moment of her journey from doubt to certainty: when she was confronted with evidence of her ex-husband's new girlfriend in the home they co-own upstate, her reaction wasn't rage, it was just acceptance. You can't force growth.
Related Articles
Audrey likes to write and perform and write about performance. She recently moved to Brooklyn from the Bay Area; she misses her family but not (read more...)