Audrey Moyce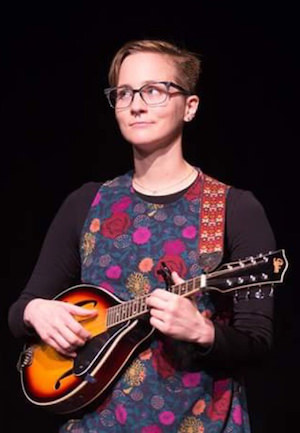 Audrey likes to write and perform and write about performance. She recently moved to Brooklyn from the Bay Area; she misses her family but not the weather. More at audreymoyce.com

MOST POPULAR ARTICLES
LAST 365 DAYS
BWW Review: Amanda Duarte Puts on a Performance of Certainty in STAYING ALIVE

October 4, 2018

The title of Amanda Duarte's show at Joe's Pub, STAYING ALIVE, suggests that she is hanging by a thread. Perhaps the desperation implied in the title led me to think we'd see Duarte portraying a woman in the middle of a crisis. Instead, we were given a still-struggling-but-mostly-strutting-on-the-other-side-of-trauma kickass woman, captivating us with her presence, singing, playful dancing, and storytelling.
---
BWW Feature: A Specifically Not Specific Murray Hill Makes His Solo Debut

September 27, 2018

Murray Hill's debut solo show, ABOUT TO BREAK, officially opened Friday night (September 21), at Joe's Pub. Though he has been performing for over two decades, this solo show marked a first for him: a career show, as he put it. New York Voices, Joe's Pub at The Public's artist commissioning program, gave him unprecedented resources---his first time working with a director (Scott Wittman), space, budget, rehearsal, a full six-show run. All these things that, as he said, makes it possible to 'actually do creative development.'
---
BWW Review: Adrienne Truscott Plays Both Comedian and Performance Artist in ADRIENNE TRUSCOTT'S A ONE TRICK PONY

July 10, 2018

If you've heard of Adrienne Truscott's work, the title of her current show, ADRIENNE TRUSCOTT'S A ONE TRICK PONY (OR ANDY KAUFMAN IS A FEMINIST PERFORMANCE ARTIST AND I'M A COMEDIAN), is self-explanatory: she last made waves with ADRIENNE TRUSCOTT'S ASKING FOR IT, a comedy special in which she stood on stage, naked from the waist down, and told rape jokes for an hour. So why is it, Truscott asks, that a woman who has just told a bunch of jokes is labeled a feminist performance artist, while Andy Kaufman, a man who never told a single joke, was labeled a comedian? Isn't it, Truscott asks, ironic?
---
BWW Review: Salty Brine Connects Weezer and Puccini In His New LIVING RECORD COLLECTION Installment, I'M A LOT LIKE YOU

June 13, 2018

Salty Brine has made what is becoming a familiar move: reckon with your beloved art works which time has "revealed" to be problematic (by which I mean, you have become aware enough to realize this; it was problematic from the beginning).
---
BWW Review: Tilda Swinton Moves Into The Laurie Beechman In The Absurd and Exquisite TILDA SWINTON ANSWERS AN AD ON CRAIGSLIST

April 2, 2018

Byron Lane's meditation on the artifice and projection of fame and celebrity is brilliantly explored through the prism of Tom Lenk's exquisitely crafted performance in TILDA SWINTON ANSWERS AN AD ON CRAIGSLIST, which ran March 16-25 at the Laurie Beechman Theatre. CRAIGSLIST's Tilda is almost better than the real thing, because she is utterly raw in being herself, and Lenk was a treat to behold for all of the show's 80-odd minutes; his performance and Lane's writing were equally superb.
---
BWW Review: Lady Rizo's New Album INDIGO Plays Second Fiddle To Politics At Its Release Show At Joe's Pub

September 11, 2017

There is something about today's political climate that demands acknowledgment in almost every setting. Provided you can be certain that your opinion will be shared by most of the room, you will probably bring up something related to our president, his tweets, or your own concerns about one or both.
---
BWW Review: The Bright Side of Sad with Miguel Gutierrez and Madonna

September 1, 2017

SADONNA: THE SAD SONGS OF MADONNA. Such a title for Miguel Gutierrez's first full evening at Joe's Pub begs the question: why sad songs, and why Madonna? Gutierrez admitted early on that he came up with the name before he came up with anything else, but also that hatching this plan for a show had given him the realization that Madonna had, in fact, been a part of his life for a long time.
---
BWW Review: Cristin Milioti Takes You Along For the Ride in Her Warm, Intimate Set at Joe's Pub

August 23, 2017

Cristin Milioti's career has spanned film, television, theater, and music. Though I, personally, know her work solely from her season on HOW I MET YOUR MOTHER, I had heard of the roles she originated in both ONCE on Broadway, as well as David Bowie & Enda Walsh's LAZARUS at New York Theatre Workshop. So when I went to her concert at Joe's Pub on August 17, I had no doubt that I was in for a virtuosic performance of sorts.
---