Apply for Madame's Soiree's Denovan Residency Through December 15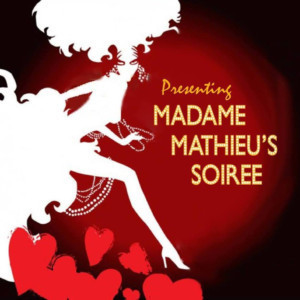 Drew Fornarola and Tyler Spicer, co-artistic directors of Madame Mathieu's Soiree, announce the opening of applications for the Madame's Soiree's Denovan Residency.
The residency and accompanying grants aim to give winners the most comprehensive development opportunity in cabaret. Madame's Soiree is an avant garde variety show currently finishing its second season at the historic West Village club The Duplex.
Two artists will be selected to receive Denovan Residencies during 2018, one running January through June, the other July through September. The artists will each develop a new, one-hour show for The Duplex stage and receive a $2,000 grant to encourage their efforts.
Artists will also receive weekly rehearsal space, a fully-produced presentation of their project at the end of the residency, the opportunity to present pieces of their work in progress at three consecutive Madame's Soirees in front of one of NYC's smartest and most supportive audiences, and access to the artistic and producing resources of The Duplex and the Soiree team.
Artists from any discipline that can utilize our stage and 70-seat theater are encouraged to apply. The application window runs through December 15. The application can be accessed HERE or requested by emailing MadameMathieusSoiree@gmail.com.
Funding for the Denovan Residencies comes from longtime Soiree supporter David R. Murray. "Many of the most emotional experiences of my life have come through the performing arts, either as a singer or an audience member," Murray said. "It's a privilege to support emerging artists finding new ways to reflect the culture around us." The Residency is named in memory of Murray's mother, Nancy Denovan Murray, a lifelong singer and visual artist.
Both the residencies and Madame's Soiree benefit from their close partnership with The Duplex, New York City's longest-running and most historic cabaret, in the heart of Greenwich Village.
Thomas Honeck, General Manager of The Duplex, says "The Duplex Cabaret Theatre has always been a place of beginnings. We have created a performance home where artists feel safe to take risks. That's why I'm extremely proud of DCT's association with the Soiree. It's a smart, entertaining show that embraces creativity and diversity. They provide a platform for performers to step outside of the box. I am looking forward to seeing the development of new work under the Soiree's guidance and am even more excited that The Duplex gets to premiere these projects when they finish their residency."
Madame's Soiree is an avant garde variety show at The Duplex hosted by Drew Fornarola and directed by Tyler Spicer. Described by critic Gerry Geddes as "an Ed Sullivan Show for a new generation", each eclectic evening features a group of rising stars in stand-up, poetry, dance, songwriting, and performance art performing alongside Broadway guests. The show is about to begin its third year, and has already featured nearly 150 individual artists and 30 Broadway guests.