Ann Hampton Callaway, XANADU Reunion, and More Take 54 Below This Week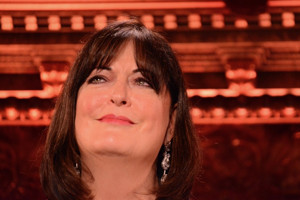 FEINSTEIN'S/54 BELOW, Broadway's Supper Club & Private Event Destination, presents some of the brightest stars from Broadway, cabaret, jazz, and beyond. To purchase tickets or for more information, visit www.54Below.com/Feinsteins or call (646) 476-3551.
THE XANADU BROADWAY REUNION CONCERT, SEPTEMBER 17 AT 7:00PM & 9:30PM
Here is the musical comedy event the gods have been waiting for! Before many of your favorite Broadway and TV stars were stars, they were in togas and roller skates shaking their groove things on Broadway. For one night only, Xanadu's Jeff Lynne (ELO) and John Farrar score will be recreated in all its glory, and book writer Douglas Carter Beane will weave the evening together with risqué and witty banter. Relive it all: the laughter, the tears, the glow sticks! The adult survivors of Xanadu will be bringing back life as seen in a mirror ball; and there are sure to be surprises. Zeus wouldn't have it any other way!
Featuring Original Broadway Cast Members: Annie Golden, Curtis Holbrook, Anika Larsen, Kenita Miller, Tony Roberts, Mary Testa, and Andre Ward. Also Featuring: Jacob ben Widmar (Broadway Replacement), Elizabeth Stanley (1st National Tour), Max von Essen (1st National Tour).
Directed by Douglas Carter Beane
Music Directed by Brad Simmons
Produced by Shoshana Feinstein
XANADU
Book by Douglas Carter Beane
Music & Lyrics by Jeff Lynne & John Farrar
Based on the Universal Pictures film
Screenplay by Richard Danus & Mark Rubel
$45-$65 cover charge. $65-$90 VIP seating. $90-$115 premium seating. $25 food & beverage minimum.
DEONTÉ L. WARREN: LOVE ESSENTIAL, SEPTEMBER 17 AT 11:30PM
Actor Deonté L. Warren, who is currently in Aladdin on Broadway, returns to Feinstein's/54 Below in Love, Essential. Through song, Deonté recounts romances, friendships, spirituality, and the absolute necessity of love. A few favorites from his solo debut, Let's Make It To Love, plus new gospel, neo-soul, and musical theatre hits promise to leave audiences delighted, inspired, and filled with joy! Love, Essential is not to be missed.
The show features:
Soloist, Ben Laxton (Book of Mormon)
Vocalist, Anita Welch
Vocalist, Melany Watson
Band features:
Eric Fotre Leach (Piano/MD)
Sean Ronan (Guitar)
Chris "Bones" Bonner (Bass)
Mariana Ramirez (Percussion)
Zachary Eldridge (Drums)
$20 cover charge. $40 premium seating. 2 drink or $20 food & beverage minimum.
THE BEST SONGS CUT FROM THE BEST MUSICALS SUNG BY THE BEST SINGERS WHO NEVER SUNG THEM, SEPTEMBER 18 AT 7:00PM
Renowned critic, journalist, and theatre historian Peter Filichia hosts an evening of some of the best songs that were cut from some of the best musicals either in or out of town on their way to Broadway. Come enjoy songs that still stand alone and the stories behind why they were let go. This evening will be a delight for theatre aficionados who will recognize many of the songs and be introduced to some wonderful new/old ones!
Featruring: George Dvorsky (Scarlet Pimpernel, Passion, Pete 'n' Keely), Jeremy Greenbaum (Newsies, A Letter to Harvey Milk), Jessica Hendy (Aida, Amour, Cats), Robert Anthony Jones (Finding Neverland, The Phantom of The Opera), Aury Krebs (A Letter to Harvey Milk), Jordan Leeds (Les Misérables, Sunset Boulevard), Sally Mayes (She Loves Me, Closer Than Ever, Pete 'n' Keely), Julia Murney (The Wild Party, Wicked), CJ Pawlikowski (Book of Mormon, A Letter to Harvey Milk), Kelli Rabke (Joseph, Les Misérables, Children of Eden), T Oliver Reid (Once On This Island, Chicago, Sister Act), Chris Rice (Book of Mormon, White Christmas, West Side Story), and Abigail Shapiro (How the Grinch Stole Christmas, Liberty).
Musical Direction by Jeffrey Lodin
Directed by Evan Pappas
$30-$45 cover charge. $65-$75 premium seating. $25 food & beverage minimum.
Ann Hampton Callaway: THE Linda Ronstadt SONGBOOK, SEPTEMBER 19-22 AT 7:00PM
World premiere! Ann Hampton Callaway, one of the leading pop/jazz singers of our time, has created an exciting night of songs and stories in celebration of one of America's most beloved artists, Linda Ronstadt. On the heels on Ann's symphonic/PAC triumph, The Streisand Songbook, this show celebrates the many faces of love in Ronstadt's iconic songs from her pop/rock period like "Blue Bayou," "You're No Good," and "Desperado," as well as unforgettable classics from her three Nelson Riddle albums like "What's New," "I've Got A Crush on You," and "Someone To Watch Over Me." Ms. Callaway, the consummate entertainer, will also engage the crowd from the piano, asking for words and phrases from the audience to create an awe-inspiring Ronstandt-esque song-on-the-spot. Romantic, rousing, and joyous, Ann Hampton Callaway Sings The Love Songs of Linda Ronstadt promises to be the perfect night of music.
Callaway will perform with her brilliant MD, Billy Stritch, and adding to the electrifying sound is Martin Wind on bass, Tim Horner on drums, and Linda's long time guitarist and arranger, Bob Mann.
$50-$60 cover charge. $85 VIP seating. $95-$100 premium seating. $25 food & beverage minimum.
Gunhild Carling FROM Postmodern Jukebox, SEPTEMBER 19 AT 9:30PM
Multi-instrumentalist and tour-de-force Gunhild Carling returns to Feinstein's/54 Below! The Swedish jazz star with a world-wide fan base has made it her mission to promote the Great American Songbook internationally. She sings, tap dances, juggles, and plays virtually every instrument around...is there anything she can't do?
This amazing singer and award-winning multi-instrumentalist has been featured on Scott Bradlee's Postmodern Jukebox putting a twenties twist on the eighties tunes "Material Girl" and "Never Gonna Give You Up." Gunhild is notorious for playing trumpets at once, and a recent video of her playing bagpipes went viral with over 15 million views.
$30-$40 cover charge. $65 premium seating. $25 food & beverage minimum.
Gloria Reuben: THE MEN I LOVE, SEPTEMBER 20 AT 9:30PM
Join actress/singer Gloria Reuben for an intimate evening of song! For the first time at Feinstein's/54 Below, Gloria will accompany herself at the piano for the complete show, as she performs tunes from her favorite male singer/songwriters in the debut of her show The Men I Love.
Gloria's shows in 2017: Ladies' Night: Great Ladies of Song and Great Ladies of Motown celebrated the unforgettable songs from artists like KD Lang, Ella Fitzgerald, Heart, The Supremes, The Marvelettes, Billie Holiday, Karen Carpenter, and more. Gloria was then inspired to create a new show in celebration of the "other half" of the great world of music.
Gloria's personal renditions of songs from George Michael, Seal, George Gershwin, Prince, Cole Porter and others, will take the listener on a deep and visual journey. It will be an evening not to be missed.
Gloria is an Emmy Award and Golden Globe Award nominated actress with acclaimed roles in, among other TV series, "ER," "Raising the Bar," "Falling Skies," and "Mr. Robot." Gloria co-stars in the current Marvel television show, "Cloak & Dagger," which begins filming its second season in October 2018.
Although she's known as an actress, music has always been a big part of this Toronto-born multi-talented artist's life. Gloria even took time off from her acting career to tour as a backup singer for Tina Turner in Ms. Turner's tour 24/7!
$30-$40 cover charge. $65 premium seating. $25 food & beverage minimum.
GRACIE & LACY: THE GREAT AMERICAN SONGBOOK LIVE!, SEPTEMBER 21 AT 9:30PM
Charleston, SC sisters Gracie & Lacy team up for their Feinstein's/54 Below grand debut in Great American Songbook LIVE! Gracie & Lacy are known for the unusual backstory of their childhood Broadway on the Driveway shows that began to draw hundreds, catching the attention of the local law enforcement! Once off the driveway, touring act Gracie & Lacy garnered recognition from Marvin Hamlisch and were honored with a Missouri Senatorial Resolution for their leadership in the arts. Gracie & Lacy are passionate about preserving the Great American Songbook and the stories of the great artists and composers that made an indelible mark on music history. Michael Feinstein himself has praised them for their work in keeping this great music alive.
Dressed to the nines in glittering vintage-inspired attire, Gracie & Lacy deliver powerhouse vocals, smooth-as-butter harmonies, comedy, and even break out their tap shoes as they perform the unforgettable hits of the Golden Era, celebrating Harold Arlen, George Gershwin, Irving Berlin, and more! From sold-out to standing-room-only shows in venues across the country, don't miss this exclusive performance to meet Gracie & Lacy as they prove that CLASSIC never goes out of style!
$30-$40 cover charge. $70 premium seating. $25 food & beverage minimum.
GUILTY PLEASURES CABARET, SEPTEMBER 21 AT 11:30PM
Guilty Pleasures Cabaret, NYC's Premier Song and Dance Variety Show, features high-energy synchronized dancing, live music, and cheeky comedy... just a few of our guilty pleasures.
Produced and directed by a female team, the show is filled with sultry charm and feminine energy that brings out the classic side of the cabaret experience. This production can be described as an extravaganza in which "Great Gatsby meets Mad Men meets Video Vixens." Guilty Pleasures Cabaret was founded in 2014 by six friends in New York City who wanted to produce a show that highlighted both their performing and creative talents. Inspired by music, dance, and costumes that fulfilled their guilty performing pleasures, the show was born - thus earning their name, Guilty Pleasures Cabaret. The ladies debuted their show in Manhattan on the Upper West Side at a neighborhood bar, and after nine months, moved downtown where they sold out monthly shows. In the spring of 2017, the group began performing internationally with performances in San Pedro, Belize and Bimini, Bahamas.
$20 cover charge. $45 premium seating. 2 drink or $20 food & beverage minimum.
54 SINGS BROADWAY'S GREATEST HITS, SEPTEMBER 22 AT 9:30PM
Previous volumes of this Scott Siegel concert event hit Feinstein's/54 Below like lightning! This was the show that every musical theater-lover had been waiting for...and now we're going to do it again, with a brand new lineup of Broadway's Greatest Hit Songs of All Time!
If you skip through cast albums just to hear the very best songs in each show, this is the nightclub concert event for you. If you love the classics of the Great White Way, come and hear the songs that made Broadway great, that made your heart soar, that you used to sing (maybe still do) in the shower! But at Feinstein's/54 Below, you will hear the greatest Broadway songs of all time performed by today's greatest stars, singing them straight up, the way you want to hear them!
And who better to produce/direct/host this show than the creator of Town Hall's critically acclaimed Broadway by the Year series, Scott Siegel, creator of more than 200 major concert events centered on Broadway music! Broadway's Greatest Hit Songs of All Time will be a thrilling night that you won't forget...

Featuring: Ward Billeisen (Anything Goes), Lisa Howard (Drama Desk Honoree; Escape From Margaritaville, It Shoulda Been You, 25th Annual Putnam County Spelling Bee), Maxine Linehan ("Fiercely Talented" - NY Times), Jillian Louis (It Shoulda Been You), Brian Charles Rooney (The Three-Penny Opera), Danny Gardner (Drama Desk Honoree; Dames at Sea, Radio City Summer Spectacular), Emma Camp (performed at Town Hall, Lincoln Center, Joe's Pub), and Will Campbell (Broadway's Rising Stars at Town Hall).
$40-$60 cover charge. $75-$95 premium seating. $25 food & beverage minimum.
Photo Credit: Genevieve Rafter-Keddy