VIDEO: Advancing Artists From the 'Blind Auditions' on Last Night's THE VOICE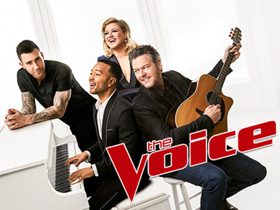 Last night was the last round of "Blind Auditions" and below are the artists that made it past their Blind Auditions on The Voice Season 16!
The Battle Rounds begin next week on THE VOICE, Monday, March 25 (8/7c) on NBC.
The "Battle Rounds" begin. The artists take the stage for the "Battle Rounds"! The coaches enlist music industry powerhouses Charlie Puth, Kelsea Ballerini, Brooks & Dunn and Khalid to prepare their artists for a dueling duet. After the vocal face-off, each coach must choose which artist from their team is the strongest, and has the option of stealing losing artists from an opposing coach. Each coach has two steals during the "Battle Rounds." Winning artists will proceed to the next round all in the hopes of being named the next Voice champion. Carson Daly ("TODAY Show") hosts.
Andrew Jannakos, 25
Team Adam
Hometown: Flowery Branch, Georgia
Resident: Flowery Branch, Georgia
Andrew comes from a large Greek and Italian family where everyone loves to sing. Three years ago, he tried an open mic night and convinced himself to take music more seriously. He planned to move to Nashville, but two weeks before the move, his father and grandmother were diagnosed with cancer. Andrew immediately abandoned his plans and stayed home to prioritize his family. Soon after, Andrew met his girlfriend, Katie, and her 2-year-old son. Andrew strives to be a good role model for his girlfriend's son and make his family proud by performing on "The Voice."

Song: "Beautiful Crazy" by Luke Combs
Cecily Hennigan, 16
Team Blake
Hometown: Conway, South Carolina
Resident: Conway, South Carolina

Cecily grew up as a middle child and was always eager to find a way to stand out. She knew she had to pursue music after she fell in love with performing during her seventh grade Christmas concert. Before heading off to Governor's School, she posted a video on Facebook and Instagram of her singing a popular McDonald's drive-thru song, and much to her surprise the video went viral. The video got her on "The STEVE HARVEY Show" and even had "Today" co-anchor Hoda Kotb singing her praises. Cecily plans to keep making big impressions here on "The Voice."

Song: "Foolish Games" by Jewel
Celia Babini, 17
Team Adam
Hometown: New York, New York
Resident: New York, New York

Celia grew up in Manhattan alongside her successful parents. Her father, Luca Babini, is a world-renowned photographer and her mother is fashion designer Bonnie Young. Surrounded by models and her mother's fashion enterprise, Celia always knew that wasn't the path she was destined to follow. She is currently a senior at the legendary LaGuardia High School and is an activist whose dream is to use her music to create change. Celia plans to continue her musical training at NYU Clive Davis Institute and is determined to create her own success. Celia is also an environmentalist and a committee member of "Solving Kid's Cancer."

Song: "idontwannabeyouanymore" by Billie Ellish
David Owens, 24
Team Kelly
Hometown: Indianapolis, Indiana
Resident: Indianapolis, Indiana

David grew up in a musical family and is the youngest of seven kids. He often felt INSECURE as a singer because his brothers were so talented, but in high school he tried out for a solo in "Silent Night" and to his surprise, he got it. David dreamed of pursuing music after high school, but took a safer route and went to college for journalism. He recently got married and his wife, Kayla, just gave birth to their first child, Emmett. "The Voice" is David's chance to sing, which is what he's always loved and all while supporting his family.

Song: "I Can't Make You Love Me" by Bonnie Raitt
Jackson Marlow, 18
Team Kelly
Hometown: Rogersville, Alabama
Resident: Rogersville, Alabama

Jackson comes from a very musical family. His father and grandfather are bluegrass musicians and his uncle is Season 13 finalist Red Marlow. Watching Red make it so far on "The Voice" showed Jackson that he could make music a career. Although Jackson grew up singing in church, he only started performing gigs two years ago. Jackson recently graduated high school and is a full-time laborer at the Municipal Water Department. Jackson is coming to "The Voice" with hopes of doing music full time, and of course, to continue making the Marlow name proud.

Song: "Troubadour" by George Strait
Kalvin Jarvis, 29
Team Adam
Hometown: Tucson, Arizona
Resident: Tucson, Arizona

Kalvin inherited his love of music from his father, who pursued a rap career in Detroit. Some of his earliest memories are of his father performing in clubs, and once Kalvin started showing interest in music, his father taught him everything he knew. Kalvin currently performs a few times a month with the band Street Blues Family and works as an assistant manager at IHOP, where he's been employed for the past 11 years. Kalvin hopes "The Voice" will finally allow him to quit IHOP and focus on music full time.

Song: "A Good Night" by John Legend feat. BloodPop
Kayslin Victoria, 16
Team John
Hometown: Raleigh, North Carolina
Resident: Clermont, Florida

Kayslin's interest in music comes from her parents, who both pursued music in their youth. At 9, Kayslin shocked everyone when she sang Adele's "Rolling in the Deep" at a karaoke bar. At 10, she was named the Child Star of Tomorrow at the Apollo Theater in New York. Outside of her musical pursuits, Kayslin keeps herself busy with school and a local horse rescue where she volunteers.

Song: "Feel It Still" by Portugal. The Man
Presley Tennant, 16
Team Kelly
Hometown: Norco, California
Resident: Norco, California

Presley may look like a girly girl, but this tomboy at heart grew up playing soccer and loves riding ATVs and DIRT bikes. At 7 years old, Presley realized that she had a talent for singing. After vocal lessons, a few years later she started singing competitively. At 11, Presley joined the girl group 5LP and got to perform for Kelly Rowland and the Jacksons. She was in the group for two years until they broke up, but instead of being discouraged Presley began to work on her solo act. Outside of school, Presley has been writing music and playing shows.

Song: "Stone Cold" by Demi Lovato
Rod Stokes, 34
Team Blake
Hometown: Moss Point, Mississippi
Resident: Grand Bay, Alabama

Rod grew up watching his sister sing in church, but he was too shy to participate. Being a larger kid, he ended up spending most of his time playing football. He continued to play in college, but his football dreams were cut short when he had to drop out to take over THE FAMILY construction business. Without football in his life, Rod felt inspired to start singing and his family started their own traveling musical ministry. Rod met his wife on the road, and since being married he has lost over 100 lbs. Rod is ready to give his music career a real shot on "The Voice" stage.

Song: "To Love Somebody" by Bee Gees