Tim Realbuto Will Star In Film Adaptation Of Best-selling Novel Prisoners Of Love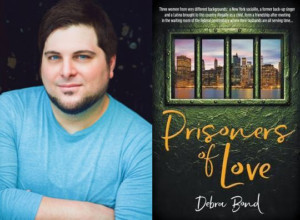 New York stage actor and concert performer Tim Realbuto, who recently made his leading role film debut in YES (based on his Off-Broadway stage play), has secured his next acting project.
Realbuto is attached to play the role of Gardner Born, a Donald Trump type real estate tycoon who ends up in jail, in the film adaption of Debra Bond's best-selling novel PRISONERS OF LOVE.
The novel, which is hailed as "the modern day Valley of the Dolls", tells the story of three women from different backgrounds who form an unlikely friendship in the waiting room of a federal penitentiary while visiting their husbands, who are all behind bars.
Jeff Schmidt from New York Creative Management recently acquired the exclusive film rights to the project. The film was originally set to be made in the early 1990's starring Cher, Gladys Knight, and Sissy Spacek (with Knight producing). After that project fell apart, Bond rewrote some of the novel while Schmidt sought after the film rights.
Realbuto was cast as the male lead after Schmidt saw him on stage as well as in some unfinished scenes from YES, a film which Realbuto is already garnering attention from.
Aside from Realbuto, who has already confirmed his commitment to the project through his publicist, A-list names being considered for the female leads are Academy Award winner Anne Hathaway, Janelle Monáe, and America Ferrera. Gina Rodriguez and Michael B. Jordan are also reportedly being considered for roles.
No director or release date has been set, but the creative team hopes to begin production by the end of this year or early 2020. Realbuto insists that, unlike his last project, he will not pen the screenplay. It is not known whether or not Ms. Bond will write it herself.
Realbuto's last film YES will begin premiering in festivals this spring.