Tanya Tucker Appears on New Episode of RuPaul's ALL STARS 6
The singer-songwriter surprised the top 4 of the competition series, streaming now on Paramount+.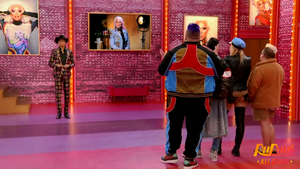 Original female outlaw and music icon Tanya Tucker surprises the Top 4 of RuPaul's Drag Race All Stars 6 in the workroom during today's episode streaming now on Paramount+. During the episode featuring Tanya, the Top 4 are challenged to write lyrics for a new song titled "This Is Our Country," which will include a duet version with Tanya and Ru available everywhere September 9.
Tanya appeared virtually during the episode and popped up on the screen to give the queens a few words of encouragement and explained that finally winning her GRAMMY® Awards were worth the wait. Each member of the Top 4 has been waiting a long time for their second chance at winning the show and the only thing standing in their way is their final performance.
A defining voice of music and a modern-day legend, two-time 2020 GRAMMY® winner Tanya Tucker continues to inspire artists today. Born in Seminole, Texas, Tanya had her first country hit, the classic "Delta Dawn," at the age of 13 in 1972. Since that auspicious beginning, she has become one of the most admired and influential artists in country music history, amassing 23 Top 40 albums and a stellar string of 56 Top 40 singles, ten of which reached the No. 1 spot on the Billboard country charts.
Check out a preview of the episode below!