Sons of Serendip Compete on AMERICA'S GOT TALENT: THE CHAMPIONS 2/4 on NBC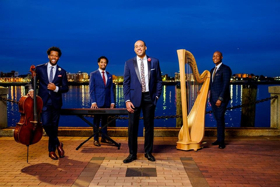 On February 4th, Sons of Serendip will compete on "America's Got Talent: The Champions", the franchise that catapulted the band to world-wide notoriety in 2014 as "America's Got Talent" finalists and fan favorites. The genre-defying group will also kick off a 2019 tour and release a new original single, "Love You Still", on February 14th. The tour - which began with a packed house at Joe's Pub in NYC this month - is followed by over 40 U.S. concerts from coast to coast, through May (see dates below). This month the group also begins a residency with Boston area students in a series of performances and master classes based on themes from Angie Thomas' The Hate U Give.
Sons of Serendip (SoS) presents a surprising Fusion of R&B and soul, combined with exquisite classical music chops, arranged for vocals, cello, harp and piano. SoS - Micah Christian (lead vocals), Kendall Ramseur (cello, vocals), Mason Morton (harp), Cordaro Rodriguez (piano, vocals) - have been on a whirlwind ride since 2014, recording three critically acclaimed albums, selling out concert halls and impressing tastemakers and critics alike. But it's been BEYOND AGT that the group has cemented themselves as a TIMELESS musical powerhouse, including performing at the Creative Arts Emmys, with the Boston Pops and Keith Lockhart, and having appeared alongside musical luminaries such as John Legend.
On January 30th and February 1st, Sons of Serendip will perform for students and engage in audience discussions at Needham High School (Boston area) surrounding the student's two-day event exploring themes of Angie Thomas' book The Hate U Give. They will also interact with students in a series of masterclasses, providing coaching and insight into the creative process with the school district's Contemporary Music Ensemble and Jazz Bands, which will focus on group ensemble work, improvisation and making meaning through music.
"America's Got Talent: The Champions" brings together the world's most talented, memorable and all-around fan-favorite acts from past seasons of "AGT" which include former winners and finalists from across the globe and features the star-studded judges panel from "America's Got Talent" - executive producer Simon Cowell, Mel B, Heidi Klum and Howie Mandel - as well as new host Terry Crews, star of NBC's "Brooklyn Nine-Nine."
For more details about Sons of Serendip visit: www.sonsofserendip.com
Winter/Spring 2019 Tour Dates
February 14, 2019 Thomasville Center for the Arts Thomasville, GA
February 15, 2019 The Ritz Theatre and Museum Jacksonville, FL
February 16, 2019 Spivey Hall Morrow, GA
March 2, 2019 Milford Town Hall Milford, MA
March 28, 2019 Noble County Community Concert Assoc. Kendallville, IN
March 29, 2019 Kokomo Community Concert Assoc. Kokomo, IN
March 30, 2019 Kuss Auditorium Springfield, OH
April 1, 2019 Arrowhead Concert Association Virginia, MN
April 2, 2019 Crookston Civic Music League Crookston, MN
April 4, 2019 Concert Series Devils Lake, ND
April 5, 2019 Pierre Concert Series Pierre, SD
April 7, 2019 Huron Concert Association Huron, SD
April 8, 2019 New Ulm Concert Series New Ulm, MN
April 9, 2019 Austin Arts Series Austin, MN
April 11, 2019 Antigo Music Association Antigo, WI
April 12, 2019 WAPAEC & Washington Concert Assoc. Washington, IA
April 13, 2019 Livingston County Concert Association Pontiac, IL
April 14, 2019 Concert Series Newton, IA
April 16, 2019 Hutchinson Concert Association Hutchinson, MN
April 23, 2019 Redwood Concert Association Marshall, MN
April 26, 2019 Watowan County Entertainment Assoc. Saint James, MN
April 28, 2019 Lebanon Concert Association Lebanon, MO
April 29, 2019 Bartlesville Community Concert Assoc. Bartlesville, OK
April 30, 2019 Grand Island Concert Association Grand Island, NE
May 1, 2019 Fairbury Concert Association Fairbury, NE
May 2, 2019 Kearney Concert Association Kearney, NE
May 5, 2019 Glenwood Springs Concert Association Glenwood Springs,CO
May 6, 2019 Delta-Montrose Concert Association Delta, CO
May 9, 2019 Central Montana Concert Association Lewistown, MT
May 10, 2019 Butte Community Concert Association Butte, MT
May 12, 2019 Center of the Nation Concert Association Belle Fourche, SD
May 13, 2019 Dakota Concert Series Hettinger, ND
May 14, 2019 Watford City Area Concert Association Watford City, ND
May 16, 2019 Concert Series Bottineau, ND
May 17, 2019 Northern Lights Concert Association Roseau, MN
May 20, 2019 The Sheboygan Concert Association Sheboygan, WI
May 21, 2019 Dodge County Concert Association Beaver Dam, WI
May 22, 2019 The Metro Community Concert Assoc. Waterloo, IA
May 23, 2019 Yankton Area Concert Association Yankton, SD
May 24, 2019 Fremont Midland Entertainment Series Fremont, NE
May 25, 2019 Friends of Music Concert Series Columbus, NE
May 28, 2019 Maple Leaf Community Concert Series Monmouth, IL
Related Articles View More TV

Stories
More Hot Stories For You