Nicole Elizabeth Berger Joins Cameron Boyce & Jason Patric In Indie Thriller RUNT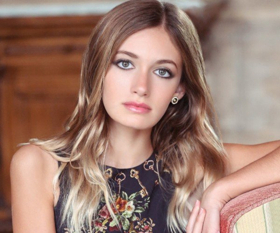 Producer Carl Rumbaugh today announced that Nicole Elizabeth Berger (All At Once, Clover) will join Cameron Boyce (Disney's Descendants) to topline in the teenage, dramatic Indie thriller, Runt, along with new co-stars Jason Patric (Speed 2, Narc), Brianna Hildebrand (Deadpool, Tragedy Girls), Tichina Arnold (Survivor's Remorse, Everybody Hates Chris) and Aramis Knight (Into the Badlands, Ender's Game). The film is directed by William Coakley and produced by Carl Rumbaugh (A Raisin in the Sun) and Gregory Thomas (Tragedy Girls), and is a production of Wagging Tails Productions, Inc. Runt is Coakley's first directorial feature. The film was written by Christian van Gregg, Armand CONSTANTINE and Coakley and is set to shoot in Los Angeles, California beginning this month.
Runt is a coming-of-age, haunting story that follows high-school teenagers - artistic-loner Cal (Boyce) and lone-wolf, principled Cecily (Berger). Cal lusts after "hot girl" Gabriella (Hildebrand), while he is being bullied by her boyfriend, Vic (Knight), and his group of goons and jocks. Conflicts and tough choices arise, leading Cal to become fed up with the way he is being treated. The film explores how a lack of adult-guidance or
INTERVENTION
from "grown-ups" who are absent or lacking in moral compass can readily devolve into pain, abuse, self-destruction and violence. Coach Wilkes (Patric), the Principal (Arnold) and Spanish teacher Talley (Mitch Silpa) - the adult figures at the high school - repeatedly fail the kids that they should be helping. With the insights of Cecily, the girl Cal has pined for all along, he finds himself making pivotal life choices that force him to choose between what's right and what he's willing to stand up to and fight for. Rumbaugh commented on the film, "I immediately fell in love with Runt after I read it for the first time, a thrilling, modern-day psychological horror story that tackles many of the challenging issues teenagers must deal with head-on in today's society - the absence of parents, disillusions from
TEACHERS
and adults, and the bullying and abuse that can result from all of them. This film brings a very real and authentic perspective to these dilemmas, and I'm so happy to be working with established actors, Jason Patric and Tichina Arnold, and authentic teenagers, Nicole Elizabeth Berger, Cameron Boyce and Brianna Hildebrand, who are so talented and able to bring this movie to life on the screen." Nicole Elizabeth Berger is repped by Paradigm Talent Management and MKS&D. Cameron Boyce is repped by Link Entertainment. Jason Patric is repped by Agency for the Performing Arts. Brianna Hildebrand is repped by ICM Partners and 23 Management Group. Tichina Arnold is repped by Agency for the Performing Arts and Tize & Co. Aramis Knight is repped by Osbrink Talent Agency and Ellen Meyer Management. Carl Rumbaugh is repped by 23 Management Group. Gregory Thomas is repped by Open Range Management. Learn more about Nicole Elizabeth Berger (@officialnicoleberger), Cameron Boyce (@thecameronboyce), Jason Patric (@jasonpatric), Brianna Hildebrand (@briannahilde), Tichina Arnold (@tichinaarnold), and Aramis Knight (@aramisknight) on Instagram.