MURDER CHOSE ME To Return to Investigation Discovery for Second Season April 4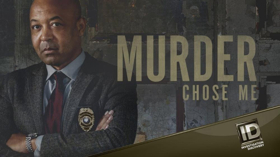 Investigation Discovery's MURDER CHOSE ME, featuring legendary Shreveport, Louisiana homicide detective Rod Demery returns for its second season on Wednesday, April 4 at 10/9c, only on ID.
The series follows Demery as he reflects on memorable cases from his 14 years as a homicide detective, where he miraculously achieved a confession and 100% solve rate in the more than 250 homicide cases where he served as lead detective. Demery himself is no stranger to tragedy, having experienced an incredible loss at the age of 3, when his mother was murdered. Then, when Demery was in his twenties, his brother was convicted of murder and sentenced to life in prison. Offering a uniquely personal connection to the story of each homicide he solved, MURDER CHOSE ME takes viewers on a journey with Demery as he continues to be driven by his one mission in life: to find justice and resolution for the families of murder victims, just like his own.
In each of the 10 all-new episodes of MURDER CHOSE ME, intimate first-person storytelling meets the gritty Shreveport, La backdrop, as Demery personifies how very impactful and life altering murder is on the victim's loved ones.
Instead of succumbing to the cycle, he resolved to do everything in his power not to repeat the mistakes of the past and pursued a career in criminal justice. Demery retired from the Shreveport Police Department in March, 2016 and is currently serving as a special homicide investigator for the district attorney's office.
Descriptions below for the first three episodes of season 2 of MURDER CHOSE ME; episode titles TBD:
Episode 206 Premieres Wednesday, April 4 at 10/9c
The bullet-ridden bodies of three friends are discovered in a car abandoned in Shreveport's most notorious neighborhood. Demery must venture deep into the city's seedy underbelly to catch a killer with an inscrutable motive and an evil disposition.
Episode 204 Premieres Wednesday, April 11 at 10/9c
A pair of masked gunmen crash a late-night birthday party, and when guest Noah Randle makes a heroic attempt to intervene, he is shot dead. Detective Rod Demery is called in on his day off to untangle a sinister plot fueled by a bitter grudge.
Episode 207 Premieres Wednesday, April 18 at 10/9c
A pillar of the Korean community is murdered in broad daylight on the doorstep of her popular beauty supply store. When the trail of physical evidence runs cold, Detective Rod Demery must rely on shoe-leather detective work to catch the killer.
MURDER CHOSE ME is produced for Investigation Discovery by Jupiter Entertainment. For Jupiter, Stephen Land, Todd Moss and Erich Sturm are executive producers. For ID, Lorna Thomas is senior executive producer, Elizabeth Stephenson is coordinating producer, Sara Kozak is senior vice president of production, Kevin Bennett is general manager, and Henry Schleiff is Group President of Investigation Discovery, AMERICAN HEROES CHANNEL and Destination America.
About Investigation Discovery (ID)
Investigation Discovery (ID) is the leading crime and justice network on television, delivering the highest-quality programming to approximately 85 million U.S. households. From harrowing crimes to in-depth investigations and heart-breaking mysteries behind these "real people, real stories", the always revealing network challenges our understanding of culture, society and the human condition. The #1 network for women in all of cable, ID's programming is available in both high definition (HD) and standard definition (SD), as well as anytime and anywhere through the network's TV Everywhere offering, IDGo. For exclusive web content and bonus material, fans can follow ID on Twitter, Instagram and Facebook or check out the network's true crime blog, CrimeFeed.
Investigation Discovery is part of Discovery (Nasdaq: DISCA, DISCB, DISCK), the world's #1 pay-TV programmer reaching 3 billion cumulative subscribers in 220 countries and territories to satisfy CURIOSITY and captivate viewers with a portfolio of premium nonfiction content brands. For additional information about ID, please visit InvestigationDiscovery.com