Jennifer Lopez and Wolfgang Puck Shine at Spago After Party Following Billboard Music Awards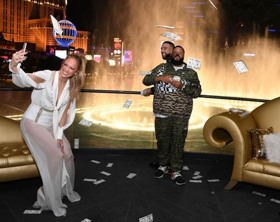 Jennifer Lopez, fresh off her Billboard Music Awards performance in Las Vegas, joined Wolfgang Puck to celebrate the release of her new single, "Dinero," at a private party held during a first-look at the new Spago, opening soon at Bellagio.
Friends, family and fans joined the international music icon to toast her electric performance earlier in the evening. The crowd looked on from Spago's outdoor patio overlooking the legendary Bellagio Fountains as they danced to "Dinero" while the new hit's collaborator DJ Khaled showered the crowd with J Lo-branded $100 bills.
As the song played, a seven-foot-tall cake, crafted by Bellagio's pastry team, was rolled out for the celebration flanked by gold-painted models holding green and gold sparklers. The towering creation was designed to resemble a bank vault, paying tribute to the single's music video, with edible gold bars, a massive chocolate $100 bill and a "Dinero"-emblazoned cheesecake all glittering under Lopez's personal logo.
Spago's dining room was decorated in glistening gold accents and the bigger-than-life set designs used in Lopez's Billboard Music Awards performance, including stacks of gold bricks and a gilded lion. Portraits of Lopez, Khaled and Cardi B from the music video lined the walls.
The party came to a festive finish with a high-energy dance party in Spago's main dining room. Rapper T.I. joined Lopez on the dance floor as his hit track "What You Know" thumped through the speakers.
Guests enjoyed a preview of Spago's new dishes by Wolfgang including Prime Beef Sliders with smoked onion marmalade, Pan-Seared Black Bass, Spiked Citrus Lollipops with yuzu cream and lemon caviar and, of course, the chef's signature wood-oven pizzas.
Among the notable celebrities who joined Lopez for the bash were Salt-N-Pepa, French Montana, Ashlee Simspon, Normani and others.
Photo credit: Denise Truscello/Getty Images