Iara Lee's Documentary 'Burkinabe Rising: The Art of Resistance In Burkina Faso: Honored at Winter Film Awards International Film Festival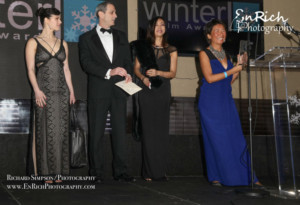 Iara Lee's feature-length documentary film Burkinabè Rising: The Art of Resistance In Burkina Faso was honored at New York City's 7th annual Winter Film Awards International Film Festival, taking home the award for Best Documentary Film and nominations for Best Original Score and Outstanding Woman Director.
The film (2017, 72 mins in French, English & Moore) tells the story of Burkina Faso, a small landlocked country in West AFRICA that is home to a vibrant community of artists, musicians and engaged citizens who carry on the revolutionary spirit of Thomas Sankara, killed in a coup d'état led by his best friend and advisor Blaise Compaoré, who then ruled the country as an autocrat for 27 years, til a massive popular insurrection led to his removal. Today, the spirit of resistance and political change is mightier than ever and it permeates every aspect of the Burkinabè life. It is an inspiration, not only to Africa, but to the rest of the world.
"Sankara is an African hero, but most people don't know much about him like they know about leaders such as Nelson Mandela", Ms. Lee said, stressing, though, that "Today, Sankara's spirit is everywhere in Burkina Faso", because, as she clarified Sankara "believed in building AFRICA for Africans- by coming together and organizing their communities, not waiting for others to do it for them."
Activist and filmmaker Iara Lee is the founder of the Cultures of Resistance Network. She collaborates with agitators, educators, artists and changemakers around the world to build global solidarity through creative resistance and nonviolent action. Iara Lee has produced several shorts and full-length documentaries to promote conflict prevention and resolution, and is working on a variety of humanitarian, arts & culture diplomacy projects.
"I hope people who watch my film will find that it provides an inspiring example of how young people can use art and creativity to bring change. [...] Change happens through music, art, agriculture, architecture, language..." the director stated, indicating that "To provoke change, you need everybody united..."
To learn more about the film and the director, please visit: culturesofresistancefilms.com/burkinabe-rising
At a glittering ceremony Saturday March 3 at the legendary Copacabana Nightclub in NYC, Winter Film Awards was proud to recognize the outstanding achievement of 15 films, and honored Carl Goodman, Executive Director of the Museum of the Moving Image as the 2018 Patron of the Cinema.
For a complete list of winners and nominees, please CLICK HERE.
New York City's 7th Annual Winter Film Awards International Film Festival runs February 22-March 3 2018. Check out our jam-packed lineup of 93 fantastic films in all genres from 31 countries, including Animation, Drama, Comedy, Thriller, Horror, Documentary and Music Video. Hollywood might ignore women and people of color, but Winter Film Awards celebrates everyone!
Winter Film Awards is an all volunteer, minority- and women-owned registered 501(c)3 non-profit organization founded in 2011 in New York City by a group of filmmakers and enthusiasts. The program is supported, in part, by public funds from the New York City Department of Cultural Affairs in partnership with the City Council and the NY State Council on the Arts.