HGTV to Premiere HOUSE HUNTERS: HOME FOR THE HOLIDAYS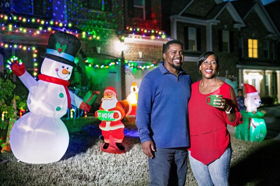 This holiday season, HGTV will offer fun seasonal programming including House Hunters: Home for the Holidays premiering Tuesday, Nov. 27, at 9 p.m. and 9:30 p.m. ET/PT.
In a unique twist on HGTV's hit series House Hunters, the new spinoff House Hunters: Home for the Holidays features heartwarming stories of families searching for a new place to celebrate a most wonderful time of the year. The eight-episode series follows buyers as they rush to find the perfect house just in time to deck the halls and celebrate with loved ones.
HGTV's "House Hunters" follows home seekers across the country as they search for their perfect house. They'll weigh the pros and cons of three different properties before deciding which one is meant for them. Will they pick the turnkey house with a higher price tag or one in their budget that needs a little TLC?