David Tennant to Appear at Wizard World Austin 2018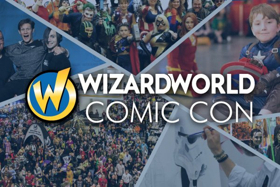 David Tennant, who starred as the "Tenth Doctor" on the long-running series "Doctor Who," has been added to the celebrity roster at this month's Wizard World Austin convention at the Austin Convention Center. He will appear on Friday and Saturday, Sept. 21-22, as Wizard World, Inc. (OTCBB: WIZD) continues its 2018 schedule with its ninth event in Austin. Wizard World events bring together thousands of fans of all ages to celebrate the best in pop culture: movies, television, gaming, live entertainment, comics, sci-fi, graphic novels, toys, original art, collectibles, contests and more. The 2018 Wizard World Austin show hours are Friday, Sept. 21, 4-9 p.m.; Saturday, Sept. 22, 10 a.m.-7 p.m.; Sunday, Sept. 23, 10 a.m.-4 p.m. Kids 10 and under are admitted free with paid adult. For more info, visit www.wizd.me/AustinPR.
Tennant will be joined in Austin by two "Doctor Who" stars, including Peter Capaldi, who portrayed the "Twelfth Doctor" and Pearl Mackie, whose character "Bill" was the companion to Capaldi's iteration of the lead on the BBC series. Tennant will greet fans, sign autographs, POSE for solo, dual and triple photo ops with his fellow "Doctor Who" stars at the event.
For "Whovians," it will be a rare opportunity to meet the British star, who has also made an impact on audiences in the acclaimed Current TV series "Broadchurch" and the Netflix series "Jessica Jones"). Tennant's principal run as the Tenth Doctor began in 2005 and continued through 2009, with a reprisal in the landmark 50th anniversary special "The Day of the Doctor" in 2013. Since his early work on local Scottish television through roles in some of the most beloved fantasy and sci-fi franchises of all time, Tennant has been entertaining audiences with his unique brand of wit, warmth and humanity.
In addition to Capaldi and Mackie, Tennant joins Jon Heder ("Napoleon Dynamite," "Blades of Glory"), Holly Marie Combs ("Charmed," "Picket Fences"), Charisma Carpenter ("Buffy the Vampire Slayer," "Angel"), Brian Krause ("Charmed"), Kevin Sorbo ("Hercules," "Andromeda"), Neil McDonough ("Legends of Tomorrow," "Arrow") and Thomas Ian Nicholas ("Rookie of the Year," "American Pie") atop the roster of celebrity guests scheduled to attend the comic con and pop culture extravaganza.
Wizard World Comic Con Austin is also the place for cosplay, with fans young and old showing off their best costumes throughout the event. Fans dressed as every imaginable character - and some never before dreamed - will roam the convention floor and participate in the famed Wizard World Costume CONTEST on Saturday evening.
ABOUT WIZARD WORLD (OTCBB: WIZD):
Wizard World, Inc. - www.wizardworld.com - produces comic, gaming and pop culture conventions across NORTH AMERICA that celebrate the best in pop culture: movies, television, gaming, live entertainment, tech, comics, sci-fi, graphic novels, toys, original art, collectibles, contests and more. A first-class lineup of topical programming and entertainment takes place at each event, with celebrity Q&A's, comics-themed sessions, costume contests, movie screenings, evening parties and more. Wizard World has also teamed with Sony Pictures Entertainment to find the next generation of movies as well as to engage in a number of strategic initiatives. Additional initiatives may include an augmented touring schedule of Wizard World shows, fixed-site installations, curated e-commerce, and the production and distribution of content both in the U.S. and internationally. Fans can interact with Wizard World at www.wizardworld.com and on Facebook, Twitter, Pinterest, Instagram and other social media services.
The 2018 Wizard World convention schedule is available at: www.wizardworld.com/comiccon.
Related Articles View More TV

Stories