BAM Presents STRANGE DESIRE: THE FILMS OF CLAIRE DENIS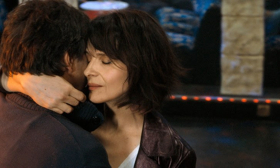 From Friday, March 29 through Tuesday, April 9, BAM presents Strange Desire: The Films of Claire Denis, the most extensive retrospective ever presented in the US dedicated to Denis, a filmmaker consistently counted among the greatest living directors by filmmakers and critics alike. Denis' work is a delicate balance of contradictions: her films are beloved, yet elusive; influential, yet singular; grounded in corporeality, but with a shifting relationship with time. Born in France, raised in colonial AFRICA where her father was a civil servant, and eventually returning to France as a teenager, Denis subtly explores race and colonial relationships, love and eroticism, the texture of bodies and environments, and the elasticity of time. Following the retrospective, BAM will screen Denis' critically acclaimed new feature, the poetic Science fiction film High Life (2019), starring Robert Pattinson, Juliette Binoche, Mia Goth, and André Benjamin. Denis will appear in person at BAM for a sneak preview show on April 3. The film opens in New York and Los Angeles on April 5.
The series begins with Beau Travail (1999), Denis' masterful update of Herman Melville's Billy Budd, starring Denis Lavant and regular collaborator Grégoire Colin. A study of jealousy and obsession set among the existential ennui and empty rituals of the French Foreign LEGION in Djibouti, Beau Travail captures Denis' signature elliptical style and hypnotic rhythms. A balletic study of bodies in motion with an unforgettable final scene, Beau Travail is Denis' most iconic and influential work.
Denis' interest in colonial LEGACIES pulses through much of the work featured in the series, including her feature debut Chocolat (1988), a semi-autobiographical work about a white French woman's complex relationship with a Cameroonian man, her family's household servant; No Fear, No Die (1990), a cockfighting drama set among Caribbean immigrants, screening with the short For Ushari Ahmed Mahmoud (1991); and White Material (2009), in which Isabelle Huppert, in an unnamed African country, stubbornly refuses to abandon her coffee plantation as civil war erupts around her.
The series also spotlights Denis' elastic approach to genre, as in Let the Sunshine In(2017), starring Juliette Binoche, a romantic comedy of sorts that deftly vacillates between modes of high romance, ironic detachment, anti-bourgeois satire, and melancholic drama, featuring a deep stable of great French actors, including Gerard Depardieu, Xavier Beauvois, and Alex Descas; the controversial Trouble Every Day (2001), starring Vincent Gallo and Beatrice Dalle, a work of shocking cannibal body horror, elevated by dreamy, elliptical rhythms and a heart of pained erotic longing; and the dark, political noir Bastards(2013).
Other films in the retrospective highlight Denis' deft portrayals of human interaction, both emotional and physical, including the bonds between fathers and children in the delicately observed 35 Shots of Rum (2008), a riff on Ozu's Late Spring starring Denis regular Alex Descas and actress-filmmaker Mati Diop; and families bound by blood and disrupted by violence in I Can't Sleep (1994) and Nenette and Boni (1996).
The series will also include lesser-known works-including a TV documentary chronicling the life of the great French filmmaker in Jacques Rivette, le veilleur (1990); the semi-autobiographical television film US Go Home (1994); a program of rare shorts; and more-and ends with The Intruder (2004), starring Michel Subor, the film that is perhaps the ultimate expression of Denis' elliptical filmmaking.
Photo Credit: Claire Denis' Let the Sunshine In (2017)