Auteur-Driven, Hyper-Independent, Millennial Anti-Rom-Com WOBBLE PALACE Comes To DVD/VOD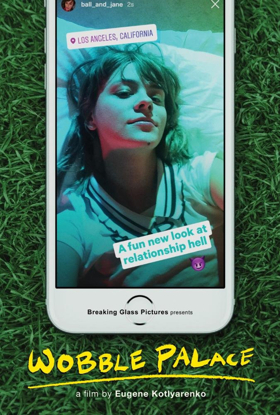 Breaking Glass Pictures will release writer/director/actor Eugene Kotlyarenko's millennial romance gone awry WOBBLE PALACE in on DVD/VOD this October. The "nervous breakup" film will debut on all digital VOD platforms October 23, including: iTunes; Amazon; Vudu; iNDEMAND; Direct TV and more, as well as on DVD.
From writer/director Eugene Kotlyarenko (A WONDERFUL CLOUD, FEAST OF BURDEN, 1s & 0s), the film is the debut of rising star and social media sensation Dasha Nekrasova (SOFTNESS OF BODIES; SAILOR SOCIALISM) and features Jack Kilmer, Paige Elkington, Vishwam Velandy, Caroline Hebert, Casey Jane Ellison, Janiva Ellis, Kim Ye, and Elisha Drons. It was lensed by DP Sean Price Williams (GOOD TIME). Producers include Claire Bargout, A.J. Del Cueto, Andy Faulkner, and Drew Foster. WOBBLE PALACE premiered at SXSW, and went on to play Munich Film Festival and Maryland Film Festival.
Described as a film that shines "a glaring iPhone flashlight on their characters' - and their generation's - flaws" (Los Angeles Times), Wobble Palace "is special: a sendup of broke-artist types that shimmers with abashed affection. (The New York Times), while The New Yorker's Richard Brody remarked that "neither character offers much more than a handful of idiosyncrasies, which, nonetheless, are often funny, poignant, and clever."
"I'm really pumped about the opportunity to unleash Wobble Palace upon audiences", said Kotlyarenko. "Breaking Glass came to us with an unbridled enthusiasm for the film, and they really get what I'm trying to do with this slice of relationship madness. We're all excited to see how peoplewill react to the dysfunctional, charged and idiosyncratic nature of the movie."
WOBBLE PALACE takes place on the eve of America's most traumatic election, where a couple on the verge of a nervous break-up decide to split their house up over the weekend. Desperate to make new connections, Jane and Eugene find themselves in a series of unpredictable misadventures, sexual escapades and emotional traumas. From this simple premise we delve into a manic and hilarious world of lust and mistrust, revealing the identity crises and narcissistic self-loathing at the core of the millennial experience.
"Unique, bold, and original, Kotlyarenko's film shifts from hilarious comedy to drama as it navigates a millennial couple's waning attempt to maintain their home together, despite their breakup" concludes Richard Ross, Co-President of Breaking Glass. "Filled to the brim with strange ideas and even stranger characters that are simultaneously charming and repellent, this social media-drenched indie is an exciting and fresh look at contemporary relationships."
WOBBLE PALACE
Genre: Comedy, Romance, Drama
Running Time: 86 Minutes
Rating: NR
Language: English
Cast:
Eugene Kotlyarenko
Dasha Nekrasova
Jack Kilmer
Paige Elkington,
Vishwam Velandy
Caroline Hebert
Casey Jane Ellison
Janiva Ellis
Kim Ye
Elisha Drons
Directed by: Eugene Kotlyarenko
Written by: Eugene Kotlyarenko
Story by: Eugene Kotlyarenko, Dasha Nekrasova
Produced by: Claire Bargout | A.J. Del Cueto | Andrew Faulkner | Drew Foster
Related Articles
View More TV

Stories
More Hot Stories For You