Atlantic Records Releases Musical Companion to Netflix's Blockbuster Film BRIGHT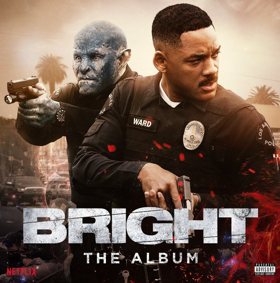 Atlantic Records is proud to announce today's release of BRIGHT: THE ALBUM, the official musical companion to the upcoming Netflix blockbuster film BRIGHT, starring Will Smith and Joel Edgerton. BRIGHT: THE ALBUM is available now at all music retailers and streaming services; BRIGHT premieres Friday, December 22nd on Netflix.
The road to the release of BRIGHT: THE ALBUM kicked off last month with the announcement of its visionary track listing and the unveiling of two extraordinary tracks: "World Gone Mad" by
Bastille
and "Darkside" by Ty Dolla $ign & Future (Feat. Kiiara). In the weeks since, BRIGHT: THE ALBUM has been heralded with even more mind-blowing instant grat tracks and visuals including "Home" from the incomparable trio of
Machine
Gun Kelly, X
Ambassadors
& Bebe Rexha. The hit single is accompanied by a heart-warming companion video directed by acclaimed BRIGHT filmmaker David Ayer. Earlier this week, the trio performed the song on NBC's The Voice and on WWE's Tribute To The Troops. Next came the release of "Broken People" by Logic & Rag'n'Bone Man, which Entertainment Weekly dubbed "a worthy victory lap" for Logic's "breakout year." Last week saw the release of "Danger" which paired newly GRAMMY® nominated trio Migos with masked producer Marshmello. Watch the action-packed companion visual featuring never-before-seen footage from BRIGHT HERE. Just yesterday, Atlantic Records unveiled the explosive new collaboration "Crown" from Billboard's 2017 "Breakthrough Artist,"
Camila Cabello
and the rising LA-based platinum selling production duo Grey. "Crown" immediately climbed into the top 10 on charts in 15 countries, while skyrocketing all the way to No. 1 in five countries. To date, all pre-released tracks have amassed a total of over 100 million streams worldwide. A genre-defying collection of songs, BRIGHT: THE ALBUM, arrives today with seven additional brand new original and exclusive songs by artists from all ends of the musical spectrum. Listeners will be treated to unparalleled joint efforts including "Campfire" by DRAM & Neil Young, "FTW (F**k The World)" by A$AP Rocky & Tom Morello, "That's My N****," by Meek Mill, YG &
Snoop Dogg
and "Smoke My Dope" by Steve Aoki & Lil Uzi Vert. Additional album highlights include "Cheer Up" by new GRAMMY® nominees Portugal. The Man, "Hares On The Mountain" by critically-acclaimed trio alt-J and a beautiful rendition of the patriotic classic "This Land Is Your Land" by country music superstar Sam Hunt. Earlier this week, artists including Migos, Bebe Rexha, Ty Dolla $ign,
Machine
Gun Kelly, Portugal. The Man, DRAM, Grey and Kiiara came out to celebrate Bright at the official U.S. film premiere in Los Angeles, during which, Migos treated guests to surprise performances of "Danger," from BRIGHT: THE ALBUM. BRIGHT: THE ALBUM reunites Bright Director David Ayer (Suicide Squad, End of Watch, Training Day, Fury) with Bright Executive Music Producer and GRAMMY® Award-winning, Atlantic Records President, West Coast, Kevin Weaver (Suicide Squad, The Fast and Furious Franchise, Fault In Our Stars, Boardwalk Empire). The team first worked together as producers of Atlantic's blockbuster SUICIDE SQUAD: THE ALBUM. "David Ayer understands the value music can bring to a film and working alongside him once again has allowed us to create a soundtrack that fits the world of Bright in a true bespoke fashion," said Kevin Weaver, President of Atlantic Records, West Coast and Executive Music Producer of Bright. "Netflix has fully embraced these new songs by incorporating them within all marketing materials, weaving the music into the overall DNA of the Bright brand in a way that's never been done before. I am excited to break this new ground together with them." "My best ally as a storyteller and filmmaker is music," says Bright director David Ayer. "The right song, the right beat, the right mood can magically elevate a scene into something spectacular. After working closely with Kevin Weaver and Atlantic Records and achieving incredible success with the
Suicide
Squad soundtrack, we decided to team up again on Bright. It's been a pleasure to work with Kevin again, he not only understands today's music market and its fast evolving technologies, but keeps it old school; because at the core, making music comes from relationships with talented songwriters and performers. It is these relationships that give us the beautifully realized Bright soundtrack. It has been a pleasure to collaborate with Netflix and Atlantic Records and break new ground with them. We've done things that have never been done before; developing the music for the film, while creating the soundtrack and building a marketing campaign around it." ABOUT BRIGHT From the director of SUICIDE SQUAD and END OF WATCH, David Ayer, comes a new action-packed film starring Will Smith, Joel Edgerton, Noomi Rapace, Edgar Ramirez and Lucy Fry. The Netflix Film was produced by Ayer, Eric Newman and Bryan Unkeless and will be released on Netflix on December 22nd. Set in an alternate present-day, this action-thriller directed by David Ayer (SUICIDE SQUAD, END OF WATCH, writer of TRAINING DAY) follows two cops from very different backgrounds. Ward, a human (Will Smith), and Jakoby, an orc (Joel Edgerton), embark on a routine night patrol that will alter the future of their world as they know it. Battling both their own personal differences as well as an onslaught of enemies, they must work together to protect a deadly, thought-to-be-forgotten relic, which in the wrong hands could destroy everything
Prepare to enter the world of BRIGHT: Facebook, Twitter, and Instagram.
BRIGHT: THE ALBUM
(Atlantic Records)
AVAILABLE NOW
Track Listing
1. Logic & Rag'n'Bone Man "Broken People"
2. Bastille "World Gone Mad"
3. Machine Gun Kelly, X Ambassadors & Bebe Rexha "Home"
4. Camila Cabello & Grey "Crown"
5. Ty Dolla $ign & Future (Feat. Kiiara) "Darkside"
6. Migos & Marshmello "Danger"
7. Meek Mill, YG & Snoop Dogg "That's My N****"
8. Steve Aoki & Lil Uzi Vert "Smoke My Dope"
9. A$AP Rocky & Tom Morello "FTW (F**k The World)"
10. Portugal. The Man "Cheer Up"
11. alt-J "Hares On The Mountain"
12. DRAM & Neil Young "Campfire"
13. Sam Hunt "This Land Is Your Land"
WATCH THE OFFICIAL SOUNDTRACK TRAILER HERE
LISTEN TO BRIGHT: THE ALBUM: https://Atlantic.lnk.to/BrightPR
LISTEN & SHARE TODAY'S NEWLY RELEASED TRACKS:
DRAM & Neil Young "Campfire": https://atlanti.cr/campfireaudio
A$AP Rocky & Tom Morello "FTW (F**k The World)": https://atlanti.cr/ftwaudio
Meek Mill, YG & Snoop Dogg "That's My N****": https://atlanti.cr/thatsmynaudio
Steve Aoki & Lil Uzi Vert "Smoke My Dope": https://atlanti.cr/smokemydopeaudio
Portugal. The Man "Cheer Up": https://atlanti.cr/cheerupaudio
alt-J "Hares On The Mountain": https://atlanti.cr/haresonthemountainaudio
Sam Hunt "This Land Is Your Land": https://atlanti.cr/thislandisyourlandaudio
Related Articles
View More TV

Stories
More Hot Stories For You