Angela Bassett to Host the Music Centers 30th Annual Spotlight Grand Finale Performance at Walt Disney Concert Hall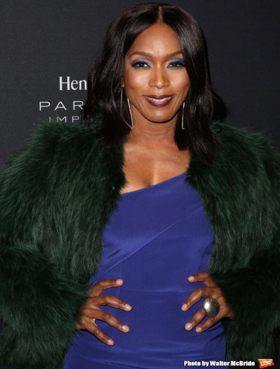 Oscar™-award nominated actress Angela Bassett will host The Music Center's 30th Annual Spotlight Grand Finale Performance at The Music Center's Walt Disney Concert Hall on June 5, 2018, at 7:00 p.m. This landmark event will showcase the 14 outstanding Southern California high school students, ages 15-18, who were recently named Grand Prize Finalists and will celebrate three decades of the vital scholarship and arts training program that has helped launch the careers of many of today's most renowned artists. The event culminates a year-long process where more than 1,400 Southern California students participated in the program.
Known for her work in film, television and on stage as actor, director and producer, Bassett has received accolades for her performances including a Golden Globe Award along with Academy Award™ and Emmy nominations. She has been a supporter of various causes including UNICEF, diabetes, and the Royal Theatre Boys and Girls Club, one of the first all performing arts Boys and Girls Clubs, in her hometown of St. Petersburg, Florida. Most recently, Angela starred in Ryan Coogler's highly acclaimed BLACK PANTHER with Chadwick Boseman, Sterling K. Brown, and Lupita Nyong'o; and in MISSION: IMPOSSIBLE-FALLOUT with Tom Cruise, which will be released in July of this year.
Joining Bassett for the event are Spotlight alumni Erin Mackey, star of Broadway's Wicked, Sondheim on Sondheim, Anything Goes, Chaplin and Amazing Grace; and Matthew Rushing, rehearsal director and longtime company dancer with Alvin Ailey American Dance Theater. Mackey won the Spotlight Award in 2003 for non-classical voice while a student at Fullerton Union High School, and Rushing won the Spotlight Award in 1991 for non-classical dance as a student at the Los Angeles County High School for the Arts.
"We are thrilled to have Angela Bassett join The Music Center's Spotlight family. She personifies the spirit of the program as she has leveraged her talent and education into opportunities both in front of and behind the camera. Her accomplishments serve as an inspiration to all the young people involved in the program and she will play a key role in honoring these 14 talented Southern California teens," said Rachel Moore, president and CEO of The Music Center.

Spotlight provides opportunities for Southern California high school students to acquire the skills necessary to pursue their artistic dreams in the performing arts along with valuable workforce readiness skills. Two Grand Prize Finalists were named in each of seven categories, including acting, ballet, non-classical dance, classical voice, non-classical voice, classical instrumental and jazz instrumental. Each of the finalists receive $5,000 scholarships. The Music Center also named an Honorable Mention in each category, each of whom receives a $1,000 scholarship. More than 45,000 students have participated in Spotlight since its inception in 1988, and The Music Center has awarded more than $2 million in scholarships and cash awards to aspiring performers and artists through the program.
The Spotlight Grand Prize Finalists include:
Acting: Hannah Franklin, 17, Orange County School of the Arts (OCSA); KJ Powell, 18, John Burroughs High School
Ballet: Nicole Denney, 16, San Clemente High School; Aviva Gelfer-Mündi, 16, Arnold O. Beckman High School
Non-Classical Dance: Jaden Barba, 15, Temecula Valley High School; Marcus Sarjeant, 17, Orange County School of the Arts (OCSA)
Classical Voice: Ariana Prappas, 17, San Marino High School; Michael McDermott, 18, Pacific Coast High School
Non-Classical Voice: Aubrey Matalon, 16, Notre Dame High School; Katelyn Hunter, 17, Cerritos High School
Classical Instrumental: Annette Lee, 16, Polytechnic High School - Pasadena; Tyler Kim, 15, Temecula Valley High School
Jazz Instrumental: Jonah Goldstein, 17, Agoura High School; Ethan Moffitt, 17, Verdugo Academy
The Honorable Mentions include: Acting - Nick Moseley, 17, The Bishop's School Will Parsons; Ballet - Ashely Lew, 14, Lutheran High School of Orange County; Non-Classical Dance - Aaliyah Zolina, 16, Orange County School of the Arts (OCSA); Classical Voice - Alissa Goretsky, 17, Providence High School; Non-Classical Voice - Quinn Martin, 18, Hillcrest Christian School; Classical Instrumental - Kristi Kim, 18, Laurel Springs School; and Jazz Instrumental - Aria Chais, 18, Los Angeles County High School for the Arts (LACHSA).
Numerous Spotlight participants have gone on to successful professional careers. Twenty finalists are Presidential Scholars, and many more have joined or performed with professional companies including Alvin Ailey American Dance Theater, American Ballet Theatre, Metropolitan Opera, LA Opera, Boston Symphony Orchestra and the New
York Philharmonic, among others. They include Misty Copeland, who made history in the dance world as the first African American principal dancer for American Ballet Theatre; Adam Lambert and Josh Groban, pop recording artists; Yao Guan Zhai, associate principal clarinet of the Toronto Symphony; Gerald Clayton, Grammy Award winning jazz recording artist; and many others.
Fredric M. Roberts is founding chairman of The Music Center's Spotlight program. The late Walter Grauman was the creator.
Tickets to the June 5, 2018, Spotlight Grand Finale Performance are $20 and are on sale now at the Dorothy Chandler Pavilion Box Office, 135 N. Grand Avenue, Los Angeles, CA, 90012; by calling (213) 972-0711; or by visiting musiccenter.org/spotlightfinale. For more information about The Music Center's Spotlight program, visit musiccenter.org/spotlight or join the conversation on facebook.com/spotlightawards.
Photo Credit: Walter McBride
Related Articles View More TV

Stories