THE MERRY WIDOW, ROCKING HORSE WINNER and More Set for Opera Saratoga's 2018 Summer Festival Program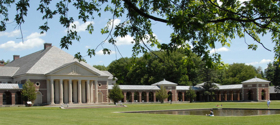 Opera Saratoga's Artistic and General Director Lawrence Edelson announced that the company's 2018 Summer Festival will feature new productions of four operas at The Spa Little Theatre in Spa State Park, along with a wide variety of free and ticketed concert events from May 26 through July 15 at venues throughout the region.
One of the most popular operettas across the globe, THE MERRY WIDOW returns to Opera Saratoga for the first time in thirty years next summer. Hanna Glawari, the Merry Widow, is beautiful and rich... and she's captivated every man in the country. But Hanna is looking for true love. Will she be able to find a suitor that is not only after her wealth? Will the nation of Pontevedro slip into economic collapse if she marries a foreigner? Will all those dancing girls prove too distracting for the audience?! Franz Lehár's magical score features the famous "Vilja" song, the "Merry Widow Waltz," and many more beloved melodies. The Merry Widow, which was composed in 1905, ushered in a new era of operettas in which the waltz was used for romantic plot purposes, and was danced as much as sung. Opera Saratoga's new production continues the company's Opera-in-Motion initiative, in which dance is prominently integrated into one production each summer. The Merry Widow will be directed and choreographed by John de los Santos, and conducted by Anthony Barrese, both making their company debuts. Soprano Cecilia Violetta López (Beatrice in Il Postino, 2016) returns to star in the title role, alongside the company debut of baritone Jonathan Beyer as Danilo.
Winner of both The New York Drama Critic Circle award as the Best Musical Play and the Pulitzer Prize in Music in 1950, THE CONSUL is an American masterpiece that ran on Broadway for eight months before premiering at La Scala, followed by productions at opera houses around the globe. Olin Downes hailed the Broadway premiere in The New York Times as "a smash hit" and "an opera of eloquence, momentousness, and intensity of expression...written from the heart, with a blazing sincerity and a passion of human understanding... It is torn out of the life of the present-day world, and poses an issue which mercilessly confronts humanity today. And this is done with a new wedding of the English language with music in a way which is singable, intensely dramatic and poetic by turns, and always of beauty."Almost 70 years later, Gian Carlo Menotti's riveting opera still delivers a punch as powerful and timely as its subject matter - the struggle for freedom against oppression, and the maddening nature of unrelenting bureaucracy. Set in an unnamed European city, political dissident John Sorel is on the run from the secret police. After he escapes the country, his devoted wife Magda clashes with the bureaucracy at the Consulate while trying to obtain an exit visa for her family. The emotional high point of the opera comes when Magda, thwarted in her quest for a visa, addresses the Consul's secretary in "To this we've come," a stirring lament over the world's indifference to inhumanity and suffering. The suspenseful narrative surprises with several magical touches and is buoyed by a melodic score in which love, hope, and redemption all play their part. Last seen at Opera Saratoga (as Lake George Opera) in 1984, The Consul remains as timely as when it was written, taking on renewed relevance for contemporary audiences. Artistic and General Director Lawrence Edelsondirects this new production, conducted by Andrew Bisantz (Le nozze di Figaro, 2016). The production will feature soprano Meghan Kasanders, a distinguished alumna of Opera Saratoga's Young Artist Program, as Magda Sorel, alongside baritone Wes Mason as John Sorel, and mezzo soprano Deborah Nansteel as John's Mother, both in their company debuts.
The third production of the season will be a double-bill of contemporary operasthat revolve around themes of obsession, desire, competition and the need to win as seen through the lens of two very different sports - Thoroughbred Horse Racing, and Finch Sitting!
The first half of the double-bill will be the American Premiere of ROCKING HORSE WINNER. This critically acclaimed chamber opera by Gareth Williams and Anna Chatterton received its world premiere last season at Tapestry Opera in Toronto. A modern adaptation of D.H. Lawrence's short story,
Rocking Horse Winner explores the relationship between Paul and his emotionally distant mother. Paul becomes dangerously obsessed with solving the "bad luck" of his family in order to win his mother's love. His pursuit awakens a strange magic that connects him not only to luck, but also to powerful voices only he can hear - voices that tell him which horses will win at the track. Rocking Horse Winner is an intimate, psychological look at love, "luck", and greed. The second half of the double-bill will feature the World Premiere of a new chamber version of VINKENSPORT, or THE FINCH OPERA. Originally commissioned by Dawn Upshaw for the Graduate Vocal Arts Program at the Bard Conservatory, where it premiered in February of 2010, this opera was one of the earliest collaborations between David T. Little and Royce Vavrek, whose critically acclaimed works also include JFK and Dog Days. Vinkensport is a bittersweet comedy in one act that explores the nature of competition and the need to win through the frame of an obscure Flemish folk sport, Finch-Sitting. We see a motley assortment of contestants battle to see who has the most melodious bird. As they compete, the joys, sorrows, delusions and all-too-stark realities of their trainers are revealed. Principal roles in both operas will be cast from members of OperaSaratoga's nationally acclaimed Young Artist Program - the second oldest mentorship program for emerging opera singers in the country, under the leadership of Laurie Rogers. The production will prominently feature these gifted singers as part of Opera Saratoga's commitment to providing emerging professional artists important performing opportunities to advance their careers. The production will be directed by Michael Hidetoshi Mori in his company debut, and will be conducted by Lidiya Yankovskaya (Zémire et Azor, 2017).
In making the announcement today, Edelson reflected on opera's ability to captivate diverse audiences through vivid music and compelling stories. "From the enchanting waltzes and flirtatious scheming in The Merry Widow, through the striking and timely exploration of human rights in The Consul, to the often obsessive and all-encompassing nature of gambling and competition in our double-bill of Vinkensport and Rocking Horse Winner - which brings our local passion for Thoroughbred Racing to the opera stage - Opera Saratoga is committed to entertaining, moving, and engaging audiences. In opera, we often see and hear characters who are often very different from ourselves - but just as often, we see ourselves and our world reflected on the stage. We look forward to sharing four very different operas during the 2018 Festival - there truly is something for everyone next summer at Opera Saratoga!"
In addition to the opera productions, Opera Saratoga will present a variety of free and ticketed concerts and master classes from May 26 through July 15 at venues throughout the region. These events will include two concerts directly connected to the summer operas: Vienna, City of My Dreams - a concert featuring scenes from operettas by Johann Strauss, Franz Lehár, Emmerich Kálmán, Franz von Suppé, Leo Fall and more; and Refugee Voices, a concert of vocal music by composers from different periods of time who were refugees.
The complete performance schedule for the 2018 Summer Festival, along with Subscription Packages, will be available on October 1, 2017. Single tickets will go on sale February 15, 2018. For more information, visit www.operasaratoga.org.
FEATURED GUEST ARTISTS:
ANTHONY BARRESE (Conductor, The Merry Widow): Anthony Barrese, hailed by South Florida Classical Review as conducting "with passion and idiomatic fluency,"earns accolades as both a composer and a conductor. His original works earn numerous awards, and he is regularly engaged by operacompanies in North America and Italy. Currently serving as Artistic Director and Principal Conductor of Opera Southwest, Mr. Barrese's conducting credits include Le nozze di Figaro, Die Fledermaus, La Cenerentola, Rossini's Otello with the American staged premiere of the finale lieto, and a "Return of Rossini" festival. This season, Mo. Barrese continues his tenure as Artistic Director of Opera Southwest with a production of Guillaume Tell, conducts Kurt Weill's operetta Johnny Johnson with Chicago Folks Operetta, The Merry Widow for Opera Saratoga, and Orfeo ed Euridice in a return to Florida Grand Opera. Last season, Mo. Barrese conducted Tancredi with Opera Southwest, L'italiana in Algeri with Sarasota Opera, and Semiramide with OperaDelaware. Additionally, in recent seasons, he made debuts at Florida Grand Opera conducting Les pêcheurs de perles and Norma, Opera Theatre of St. Louis conducting The Kiss, Opera North conducting L'elisir d'amore, and Boston Lyric Opera conducting Don Giovanni. In 2014, Mr. Barrese held the prestigious honor of leading the world première of Franco Faccio's little known opera Amleto with Opera Southwest, not heard anywhere since 1871. With his background as a musicologist, Barrese worked vigorously for nearly ten years to rediscover, prepare, and edit the critical edition of Amleto, in conjunction with Casa Ricordi, for American audiences. In the following years, Amletopremiered on the east coast with Opera Delaware, and as a part of the Bregenz Festival in Austria. Mr. Barrese made his operatic conducting debut in Milan with La bohème and made his debut in France conducting Turandot at the Opéra de Massy. He led several productions with Sarasota Opera including Lakmé, Le nozze di Figaro, and Hansel and Gretel; and a new production of Turandot in the historic Teatro Ventidio Basso, with a cast that included Nicola Martinucci as Caláf. Barrese was the Assistant Conductor of the Dallas Operain 2006-2007 and later returned there as Guest Conductor for a production of Tosca, and La Wally.
Jonathan Beyer (Danilo, The Merry Widow): Baritone Jonathan Beyer has quickly established himself as a versatile performer in repertoire ranging from Count Almaviva in Mozart's Le nozze di Figaro to the title role in John Adams' Nixon in China. Recently he performed Rossini's Figaro with Pittsburgh Opera, Opera Company of Philadelphia and Opera Theatre of St. Louis, Marcello in La bohème with Boston Lyric Opera and in Frankfurt, Danilo in The Merry Widow with Lyric Opera of Chicago (cover), Dr. Falke in Die Fledermaus with Florentine Opera, Malatesta in Don Pasquale in Naples, Guglielmo in Così fan tutte with Florida Grand Opera, Marcello with the Dallas Opera, Ping in Turandot with the Cincinnati Opera, and Carmina Burana with the New Jersey Symphony. Other notable performances have included engagements with the Munich Philharmonic, and the Royal Opera in Oman as Schaunard in La bohème with Maestro Lorin Maazel, the Count in Mozart's Le nozze di Figaro for Austin Lyric Opera, Ping in Puccini's Turandot for the Dallas Opera, Mendelssohn's Elijah with the Ft. Worth Symphony, Le Comte de Vaudemont in Verdi's Les vêpres siciliennes for Frankfurt Opera, and Ping in Turandot with l'Opéra de Montréal, the Count in Le nozze di Figaro with the Ft. Worth Opera, Escamillo in Carmen with the Opera Company of Philadelphia, Schaunard in La bohème with Hong Kong Opera and the Castleton Festival with Lorin Maazel, l'Heure Espagnole for Opera Frankfurt, Lescaut in Manon for Knoxville Opera, Jonathan Dove's Flight with Austin Lyric Opera, and Captain Gardiner in the World Premiere of Moby Dick for the Dallas Opera. Mr. Beyer made his Metropolitan Opera debut as Wagner in a new production of Faust in 2011, and his Italian debut in Bari as Figaro in IL Barbiere di Siviglia in 2012. Mr. Beyer's concert appearances include his American Symphony Orchestra debut in Stravinsky's Canticum Sacrum at Carnegie Hall, Faure's Requiem with the Colorado Symphony, Copland's Old American Songs with the Ft. Worth Symphony, Mahler's Knaben Wunderhorn, Symphony in C and Vier Ernste Gesänge with the Philadelphia Brahms Festival, Carmina Burana with the National Chorale at Lincoln Center, and Tosca with the Ravinia Festival under the baton of Maestro James Conlon. An avid recitalist, Mr. Beyer has performed in recital with Craig Rutenberg, Mikael Eliasen, Kristin Okerlund, Martin Katz and Brian Zeger. He has given recitals through the Vocal Arts Society, Marilyn Horne Foundation, Chicago Cultural Center, Judith Raskin Foundation, Bertlesmann Foundation, Huntsville Chamber Music Guild, Pittsburgh Concert Society, Over the Rainbow Foundation, Astral Artists, and the Marian Anderson Foundation. Mr. Beyer was a National Finalist in the Metropolitan Opera National Council Awards, a Grand Prize winner at the 2011 George London Foundation, and was the 1st Place Winner at the Marian Anderson Prize for Emerging Classical Artists. He is a graduate of the Curtis Institute of Music and the Chicago College of Performing Arts at Roosevelt University.
ANDREW BISANTZ (Conductor, The Consul): A versatile musician acknowledged for his passionate and commanding leadership from the podium, the exciting American conductor Andrew Bisantz is building an impressive roster of credits at leading national orchestras and operacompanies throughout the country. As the Music Director at Eugene Opera, Mr. Bisantz has been responsible for the emergence of the company as one of the most noted and important performing arts organizations in the Pacific Northwest. In Eugene, he has conducted Don Giovanni, Le nozze di Figaro, Faust, La bohème, The Mikado, Carmen, Nixon in China, Pirates of Penzance, Dead Man Walking, Offenbach's Orphée aux Enfers, La fanciulla del West, L'elisir d'amore, Lucia di Lammermoor, Eugene Onegin, and La traviata. This season, he continues his position as Music Director at Eugene Opera and will conduct their production of IL Barbiere di Siviglia. He will also be conducting Rosencrantz & Guildenstern Are Dead with Seagle Music Colony, La fanciulla del West in a return to Virginia Opera, and a concert titled "Mozart's Operatic Favorites" with Buffalo Philharmonic Opera. Last season, Mo. Bisantz conducted a production of Le nozze di Figaro with OperaSaratoga, Little Women at the Astoria Music Festival, a New Year's Eve concert with Eugene Opera, and an operatic adaptation of a theatrical retelling of Oedipus Rex, Greek with Boston Lyric Opera. Notable engagements from the past few seasons include returns to Florida Grand Opera for Rigoletto, Menotti's The Consul, and Die Zauberflöte; A Midsummer Night's Dream at McGill University; Rigoletto at Opera Coeur d'Alene and Tri-Cities Opera; Verdi's La traviata for Virginia Opera; Le nozze di Figaro at Opera San José; La fanciulla del West at Opera Omaha; and Don Giovanni at Savannah Voice Festival and in his debut with Wolf Trap Opera. He also conducted Beethoven's Symphony No. 5 with the Boston Landmarks Orchestra under the famed Hatch Shell and sold-out performances of Rhapsody in Blue with Buffalo Philharmonic. He made his European debut conducting concerts with the Orquestra Sinfónica do Porto in Porto, Portugal and returned conducting a concert of Bomtempo's Requiem with the OSP and the Coro Casa da Música. He also recently débuted at the Brevard Music Center, conducting Donizetti's L'elisir d'amore for the Janiec Opera Company.
LAWRENCE EDELSON (Director, The Consul; Artist and General Director, Opera Saratoga): The 2018 Summer Festival at Opera Saratoga will mark the fourth season under Lawrence Edelson's leadership as Artistic and General Director. As a stage director, Lawrence's diverse productions have included the American premiere of Telemann's Orpheus for Wolf Trap Opera, Philip Glass's Hydrogen Jukebox for Fort Worth Opera, La traviata for The Minnesota Opera, Il Postino, La cenerentola and H.M.S. Pinafore for Opera Saratoga, Little Women for Michigan Opera Theatre, IL Barbiere di Siviglia for Hawaii OperaTheater, Carmen for Toledo Opera, the world premiere of Buried Alive(Myers/Long) for Fargo-Moorhead Opera, and The New York premiere of Fauré's rarely produced Pénélope for Manhattan School of Music. Most recently, Lawrence directed and choreographed the 80th Anniversary production of Marc Blitzstein's The Cradle Will Rock at Opera Saratoga in collaboration with Maestro John Mauceri, which was recorded for commercial release. He was a guest member on the directing staff of New York City Opera, where he restaged Little Women twice: for the work's Lincoln Center premiere and for the company's tour to Japan. From 2008 to 2012, Lawrence was also a faculty member at the International Vocal Arts Institute in Tel Aviv, where he led seminars on American opera, and directed original productions of Little Women, A Midsummer Night's Dream, Werther, Ariadne auf Naxos, and Eugene Onegin. Before focusing on directing and arts administration, Lawrence enjoyed a performing career in both ballet and opera. He studied voice and musicology at The University of Ottawa and dance at The Joffrey Ballet School in New York City. As a dancer, he performed with Boston Ballet, Ballet West, and BalletMet Columbus. He has choreographed for ballet and opera companies around the country. As a singer, he appeared in opera, oratorio and musical theater internationally. Lawrence completed his master's degree in performing arts administration at New York University. In the operafield, Lawrence is perhaps best known as the founder of American Lyric Theater (ALT). As Producing Artistic Director at ALT, a position he continues to hold concurrent with his position at Opera Saratoga, he coordinates the company's diverse artistic programs including The Composer Librettist Development Program, commissioning of new works, and co-production relationships. Recent projects at ALT include the development of The Long Walk (Beck/Fleischmann), which premiered at Opera Saratoga in 2015; and JFK (Little/Vavrek), which premiered at Fort Worth Opera in 2016.
MEGHAN KASANDERS (Magda Sorel, The Consul): American soprano Meghan Kasanders is quickly gaining recognition as a promising young dramatic voice. An alumna of Opera Saratoga's Young Artist Program, she recently appeared with the company as Sadie Polock in the newly recorded production of Marc Blitzstein's The Cradle Will Rock, conducted by world renowned conductor John Mauceri, and covering the role of Alice Ford in Falstaff. This season, Ms. Kasanders also sings Mutter in Humperdinck's Hänsel und Gretel with Union Avenue Opera in St. Louis. In the summer of 2016, Meghan was a Gerdine Young Artist with Opera Theatre of Saint Louis, where she covered the Lady in Waiting in Verdi's Macbeth, study covered Primadonna/Ariadne in Ariadne on Naxos, and sang a scene from Carlisle Floyd's Susannah with the St. Louis Symphony under the baton of Stephen Lord. Following her time in St. Louis, Meghan worked with famous dramatic mezzo soprano Dolora Zajick at the Institute for Young Dramatic Voices in Reno, Nevada. She has also worked as an Apprentice Artist with Des Moines Metro Opera during the summer festival seasons of 2014 and 2015. There she was granted with the honorary title as the Maria DiPalma Artist both years. She covered the role of Kitty Hart in their 2014 Iowa premiere production of Jake Heggie's Dead Man Walking and the Mother in their Second Stage Series production of Amahl and the Night Visitors. Other performed roles include Fiordiligi (Così fan tutte), the title role in Suor Angelica, Anna Maurrant (Street Scene), Berta (IL Barbiere di Siviglia), and Fortuna (Il ritorno d'Ulisse in patria). Ms. Kasanders has also sung in numerous scenes programs and concerts, including selections from Die Meistersinger, Norma, Ariadne auf Naxos, Pique Dame, Vanessa, Die Walküre, Regina, Der Rosenkavalier, Iphigénie en Tauride, Le nozze di Figaro, Don Giovanni, and Idomeneo. Born in Chicagoland, Ms. Kasanders is now a resident of Manhattan. She holds a bachelor's degree from Simpson College and a master's degree from the Shepherd School of Music at Rice University in 2016 under the direction of Richard Bado. This fall, Meghan joins the Juilliard School to complete her Artist Diploma in Opera Studies (ADOS). Her important teachers include Edith Wiens, Barbara Clark, and Kimberly Roberts.
CECILIA VIOLETTA LÓPEZ (Hanna Glawari, The Merry Widow): Soprano Cecilia Violetta López, named one of opera's "25 Rising Stars" by OperaNews, praised for her "alluring voice and incredible range," (Washington Times) and her "voice: plush and supple, exquisitely colored," (San José Mercury) has been applauded for her signature role of Violetta in La traviata, which she has performed countless times throughout North America. Ms. López recently made her European debut as Norina in Don Pasquale with Zomeropera in Belgium, for which Klassiek Centraal exclaimed: "She turns out to be the revelation of the show and wins over the audience with her funny rendition, irresistible charm and natural in the different vocals. This season's engagements include multiple role debuts as Adina in L'elisir d'amore, Mimì in La bohème, Rosina in IL Barbiere di Siviglia, the Countess in Le nozze di Figaro, and Rosalba in Florencia en el Amazonas. In addition, she reprises the roles of Micaëla in Carmen with Madison Opera, Hanna in The Merry Widowwith Opera Saratoga, sings a Gala concert for the Boise Philharmonic, sings a concert with Bard Music Festival titledVirtuosity!, and has a role début as Lucy in Fellow Travelers as part of the Prototype Festival in New York.Last season, Ms. López returned to Bard SummerScape for concert performances, including Puccini: The Man and the Reputation, Opera After Verdi, and The Turandot Project, which juxtaposes the third act of Puccini's posthumously finished opera as adapted by Luciano Berrio and that of Ferruccio Busoni, who adapted the Turandot story seven years before Puccini. She also performed the role of Beatrice Russo in Il Postino in her debut with Opera Saratoga; Desdemona in Rossini's Otello with LoftOpera; Micaëla in Carmen in her house début with Michigan Opera Theatre; Blanche in Dialogues des Carmélites and Rosalind in Die Fledermaus as a part of Eugene Opera's New Year's Eve Opera Trio concert; and took part in Madison Opera's Opera Gala concert "Opera in the Park." Additionally, she performed the soprano solo in Händel's Messiah with Boise Philharmonic, and appeared in the Olga Forrai Foundation gala, the Florida Benefit Concert in Orlando, the Zion Bank Annual Gala, the Los Angeles Annual Education Conference Gala, and received an award from the State of Idaho. She also recently performed a Spanish song recital with Bard SummerScape's Song Cycle Series and made her debut with The Metropolitan Opera's production of The Merry Widow.
Wes Mason (John Sorel, The Consul): Hailed by Opera News as "a gifted and fiercely committed baritone whose voice is spacious and reverberant," Wes Mason has established himself as a strong, dramatic singer on stages throughout the country. Mason recently performed the roles Dax/Larry in the world première of Robert Patterson's opera Three Way, which he reprised at the Brooklyn Academy Of Music. He also reprises the role of Billy Bigelow in Carousel with Union Avenue Opera; sings Robert Paterson's Crossing the Hudson with American Modern Ensemble at Carnegie Hall; and performs Silvio in I Pagliacci with LoftOpera, John Sorel in The Consul with OperaSaratoga, and Amos King in a NYC reading of All Dressed Up and Nowhere to Go, composed by Jimmy Roberts, which is being directed by Hannah Ryan, the Resident Director of Hamilton. Recently, Mason has performed a variety of roles in the opera and musical theatre repertoire at esteemed houses around the world. Highlights include Marcello in La bohème with Hawaii OperaTheatre, Fort Worth Opera, and Norwalk Symphony; Father Flynn in Doubt with Union Avenue Opera; Morales in Carmen with the Glimmerglass Festival; Zurga in Les pêcheurs de perles with Opera Delaware; the title role in Guillaume Tell with Southern Illinois Music Festival; Belcore in L'elisir d'amorewith Gulfshore Opera; the baritone soloist in Broadway Extravaganza with Opera Hong Kong; and the cover of Wendell in Great Scott with San Diego Opera and Dallas Opera, where he also performed Sciarrone in Tosca. An established "cross-over" artist, Mason has played numerous musical theatre roles in his career including Billy Bigelow in Carousel with Utah Opera Festival, Curly in Oklahoma! with Maryland Live Arts and Utah Opera Festival, and the cover for the role of Frank Butler in Annie Get Your Gun with the Glimmerglass Festival. Additional career highlights include the title role of Hamlet and the world première of Jorge Martín's Before Night Falls as Reinaldo Arenas with Fort Worth Opera, Stanley Kowalski in A Streetcar Named Desire with Kentucky Opera, Ping in Turandot with Nashville Opera, Jonathan in Siren Song with Hawaii Opera Theatre, Masetto in Don Giovanni with OperaPhiladelphia, Achilla in Giulio Cesare with Opera Roanoke, Escamillo in La Tragédie de Carmen with Syracuse Opera, and Schaunard in La bohèmewith Crested Butte Music Festival. Mason has been featured on the recording of Three Way with Naxos and of Before Night Falls with Albany Records. He has also been awarded by the Sullivan Foundation, Loren L Zachary Society, and The Metropolitan Opera National Council.Wes graduated from the Academy of Vocal Arts and the University of Michigan, where he was presented the Earl V. Moore Award for outstanding contribution to the School of Music, Theatre, and Dance. He also studied at the William Esper Studio under Suzanne Esper for their summer acting intensive. He is currently based in Brooklyn, New York.
MICHAEL HIDETOSHI MORI (Director, Rocking Horse Winner and Vinkensport): Michael Hidetoshi Mori is an award-winning stage director and the Artistic Director of Tapestry Opera in Toronto, Canada. In 2016, the CBC named Tapestry Opera and Michael as one of ten artists changing the artistic landscape of Canada. Recently, for the world premiere production of Rocking Horse Winner (2016), Michael won the Dora Mavor Moore award for outstanding direction and helped the production garner a total of 5 awards at Toronto's prestigious theatre awards, including Best Production. As a performer and music director, Michael has been nominated for a Juno Award and was awarded the West Coast Music Award for Classical Music with the Vancouver-based ensemble musica intima. Michael is a versatile stage director, working in both urban site-specific settings as well as conventional opera houses. His most recent major directorial projects include the world premiere of Brian Finley and Agnes Herzberg's The Pencil Salesman at the Westben Festival, the world premiere of Gareth Williams and Anna Chatterton's Rocking Horse Winner for Tapestry Opera, Jake Heggie's Dead Man Walking for Fresno Grand Opera and Townsend Opera, and a new production of The Marriage of Figaro for Opera Columbus. A highlight among Michael's most innovative projects is Tapestry Explorations (Tap:Ex), an annual staged concert experience that collides opera with other artistic forms. The series has experimented with fully choreographed art-music (Revolutions), synthesizing cut-film, track, turn-table, live soprano and percussion (Tables-Turned), and an opera-Persian music-hip hop mash up entitled Forbidden, dealing with politics and religion dictating restrictions. Past credits as a stage director or assistant director have included productions in Toronto, Vancouver, St. John's, Columbus and Dallas. As an artist-activist with a passion for grassroots collaborations and innovations, Michael founded Indie Opera T.O, an association of twelve small-to-medium Toronto companies working together to forge a vibrant underground opera scene. He additionally sits on the board of Canada's association of professional opera companies, as Vice-Chair.
Deborah Nansteel (Mother, The Consul): "A formidable display of vocal power and dramatic assurance," mezzo-soprano Deborah Nansteel recently made a number of outstanding debuts at esteemed venues throughout the country, including Lyric Opera of Chicago as Gertrude in Roméo et Juliette and the cover for Fenena in Nabucco, Carnegie Hall for Mozart's Coronation Mass,and with the New York Philharmonic alongside Eric Owens in In Their Footsteps: Great African American Singers and Their Legacy. This season, Ms. Nansteel takes part in Mainly Mozart Festival's production of Jake Heggie'sThe Work at Hand; reprises the role of Lucinda in Cold Mountain, which she originated with Santa Fe Opera,with North Carolina Opera; performs Siegrune in Die Walküre with Lyric Opera of Chicago and Grace in The Summer King with Michigan Opera Theatre; and makes her house debut with The Metropolitan Opera as Alisa in Lucia di Lammermoor.Last season's engagements include a reprisal of Gertrude in Roméo et Juliette with Santa Fe Opera, Flosshilde in Das Rheingold with North Carolina Opera, Suzuki in Madama Butterfly with Arizona Opera, La Duegne in Cyrano with Michigan Opera Theatre, and Sister Helen Prejean in Dead Man Walking with Opera on the Avalon. Recently, she created the role of Lucinda in the world première of the Pulitzer Prize-winning composer Jennifer Higdon's adaptation of Charles Frazier's thrilling novel Cold Mountain at Santa Fe Opera. Other notable recent engagements include Nettie Fowler in Carousel and Elvira Griffiths in An American Tragedy with Glimmerglass Opera Festival and Berta in Rossini's IL Barbiere di Siviglia with San Francisco Opera's Merola Opera Program. Other roles in her repertoire include Adalgisa in Norma, Santuzza in Cavalleria Rusticana, Eboli in Don Carlo, Amneris in Aïda, and Brangäne in Tristan und Isolde. Nansteel has performed numerous times with Washington National Opera, most recently as Marquise of Birkenfield in La fille du régiment, in their production of Champion, and as part of a world-premiere performance of Douglas Pew and Dara Weinberg's new opera Penny with Washington National Opera's American Opera Initiative. She completed the Washington National Opera Domingo-Cafritz Young Artist Program, where she performed many roles including Tisbe in La Cenerentola, Third Lady in Die Zauberflöte, Curra (cover Preziosilla) in La forza del destino, Paula (cover) in Florencia en el Amazonas, as well as The Cat in Tony Award winning composer Jeanine Tesori's The Lion, the Unicorn, and Me.
JOHN DE LOS SANTOS (Director & Choreographer, The Merry Widow): Director/choreographer and librettist John de los Santos has staged a range of productions that include opera, musicals, plays, ballet, concerts, and workshop readings. NYC productions include the world premiere of The Astronaut Love Show at the Kraine Theater, and The Rose and the Knife and Otello for LoftOpera. His production of Le Comte Ory for LoftOpera was hailed as "a perfect union of New York's most raucous and delightful opera company with one of the most raucous and delightful works in the repertory" by The New York Times. Other productions include the world premiere of Pure Country for Lyric Stage, La Cage Aux Folles for Skylight Music Theatre, La Fille du Régiment for Arizona Opera, Carousel for Ashlawn Opera, and Orpheus & Euridice/Green Sneakers for Opera Birmingham. He choreographed the world premiere of Jake Heggie and Terrence McNally's Great Scott, directed by Jack O'Brien, for the Dallas Opera. His choreography has also been seen at the Washington National, Florida Grand, Philadelphia, Dallas, San Diego, Des Moines Metro, Utah Festival, and Austin Lyric Opera Companies. John's first libretto with composer Clint Borzoni, When Adonis Calls, was selected by Fort Worth Opera's Frontiers showcase, then performed in concert by OperaAmerica in NYC. John's second collaboration with Borzoni, The Copper Queen, won Arizona Opera's commission program, Arizona SPARK. He was commissioned in 2015 by Washington National Opera's American OperaInitiative to create a new original work with composer Christopher Weiss. The resulting piece, Service Provider, premiered at The Kennedy Center, and was seen at Fort Worth Opera's Frontiers and Urban Arias at The Signature Theatre in Washington D.C. While serving as resident choreographer for the Fort Worth Opera, he choreographed Rigoletto, Salome, La traviata, Amahl and the Night Visitors, and the world premieres of Frau Margot and Before Night Falls. John made his directing debut with the company in 2009 with Carmen, followed by The Mikado, and The Pearl Fishers. John has served on the directing faculty of the Seagle Music Colony in Schroon Lake, NY, where his productions have included Anything Goes, Crazy for You, The Medium, La Bohème, Guys & Dolls, Brigadoon and l'Italiana in Algeri. For the Dallas-based theatre company Uptown Players, he choreographed the American premiere of the Pet Shop Boys musical Closer to Heaven, the regional premiere of Altar Boyz (for which John was awarded the DFW Critics Forum Award for Best Choreography), and directed and choreographed the regional premiere of Hello Again and the American premiere of Soho Cinders. John is originally from San Antonio, Texas, where he performed as a principal member of the Alamo City Dance Company. He received a BFA in Theatre Performance & Direction from Texas Christian University.
LIDIYA YANKOVSKAYA (Conductor, Rocking Horse Winner and Vinkensport): Russian-born symphonic and opera conductor Lidiya Yankovskaya's recent work has been hailed as "superb," "expert," and "coax[ing] every possible expressive note from the instrumentalists." Recently named Music Director of Chicago Opera Theater, this season she also serves as Artistic Director of Juventas New Music Ensemble, Music Director with Commonwealth Lyric Theater, as a chorus master for numerous programs with Boston Symphony Orchestra/Tanglewood Festival Chorus, and as a conductor with Boston Youth Symphony. Guest conducting engagements include Wolf Trap Opera, Flagstaff Symphony, Beth Morrison Projects, American Lyric Theater, Opera Saratoga, Stamford Symphony, Brookline Symphony, and Center for Contemporary Opera NYC. Lidiya is also part of Dallas Opera's inaugural Institute for Women Conductors, the Taki Concordia Fellowship program, and has been a conducting fellow at the Cabrillo Festival and under Lorin Maazel at the Castleton Festival where she assisted Maazel and filled in for him regularly in rehearsal and performance. Other prior engagements include five seasons as Music Director with Harvard's Lowell House Opera and regular conducting engagements with Center for Contemporary Opera in NYC. Current projects include Rubinshteyn's The Demon with Commonwealth Lyric Theater, the world premiere of Dan Shore's opera Freedom Ride with Juventas, San Francisco performances of Rimsky Korsakov's Kashchej the Immortal and Mozart and Salieri, the world premiere of Julian Wachner's Rev23, and concerts with Stamford Symphony and the Refugee Orchestra Project. Other recent projects include Tchaikovsky's Queen of Spades and Britten's Midsummer Night's Dream (first place, The American Prize) with Lowell House Opera, Juventas performances with robotic instruments and the NEA-funded puppetry collaboration entitled Music in Motion, the world premiere performances and recording of the ballet HackPolitik by Peter Van Zandt Lane (with People Movers Dance), Rachmaninoff's Aleko with Commonwealth Lyric Theater (winner of National Opera Association Award for Best Production in the Professional Category), Rimsky-Korsakov's Snegurochka (the first fully-staged, Russian-language production of the opera in the U.S. and the work's New England premiere), and the world premiere of Isaac Schankler's Light and Power with Juventas (winner of The National Opera Association Award and The American Prize for best professional production).
ABOUT OPERA SARATOGA
Opera Saratoga, formerly known as Lake George Opera, began with a production of Die Fledermaus at the Diamond Point Theatre on July 5, 1962, playing to an audience of 230. The Company now calls Saratoga Springs home and performs for more than 25,000 people annually. Opera Saratogaserves the communities of Saratoga Springs, the Lower Adirondack and New York State Capital areas by providing access to world-class opera through the production of an annual Summer Festival, as well as year-round activities including extensive educational programs, mentorship of emerging operaticartists, and unique opportunities for the public to experience opera in both our home theater and non-traditional venues that leverage and embrace the unique cultural, historic, and natural resources of the area. To date, the Company has performed over 90 different fully-staged works by over 50 different composers, including thirty-five works by American composers and six world-premiere productions. Throughout its history, the Company's success has been shaped by visionary leaders, talented artists, and critically acclaimed productions. In July 2014, Lawrence Edelson became the Opera Saratoga's Artistic and General Director. Edelson's leadership marked a new chapter in the company's history, with increased emphasis on community partnerships throughout the year, diversification of the company's repertoire, and a reaffirmed commitment to both the presentation of American opera and the mentorship of emerging artists as core activities in the company's programs each season. The 2018 Summer Festival will be the fourth season under his leadership. For more information, visit www.operasaratoga.org.