New York Virtual Opera Fest Continues This Summer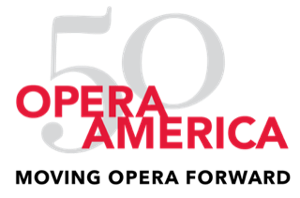 Presented by the New York Opera Alliance, with support from OPERA America, the 2020 New York Opera Fest has become the 2020 New York Virtual Opera Fest due to the social distancing restrictions put into place by the state government.
To help companies navigate the realities of the COVID-19 crisis and also encourage responsible social isolation, NYOA has constructed a comprehensive online center at NYoperafest.com where opera fans can visit for an updated list of virtual events hosted by local, New York City-based opera companies.
NYOA will continue to update and share the opera community's activities throughout its website, social media, and e-blast communication platforms. Leading the vanguard of the local opera community, NYOA continues to monitor the fluid situation around COVID-19 by providing helpful resources for financial aid which may be found at http://OPERAamerica.org/covid19.
Lineup:
American Opera Project (ongoing)
AOP is broadcasting past productions including Three Way, Harriet Tubman, and As One, with more to be released soon. They may be watched exclusively on AOP's website. FREE. Watch: AOPopera.org.
Beth Morrison Projects (every Thursday)
Beth Morrison Projects features an "Opera of the Week" released every Thursday at 12:00 p.m. EST on the company's website and broadcasts for one week. FREE. Watch: https://www.bethmorrisonprojects.org
City Lyric Opera (June 11 + 25, July 9 + 23, August 6)
CLO's Summer Series of events include: the release of produced CLO shorts every two weeks; a live Falling Flat Happy Hour July 9th 6:30 p.m. featuring live performances and stories of live mishaps on stage; Holding Space virtual salon conversations for the opera community to have honest and vulnerable COVID-related dialogue about, by, and for the field's members on June 11th and July 23rd 6:30 p.m.; and CLO Retro #ThrowbackThursdays discussing and showcasing past performances on June 25 and August 6 6:30 p.m. For more information and to tune in visit CityLyricOpera.org. FREE.
Heartbeat Opera (June 3-6, 2020)
Heartbeat Opera "is leading the charge in online opera" (Parterre, 5/12/20) and extends its LADY M soirées on Zoom after selling out the first 18. 14 more have been added from May 27-June 6. LADY M is an online fantasia of Verdi's Macbeth through the eyes of Lady Macbeth, opera's most thrilling anti-heroine. These intimate, interactive soirees will last 60 minutes each. Tickets for each soiree: $30 per household. When: June 3 and 5 at 2:00 p.m. + 8:00 p.m., June 4 at 7:00 + 9:00 p.m., June 6 at 8:00 p.m. Learn more and register: HeartbeatOpera.org.
HERE Arts Center (every Wednesday + Friday)
HERE Arts Center in New York City hosts "HERE@HOME": a Facebook Watch Party to stream a full-length production every Wednesday at 7:00 p.m. EST. Shows are from the HERE Vault collected over the past 25 years. Following the online premiere, these full-length videos will be available for viewing on Facebook until HERE reopens. Upcoming June productions include: June 10: 837 Venice Boulevard (2008) - Faye Driscoll
June 17: Soundstage (2018) - Rob Roth. Each Friday at 1pm, join an artist from the HERE community for a short, informal visit to share in the creation of new work for the social-distancing age. #stillHERE Friday Artist Livestream Schedule: June 5: Trey Lyford & Geoff Sobelle, June 12: Heather Christian, June 19: Baba Israel & Grace Galu, June 26: Nia O. Witherspoon. FREE. Watch: https://www.facebook.com/hereartscenter.
The Indie Opera Podcast (ongoing)
To stay up to date with what the movers and shakers of the opera scene, listen to Indie Opera Podcast. Their insightful, in-depth shows have changed to a streamed video platform for the opera community. It's a great way to stay up to date with developments given the unusual times that the industry is facing. Tune in to hear the experts discuss what our beloved art form is doing to weather COVID-19. FREE. Watch: http://indieopera.com.
The little OPERA theatre of ny (ongoing)
The little OPERA theatre of ny has launched a company YouTube channel featuring highlights from last season's New York premiere of Benjamin Britten's OWEN WINGRAVE. They will be adding new content to this channel on a rolling basis starting in June. In collaboration with New Vintage Baroque, little OPERA is creating a series of short streaming opera videos featuring excerpts from Mozart's The Shepherd King.
Music of the Americas (ongoing)
Music of the Americas presents two new online series to bring its performances into homes across the world: En Casa (At Home), featuring original performances from musicians from around the Americas who frequently perform with the society, and  Recuerdos (Memories), weekly releases of memorable past performances at the Americas Society, some for the first time. FREE. Watch: as-coa.org/music.
New Camerata Opera (June 4th)
NCO is hosting a handful of online events including: #theivesproject - an acclaimed series short film adaptations of Charles Ives songs, the release of CamerataWorks' upcoming opera film, "Julie" on June 4th at 7:00 p.m. EST. Watch streamable content, here: https://www.facebook.com/newcamerataopera/ and "Julie" premiere here: https://www.youtube.com/channel/UCda0kpVTKpZjci4fRP1hnYg?view_as=subscriber.
.
No Dominion Theatre Company (every Thursday)
Every Thursday night at 7:00 p.m. EST, No Dominion hosts a Virtual Story Slam! On its Facebook page. Co-hosted by Art House Productions, this new virtual Story Slam series celebrates the power of live storytelling, resilience of the arts and human connection during tough times. Free. Suggested donation: $5. Watch: Zoom via https://www.facebook.com/NoDominionTheatre/.
Opera Lafayette (every Monday)
Join Artistic Director, Ryan Brown for a weekly series of online programs in which he will explore Opera Lafayette's video recordings of Gaveaux and Beethoven's Leonore. Experience the video and libretto excerpts in your home and meet virtually with Brown and guest artists to discuss the music and performances together. Zoom call happens every Monday at 4:00 p.m. EST (after video broadcast on Friday). To register, visit OperaLafayette.org. Upcoming programs include: June 1: Excerpts from Beethoven #s 17, 18, Gaveaux 21, 22, 23, 24, 25 (Leonore, Florestan, then Tutti with Don Fernando and women).

Opera on Tap (nightly at 8:00 p.m. EST)
Opera on Tap presents an online quarantine cabaret called Emmie and Harry's! Audiences can view on their Facebook page. Emmie & Harry's is a rapidly growing digital venue with an active and engaged audience base. The club curates a weekly schedule of diverse musical artists, from comedy songs to avant-garde contemporary and everything in between (and beyond!), with a special Friday night highlight of a different local Opera On Tap chapter from across the country each week. FREE. Watch: https://www.facebook.com/groups/624549324773200/.
Regina Opera (ongoing)
Regina Opera, which is celebrating its 50th season of great opera in Brooklyn, has curated a collection of its best performance videos to help ease the strain of these difficult times. It includes complete performances of La Traviata and Hansel and Gretel; excerpts from Aida, Don Giovanni, Il Trovatore, Carmen and La Boheme; and the complete February 2, 2020, Winter Concert, featuring operatic and popular favorites as well as the world premiere of a quartet by 14-year-old composer Julian Raheb. FREE. Watch: www.ReginaOpera.org/onlineperformances.htm.
Rhymes with Opera (June-August 2020)
Join Rhymes with Opera online for a FREE series of contemporary chamber operas, community-building events, exciting new works, artist interviews, and some rockin' parties. Upcoming schedule includes: June 18-20 Rhymes with Opera at the New Music Gathering in Portland, Oregon (virtual premiere of Triptych: Three Disasters, a chamber opera scene with music by Andrea Reinkemeyer and libretto by Patrick Wohlmut); July 13-19 Pocket Opera Workshop for Composers (not public, for six composer fellows); July (date TBA) Release Party of recording Rumpelstiltskin; and August (dates TBA) Soap Operas provides a platform for RWO artists to perform arrangements of your favorite songs. For more info and reservations for all RWO events, visit RhymeswithOpera.org.
Untitled Theater Company #61: A Theater of Ideas (ongoing)
The Untitled Theater Company is making videos of past performances and workshops available on its website for free viewing. FREE. Watch: http://www.untitledtheater.com
Victor Herbert Renaissance Project (ongoing)
Despite having to cancel their entire season, VHRP continues to connect with its fans by broadcasting past performances on its social media platforms regularly. FREE. Watch: https://www.facebook.com/vhrplive/.
NYOA is also hosting weekly virtual meetings for NYOA members to discuss, monitor, and provide solutions for the changing landscape for opera in New York.