Ivan Fischer To Return with Miah Persson and Anthony McGill as Soloists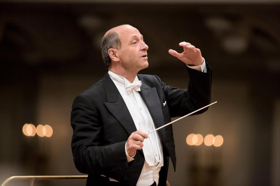 Iván Fischer returns to the New York Philharmonic to conduct Schubert's The Shepherd on the Rock (orchestrated by Reinecke) with Principal Clarinet Anthony McGill and soprano Miah Persson; Schubert's Symphony No. 5; and Beethoven's Symphony No. 4, Wednesday, November 7, 2018, 7:30 p.m.; Thursday, November 8 at 7:30 p.m.; and Saturday, November 10 at 8:00 p.m.
The program brings together Schubert and Beethoven, Viennese contemporaries who admired each other's music. On his deathbed in 1827, Beethoven read manuscripts of songs by Schubert and, according to his biographer, said: "Truly in Schubert there is the divine spark." Schubert visited Beethoven during that time, and the elder composer said "Franz has my soul." Schubert composed The Shepherd on the Rock approximately one month before his own death in 1828.
The program will be complemented by a Nightcap concert on November 10, 2018, curated by composer / pianist / vocalist / raconteur Gabriel Kahane. The concert will explore the evolution of art song, from Schubert to the composers of today. The Kravis Nightcap series presents six late-night, cabaret-style concerts curated by contemporary composers who engage in conversation about the music with host Nadia Sirota, The Marie-Josée Kravis Creative Partner. Taking place at the Stanley H. Kaplan Penthouse after select subscription programs, the concerts explore themes related to those Philharmonic concerts in a casual setting.
Single tickets start at $34. Single tickets to the Nightcap performance are $25. (Ticket prices subject to change.) Tickets to Open Rehearsals are $22. A limited number of $18 tickets for select concerts may be available for students within 10 days of the performance at nyphil.org/rush, or in person the day of; valid identification is required.
Tickets may be purchased online at nyphil.org or by calling (212) 875-5656, 10:00 a.m. to 6:00 p.m. Monday through Friday; 1:00 p.m. to 6:00 p.m. Saturday; and noon to 5:00 p.m. Sunday. Tickets may also be purchased at the David Geffen Hall Box Office. The Box Office opens at 10:00 a.m. Monday through Saturday, and at noon on Sunday. On performance evenings, the Box Office closes one-half hour after performance time; other evenings it closes at 6:00 p.m.
Photo Credit: Marco Borggreve
Featured at the Theatre Shop
T-Shirts, Mugs, Phone Cases & More
Related Articles
View More Opera

Stories
More Hot Stories For You