BWW Overview: A Look-Back at Opera's Many-Colored Dream Coat of Performance Highs in 2018
Well, it's that time of the year again--less than midway through the 2018-2019 season, but time for a look-back on what was worth making note of during the calendar year that's about to come to an end. It's from a totally personal, subjective point of view, of course, but frankly that's the way opera-lovers always seem to like it, n'est-ce pas?
Most come from Manhattan or a stone's throw away. The productions worth noting come from places big, small and in-between, from composers old as the hills to freshly minted or somewhere in between (likewise the performers), from traditional or boldly modern to simply stand up and sing.
The Met's Great New York Baking Show.
*For me, the Met hit its high with a yummy creampuff, Massenet's take on the Cinderella tale, CENDRILLON, which only took 119 years to get to the Met. It finally got here thanks to charming performance of Joyce DiDonato and Laurent Pelly's highly stylized production, under Bertrand de Billy, with the riotous contributions of Stephanie Blythe as the stepmom. Yeah, the score doesn't reach the highs of MANON or WERTHER, but that was really beside the point. Comedy may not get the respect of drama, but it's harder to pull off this well.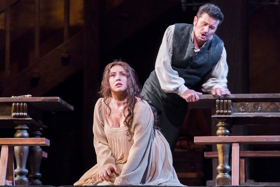 *Other performances of note at the Met: Strauss's ELEKTRA headed by Christine Goerke and Elza van den Heever under the Met's brilliant new music director, Yannick Nezin-Seguin made me forget about my reservations on the production. Then there was Verdi's LUISA MILLER--a second tier opera but first-rate evening starring Sonya Yoncheva, Piotr Beczala, Placido Domingo and a couple of marvelous basses, Dmitry Belosselskiiy and Alexander Vinogradov.
*And don't forget Rossini's SEMIRAMIDE, with more loop-de-loops than all of Disney World's roller coasters, and a pair of singers--Angela Meade and Javier Camarena--that made it seem like child's play (say, the Tea Cup ride in Orlando), again under de Billy, with the fabulous Met orchestra. While it might be less complete than the marvelous Sir Mark Elder recorded version that just arrived on Opera Rara, I'll take the Met pairing, thank you.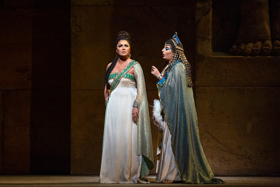 *Last but not least, hurrah for Anna Netrebko and Anita Rashvelishvili for giving us the opening week performance worth waiting for in AIDA, making the 30-year-old production seem new, under Nicola Luisotti, with great contributions from the Met orchestra and chorus. (Too bad they had to do it without a tenor.) And cheers to Sonya Yoncheva as Desdemona with the gutsy last-minute replacement of Carl Tanner as OTELLO--and the firm baton of Gustavo Dudamel--in the under-par Bart Sher production.
Mostly Mozart (with and without Wolfie).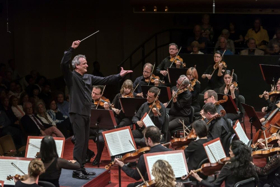 *Mozart may not have written all of his REQUIEM but, hey, this year's Mostly Mozart performance made one forget anything that was less than top-drawer about the piece, with the orchestra under music director Louis Langree. The fine soloists were soprano Jodie Devos (in her US debut), bass of Ryan Speedo Green, mezzo Jennifer Johnson Cano and tenor Andrew Stenson.
*One of the "No Mozart" Festival evenings was Ashley Fure's and Adam Fure's THE FORCE OF THINGS: AN OPERA FOR OBJECTS. It's a boundary-stretching work bent on changing what we traditionally think of as opera and it unquestionably worked as that. Yet, I found the medium was not the message (sorry Mr. McLuhan) and it was more commendable for what it represented about climate change than for the clarity of its delivery.
Apologies to WC Fields.
*Even if it's on a Megabus, a trip to Opera Philadelphia is a necessary part of opera life in these parts, during its annual opera festival or not. It was the second go-around for OP's festival (O18) this September and there was much to live up to from its bold and exciting entry into festival life in 2017. The one unqualified success this fall was Lembit Beecher's beautiful, touching SKY ON SWINGS (libretto by Hannah Moskovitch), which dealt with the tricky subject of Alzheimer's disease without ever being mawkish or depressing. Of course, it didn't hurt that the cast was led by a pair of sensational pros, mezzos Frederica von Stade and Marietta Simpson. In between the two festivals,
*OP gave a stunning US premiere, WRITTEN ON SKIN by George Benjamin and Martin Crimp, in William Kerley's production.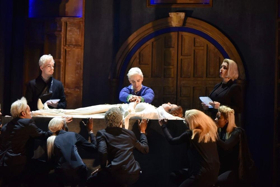 They have collaborated seamlessly on this 95-minute chamber opera about a wealthy landowner (Mark Stone) who brings in an artist (Anthony Roth Costanzo) to create an illuminated manuscript "written on skin"--on the hide of animals--glorifying the life of his family. The man's 14-years-old wife (Lauren Snouffer) can neither read or write but she can seduce the artist. Things go downhill rapidly from there. The score was mesmerizing and fascinating, under the baton of the company's music director, Corrado Rovaris.
Glimpses of Wagner.
*The Met's only Wagner for the year was PARSIFAL but it was the excerpts of other operas presented by two orchestras that made me thirst for more. The New York Philharmonic gave a sweeping account of Act I of DIE WALKURE, to which the orchestra has a special historical affinity, as a kind of preview of its new music director, Jaap van Zweden, in a bold-faced, full-blooded performance featuring Heidi Melton and Simon O'Neill in a salubrious pairing.
*It was the Boston Symphony's concert at Carnegie Hall, however, that had New Yorkers salivating, with a preview of Jonas Kaufmann's Tristan to Camila Nylund's Isolde in Act II of their eponymous work, under music director Andris Nelsons. Clearly a work in progress for Kaufmann, he nonetheless was in fine voice, using the distinctive baritonal timbre in his voice to sensual effect in a decidedly masculine reading. Nylund was a glowing, radiant Isolde, with lush sound once she warmed up, though her eyes were too often on the score and not her beloved.
WAVE Hello to the Nice People.
BAM's Next Wave gave us a pair of operas worth going to Brooklyn for. (Until the Q train, it took as long as going to Philadelphia.) Neither of them was freshly minted--Philip Glass's SATYAGRAHA is from 1979, Mark-Anthony Turnage's GREEK from 1988--but both knocked my socks off.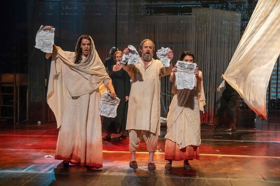 *The combined Swedish forces from the Folkoperan and Circus Cirkor reimagined Philip Glass's modern classic, SATYAGRAHA, in an audacious production by Tilde Björfors that shouldn't have worked but did so brilliantly. It joined the worlds of circus and acrobatics with Glass's unique view of how to tell the story of Gandhi and the nonviolent defense of persecuted Indian immigrants in South Africa in a less realistic, more expressionist way than usual that never makes light of the struggle. Glass's minimalist score, with its Sanskrit libretto by Constance DeJong in what I called "a nontranslation translation."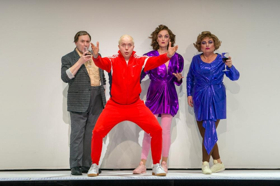 *Meet Eddy, "a modern-day Oedipus," who lives in North London during the Thatcher years and finds out from his father over breakfast that a fortune-teller once prophesied that Eddy would kill his father and "get a bunk-up with his mum." (With all its dialect, the supertitles are a must in this English-language opera.) Aghast, Eddy leaves town but finds that you can't get away from fate. The 75-minute or so music drama (libretto by the composer with Jonathan Moore, based on Steven Berkoff's play) had a right-on, verging-on-the-ridiculous production from Joe Hill-Gibbins, taking itself seriously enough to make its point.
Three Women, No Waiting.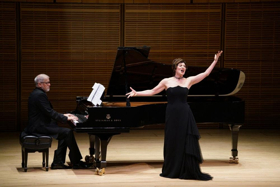 *The high quality of concert life in New York can be a little overwhelming at times, with too much to choose from. Recitals by Anna Caterina Antonacci and Julia Bullock left me feeling that my choices were on sound footing. Antonacci's concert, under the aegis of New York City Opera, was filled with songs we don't hear every day, many of regret that she somehow presented as more earthy than others might. everything from the Renaissance to Britten, and she brought her own gorgeous touch to the music. She was glamorous in every sense of the word and connected with every song she chose.
*Bullock had two concerts (a third, this week, alas, I missed). The first was in the intimate climes of Carnegie's Weill Recital Hall and ran the gamut from Schubert lieder and Barber's "Hermit Songs" to a pair of demanding Nina Simone songs done a capella. She ended with the haunting "One by One" by Connie Converse (which, as Bullock posits, is reminiscent of Schubert) and the delicious "La Conga Blicoti," written for Josephine Baker.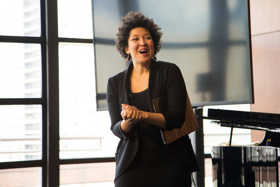 I next heard her at the Metropolitan Museum of Art, where she's the artist in residence this year, in a concert, "History's Persistent Voice," that she not only performed but programmed as well. It featured a series of world premieres by four African American women composers: Jessie Montgomery, Courtney Bryan, Allison Loggins-Hull and Tania Leon. Bullock was passionate and smart in choices that called for her sometimes mezzo-ish soprano to turn angry, mournful and inspired by material she clearly admired but without any excess of emotion.
*A concert celebrating the 90th birthday of Scottish-born composer Thea Musgrave at the Church St. Mary the Virgin, with the New York Virtuosi Singers under Harold Rosenbaum showcased all Musgrave, all the time, with two world premieres, two US premieres and a couple of NY premieres in the two-hour concert. Of particular note: A chance to hear excerpts from three of her operas, including her most famous MARY, QUEEN OF SCOTS and the US premiere of "The Voice of our Ancestors," a 2014 commission that turns what looks like songs about "love, loss and drinking," into one flowing piece that forms a sheet of sounds and thoughts enveloping the listener.
Size Doesn't Count.
*When I wrote a few weeks ago about Handel's AMINTA E FILLIDE, from Juilliard's Historical Music program, I called the opera/pastoral/cantata "one of the most gorgeous performances of the year in New York" and I haven't changed my mind. If anything, my estimation of it may have gone up. The piece, under guest artist-in-residence, William Christie, filled the 250-seat hall--the Morgan Library's Gilder Lehrman Hall--with the kind of music and expertise that we just don't get enough of hereabouts.
There were just two marvelous singers, sopranos Shaked Bar and Jessica Niles, who dazzled and charmed at every turn, with their pure voices (of different timbres) and honest acting, and dead-on intonation, along with 12 clear-focused, superbly balanced instrumentalists (including Christie on one of the two harpsichords), of the Juilliard415 period instrument ensemble, who pulled the piece along, as if plucking it from heaven.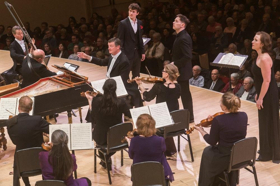 *There was another spectacular Handel event earlier in the year: Harry Bicket and the English Concert doing RINALDO at Carnegie Hall. Unquestionably, it's a patchwork of hits loosely strung into an outrageous plot but, well, who cares when the cast and ensemble is this good? It was an unquestionably urgent performance of Handel's first opera for London, semi-staged in formal garb, but the singers--particularly Iestyn Davies, Jane Archibald, Joelle Harvey, Jakub Jozef
Orlinski and Sasha Cooke stood out--and orchestra made every moment count.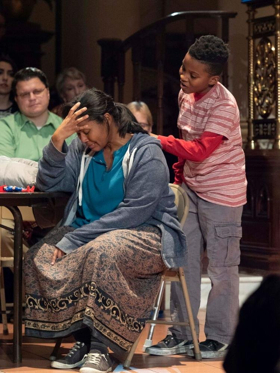 *On Site Opera continued its tradition of site-specific productions with Giancarlo Menotti's simple, touching AMAHL AND THE NIGHT VISITORS, reconceived and directed by Eric Einhorn in Manhattan's largest soup kitchen, Church of the Holy Apostles.
The score received a rapturous reading from the American Modern Ensemble under the sure guidance of OSO's Music Director Geoffrey McDonald, with a marvelous performance by Aundi Marie Moore as Amahl's mother and boy soprano Devin Zamir Coleman as Amahl.
*As if anyone in the US with a cellphone, television or newspaper needs any further proof, PROVING UP by Missy Mazzoli and Royce Vavrek, in James Darrah's production, doesn't just show us the dark side of the American Dream but the black one.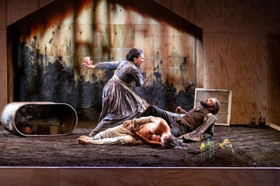 There's no hope and little love, with the characters hanging on by their nails. The score is as scorching as the earth found by the homesteaders whose tale it tells. The production, at Columbia University's Miller Theatre, was bolstered by the performances of Talise Trevigne as Ma and Michael Slattery as the son, Miles.
*The Oratorio Society of New York commissioned and performed the Carnegie Hall world premiere of SANCTUARY ROAD (subtitled "An Oratorio Based on the Writings of William Still, a Conductor for the Underground Railroad"), by composer Paul Moravec and librettist Mark Campbell, It was filled with energy, humanity and, of course, musicality from all involved, including the chorus itself--a riveting wall of sound--and a quintet of gorgeous soloists: Laquita Mitchell, Raehann Bryce-Davis, Dashon Burton, Joshua Blue and Malcolm J. Merriweather.
*I'm usually not a fan of Classics Illustrated versions of great operas, but somehow Heartbeat Opera's version of Beethoven's FIDELIO, clocking in at just 90 minutes, seemed just what the doctor ordered. Maybe because the opera itself is so flawed, or perhaps the "Orange is the New Black" vision of director Ethan Heard is so right, but it almost worked for me. (Which is more than could be said for many productions of the piece.) There was some good singing from Kelly Griffin and Malorie Casimir, though an indisposed Nelson Ebo as Stan (aka Florestan) threw off the balance. But the amazing work of a bevy of choruses made up of inmates at real prisons, shown on video, was unforgettable.
*PROTOTYPE 2019--New York's annual festival of new opera-theatre/music-theatre works--starts in 10 days or so and my last pick was from the 2018 version. THE ECHO DRIFT, AT THE Baruch Performing Arts Center, is a totally original and stunning, immersive piece composed by Mikael Karlsson, with co-librettist Kathryn Walat. Direction was by Mallory Catlett in the brilliant environmental production by Elle Kunnos de Voss. Conductor Nicholas DeMaison with the International Contemporary Ensemble (ICE) instrumentalists.
Its story is about convicted murderer Walker Loats (mezzo Blythe Gaissert) who is trapped in solitary confinement, where the real and imagined merge in her mind, including the presence of a moth, personified by performance artist John Kelly. I'd be perfectly content if one of the pieces in this year's festival has even nearly its impact.
Technically, the year's not quite over, though today was my cutoff. After all, there's still ADRIANA LE COUVREUR at the Met with Netrebko, Rashvelishvili and Beczala on New Year's Eve and throughout January. Something to look forward to for next year's roundup, I guess.