Young & Sick Debuts OHH MY GHOSTS From Forthcoming Neon Gold / B3SCI EP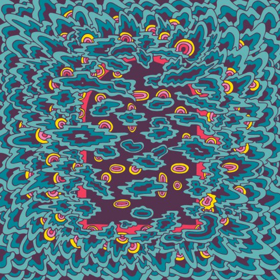 Today, musician and visual artist known as Young & Sick (real name Nick van Hofwegen) has released new single "Ohh My Ghosts." The track is taken from his upcoming new EP that will see a release spring 2019 via Neon Gold Records / B3SCI Records. Stream "Ohh My Ghosts" everywhere now here and seeThe FADER's feature on the track here.

On the new track, Nick notes, "I'm a terrible sleeper, I don't do it enough, rarely as deep as i'd like.
My mind, like many people's doesn't quiet just because I'm tired. My past and the uncertainty of the future is what spirals before shut-eye. I found the main sample I cut on splice while in bed and decided to get back up and make this song about the ghosts that prevent me from REM."

Young & Sick has also wrapped a N. American tour with The Knocks as direct support, ending this week in NYC with two *sold out* shows at Brooklyn Steel and Baby's All Right.
The upcoming EP is seeing widespread support surrounding singles "Bitter End," "No Good," and "Jet Black Heart," the latter of which debuted with Flaunt last month. "Bitter End" nabbed a Spotify 'New Music Friday' playlist add and the track has received several spins by KCRW's Jason Bentley onMorning Becomes Eclectic hitting #1 on the Top 10 list. "Jet Black Heart" was also included in KCRW's'Music For Your Weekend' playlist here.
Young & Sick is coming off a whirlwind 2018 that started with the January release of comeback EP, Ojai,which you can purchase on limited edition 7" vinyl here. His first body of work since his 2014 debut album, the EP was a reintroduction to Young & Sick's music and visual artistry, which NYLON detailed in an in-depth profile here. Single "Ojai" was also featured in an Apple Watch ad here. Nick followed Ojaiwith the summer release of his new No Static EP, which saw coverage from outlets like The FADER andVariety and further solidified Young & Sick's return to the spotlight.

Last fall, Young & Sick was chosen to cover Passion Pit's "Sleepyhead" for the Neon Gold Records 10-Year Anniversary compilation. The track debuted with Stereogum here who described, "It's still a fully electronic endeavor, but something about Nick van Hofwegen's gentle treatment of the song reminds me of early Iron & Wine. Let me know if you hear where I'm coming from with that."

On the live side, Young & Sick played a run of shows at SXSW 2018 including a knockout set at Neon Gold Records' annual 'Neon Golden' event, and also made his first U.S. headline performances in 4 years in a pair of Los Angeles & NYC dates that immersed fans in a multi-faceted experience pairing his music performance with an interactive art exhibition. Young & Sick also debuted his first-ever fine art gallery show this August in Los Angeles, which featured a series of original visual and sculptural pieces made by Young & Sick.

Born in southern Holland, Nick attempted the traditional route of art through design school. Its cookie-cutter leanings led him to drop out in his first year and, at 20, he quit his 9-5 at a car parts factory in rural Holland and moved to London where, by a crux of fate, comedian Andy Dick came across a piece of his art. Nick's friend Mark had introduced them about a week prior. Suddenly, Nick had his first client. Shortly after, Mark's own band-a then little-known outfit by the name of Foster the People-asked Nick to do the artwork for their debut album Torches in 2011.

Nick has gone on to designing for others including covers for Maroon 5's Overexposed and Mikky Ekko's "Kids," as well as designing his own single/album artwork.