Travers Brothership Comes To Brooklyn Bowl This May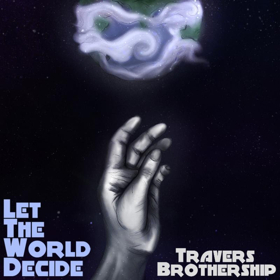 Asheville, NC-based Travers Brothership have announced a lengthy tour in support of their latest release, Let The World Decide. Starting April 5th, the Brothership takes flight into new, uncharted territory, storming the east coast and deep south with their homegrown brand of funky, improvisation-driven rock and roll. Fans can see Travers Brothership in a headlining role for roughly half of this tour while the rest of the dates will be in support of fan favorites like Yo Mama's Big Fat Booty Band, Kyle Hollingsworth of String Cheese Incident, DJ Logic and Jeff Sipe, guitar hero Eric Gales, Southern Avenue, and JJ Grey & Mofro.
In 2012, twins Eric and Kyle Travers dove into the deep end with Josh Clark (vocals, bass) and Ian McIsaac (keyboards, percussion) as Travers Brothership. Now with thousands of miles and hundreds of shows under their belts, Travers Brothership continue to gain fans nationwide with their-as Relix Magazine calls it-"tasteful songwriting, soulful vocals, and instrumental prowess." The tail end of 2018 saw the release of Travers Brothership's much-anticipated sophomore effort, Let The World Decide. Recorded at Asheville's famed Echo Mountain recording studio, Let The World Decide was met with enthusiasm from both fans and critics alike, both domestically and abroad. Travers Brothership embarked on their first ever European tour in January 2019, allowing them to expand upon a host of new songs in front of brand new fans. Now, the Brothership is returning home for their first shows on American soil since the album was released. Let The World Decide is available now on all digital platforms and ticket links for all dates listed below can be found at traversbrothership.com.
Catch Travers Brothership on tour now:
April 13 - University of Georgia - Athens, GA w/ Kyle Hollingsworth Band
April 15 - Preservation Pub - Knoxville, TN
April 16 - The High Watt - Nashville, TN w/ Lamont Landers Band
April 17 - Sidetracks Music Hall - Huntsville, AL w/ Lamont Landers Band
April 19 - Sweetwater 420 Festival - Atlanta, GA
April 20 - Earth Jam - Salisbury, NC
April 27 - The Caverns - Pelham, TN w/ Walter Trout & Eric Gales
May 3 - Highland Brewing - Asheville, NC w/ Yo Mama's Big Fat Booty Band
May 4 - Shakori Hills Festival - Pittsboro, NC
May 7 - The Brooklyn Bowl - New York, NY w/ Southern Avenue
May 8 - Gypsy Sally's - Washington D.C.
May 9 - The 8x10 - Baltimore, MD w/ Southern Avenue
May 10 - Rock City - Charleston, WV w/ Black Garlic & Brother Smith
May 11 - Lincoln Theatre - Raleigh, NC w/ The Mantras & Trongone Band
May 16 - River Jam - Charlotte, NC
May 17 - The Windjammer - Isle of Palms, SC
May 18 - Mustang Spring Jam - Corolla, NC
May 25 - Long Creek Music Festival - Long Creek, SC
May 30 - Mountain Music Festival - Minden, WV
May 31 - Martin's Downtown - Roanoke, VA
June 14 - Blind Tiger - Greensboro, NC w/ Moves
June 15 - Jam Sandwich Festival - Richmond, VA
June 20 - Rhythm and Brews - Hendersonville, NC
June 28 - Pisgah Brewing - Black Mountain, NC w/ JJ Grey & Mofro
July 5 - Sunrise Theatre - Southern Pines - NC
July 24-28 - FloydFest - Floyd, VA
More About Travers Brothership:
Songwriters. Singers. Multi-instrumentalists. Brothers. At only 25, twins Eric Travers and Kyle Travers have been writing songs and stunning live audiences for well over half their lifetime. Presenting a soulful, bluesy, taste of rock n' roll spun in psychedelic jam, Travers Brothership; also including singer/bassist/songwriter, Josh Clark, and keyboardist/songwriter/percussionist, Ian McIsaac, create a fierce and balanced team, strengthened by the 12 years they've spent together on and off the road.
The band first met in 2007 on a school bus in the Blue Ridge Mountains of Western North Carolina. Soon after the twins were invited by Josh and Ian to get off at their bus stop for a jam in a garage, little did they know this was history in the making. After numerous jams and a few lessons from Eric and Kyle's father (and veteran touring musician) "Hurricane" Bob Travers, Travers Brothership was formed in 2012.
With over 400+ shows across the United States and Europe under their belts, the band has become a well oiled machine, performing alongside acts such as; Gov't Mule, Taj Mahal, Moe., Kyle Hollingsworth Band, Blues Traveler, Charles Bradley, Leftover Salmon,The Marcus King Band, Dr. John, and many more.
Travers Brothership are consummate musicians and live music aficionados with a deep understanding of their preferred genres. Utilizing the band's unmatched live energy, they create a concert atmosphere that transforms an audience into a community and their enthusiasm, gusto, and talents carry the day. In 2018 Travers Brothership brought their instrumental prowess and tasteful songwriting to Echo Mountain Recording Studios in their hometown of Asheville, NC, where they recorded their latest album "Let The World Decide" adding to their already abundant catalog and setting a new bar for the band musically.