TOWN HALL ENSEMBLE Adds Names to TOMORROW IS A LONG TIME: Songs from Bob Dylan's 1963 Town Hall Concert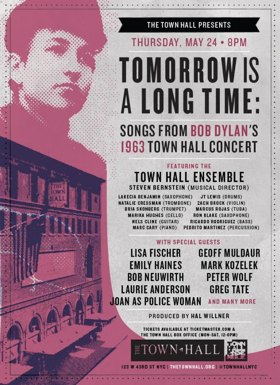 On April 12, 1963, Bob Dylan played his first major concert. It was at The Town Hall in New York City. It wasn't sold out - but those who were there witnessed a truly historic event.
A month before the release of The Freewheelin' Bob Dylan, the singer/songwriter´s groundbreaking second album, Dylan performed solo, accompanying himself on guitar and harmonica. He played a set of mostly unknown songs, soon-to-be classics like "Blowin' in the Wind," "Don't Think Twice, It's Alright," and "A Hard Rain's A-Gonna Fall."
On Thursday, May 24, 2018 -- Bob Dylan's 77th birthday --The Town Hall will present Tomorrow is a Long Time: Songs from Bob Dylan's 1963 Town Hall Concert, a musical celebration of that momentous performance. Tomorrow is a Long Time is the second performance featuring the Town Hall Ensemble, which revisits the history of The Town Hall as this historic landmark venue builds toward its centennial celebration in 2021.
The concert will be anchored by The Town Hall Ensemble, directed by trumpeter, arranger and bandleader Steven Bernstein. The event is produced by Hal Willner and M.A. Papper, Artistic Director of The Town Hall.
Featured special guests include Mark Kozelek (SunKilMoon); singer/songwriter Emily Haines (Metric, Broken Social Scene); multi-instrumentalist, composer and visual artist Laurie Anderson; musician,writer and producer Greg Tate; rock/r&b singer Peter Wolf; R&B/rock singer Lisa Fischer; singer/songwriters Geoff Muldaur and Bob Neuwirth; multi-instrumentalist singer/songwriter Joan As Police Woman (aka Joan Wasser), and more surprise guests.
"Dylan's Town Hall concert was a masterpiece, from the rambling jam intro, to the closing piece of spoken word and poetry, timeless classics, and even angry protest songs that were never released, some never completed, like Hiding Too Long," says Papper. "I don't think a lot of people are familiar with those amazing songs. And, sadly, those protest songs are as relevant today as they were in '63. So we wanted those sung by voices that identify with those struggles today."
For Bernstein, the challenge - and the opportunity -- is to take a large ensemble and reconfigure "music that was performed by one guy with an acoustic guitar and a harmonica," he said. "We are not going to recreate that concert but re-imagine it. I feel that with these songs and these musicians, anything's possible musically."
The Town Hall Ensemble, designed and assembled by Bernstein to address a broad spectrum of styles and thus drive the Town Hall's far-ranging series, features a rotating cast of top New York musicians. This concert features Lakecia Benjamin (alto sax); Ron Blake (tenor sax); Nels Cline (guitar); Marika Hughes (cello); Zach Brock (violin); Bria Skonberg (trumpet); Natalie Cressman (trombone); Marc Cary (piano and keyboards); Marcus Rojas (tuba); Ricardo Rodriguez (bass); and Pedrito Martinez (percussion).
The performance, says Bernstein, "will feature the full ensemble so it's going to be something unique because we're going to take Dylan's music and translate it into this New York band language and incorporate all the rhythms of New York - from jazz and mambo to hip hop. I feel we have all that at our disposal with this ensemble."
The Town Hall Ensemble (THE) spotlights landmark events in the Hall's history--from social justice movements that made their voice heard at The Town Hall, to historic musical performances. In its inaugural concert in October 2017, The Town Hall Ensemble paid tribute to Coretta Scott King's Freedom Concerts, which she debuted at The Town Hall in 1964. THE performed other legendary debuts, including Mingus' Freedom Suite (1962), sung by Charles' son, Eric Mingus.
"When we are talking about the history of The Town Hall, we are basically talking about the entire history of New York music," said Bernstein, himself a New Yorker who's been a prominent member of the downtown jazz scene. "Think from Fletcher Henderson on - Duke Ellington, Tin Pan Alley, the Brill Building, Machito, Mario Bauza, Tito Puente, early New York rock'n roll, Dylan, bebop, the Dixieland revival, the Velvet Underground, Philip Glass, Meredith Monk, all the minimalists, all the way to Afrika Bambaataa. "
That said, Bernstein cautions, "the idea is not to recreate music that has been presented at Town Hall, but to pay tribute to it and use it as repertoire."
On Dylan's 77th Birthday, the TOWN HALL ENSEMBLE, Led by Steve Bernstein,
Pays Tribute to the Singer's Historic Debut, Reworking His Fiery Folk for Jazz Orchestra
Featuring
MARK KOZELEK
BOB NEUWIRTH
LAURIE ANDERSON
EMILY HAINES
PETER WOLF
GREG TATE
GEOFF MULDAUR
LISA FISCHER
JOAN AS POLICE WOMAN
and Many More
TOWN HALL ENSEMBLE:
LAKECIA BENJAMIN, RON BLAKE, NELS CLINE, MARIKA HUGHES, ZACH BROCK, BRIA SKONBERG, NATALIE CRESSMAN, MARC CARY, MARCUS ROJAS,
RICARDO RODRIGUEZ, PEDRITO MARTINEZ