Stream Astralingua's SAFE PASSAGE At Northern Transmissions, New Album Out 3/8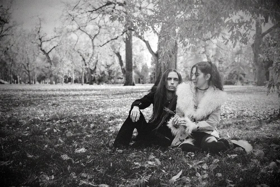 Astralingua will release their new album Safe Passage out March 8 via Midnight Lamp Records (pre-order). The Denver-based duo describe the 11 tracks on the album as "Space Folk, which lies somewhere between Classical, Folk, Psychedelia, and Pop." In anticipation of Friday's release date the album is streaming in full at Northern Transmissions along with an exclusive track by track breakdown of the forthcoming album by the band.
Earlier this month, the band shared their new video for "The Fallen." The video was made from hundreds of photos submitted by the band's Instagram followers, and the collaborative result presents a haunting, intimate version of the lyrics. The song features Astralingua's signature eerie vocals and is highlighted by a powerful, mournful cello solo.
Composer Joseph Andrew Thompson and backup vocalist Anne Rose Thompson create evocative and eerily harmonized music as Astralingua. The nomadic space-folk duo explores life's unknowns, blending haunting vocal harmonies, radiant strings, and otherworldly soundscapes into crafted songs that fall somewhere between classical, folk and psychedelia.
We all live with the knowledge that life is fleeting, and that even our most cherished memories will one day turn to dust. With a mixture of awe, fear, and hope, we often find solace in dream worlds, alternate realities, and notions of the afterlife. Whether the transition between these worlds is peaceful or not -- if we indeed arrive unscathed and unharmed -- is the central question that Denver space-folk duo Astralingua ask with their new album, Safe Passage, due March 8th, 2019.
"The journey to the afterlife does not begin at death, but rather at birth," says Joseph Andrew Thompson, Astralingua's songwriter and composer. "Death is merely a staging ground where we change our clothes and command a new vehicle onwards."
This is the conscious starting point from where Joseph and backup vocalist Anne Rose Thompson set out on Safe Passage. In probing the myriad planes of existence, they blend haunting vocal harmonies, radiant string ensembles, and otherworldly soundscapes into a sound that falls somewhere between classical, folk and psychedelia. Each song on the record takes on the enduring quest for peaceful transit from a different perspective, and together, they present a full survey of crossing over and moving between worlds, a stirring, inquisitive look at what it means to be alive -- and to die.
Such themes resonate strongly with the couple, whose own lives have forced them to confront the transitory nature of being. They first met briefly in a San Francisco hostel and later, reunited in Europe, spending a summer engrossed in the continent's history and art. Upon returning, their connection deepened as they supported each other through tragedy - Anne lost her father in 9/11, and a few years later, after they had married, Joseph endured serious health difficulties that kept him from his music for an extended time.
Ever there for one another, the two have persevered, all the while continuing a life of nomadism that they adopted in their early days together. Like wandering minstrels of old, they set up in corners of the world for months at a time, writing and recording as they go; Safe Passage came together on a mobile studio during stays in the Mojave Desert, the Sierra Nevadas, Besançon, France, and Denver.
Steeped in Romantic inquisition, and birthed from two individuals familiar with the highs and lows of this ephemeral existence, Safe Passage is a personal and haunting exploration of the great challenges that exist as we move through this changing world and search for home.
As they proclaim in the album's final song, "The Troubled Road," "Oh what a struggle it has been/ But even the longest night must end."
photo by Lisa Siciliano