Ryan Von Gonten New LP Featuring Lomelda, Out On Gold Flake Paint's New Record Label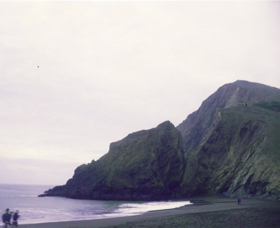 Perhaps the most interesting work is that which can't be easily categorised; which seems to drift in on its own breeze, distinct and compelling. Ryan Von Gonten's new album is certainly one such thing, calmly moving between genres and influences with such ease and consideration you barely even notice the change. Featuring eight wonderfully-detailed songs, Truthlikeness is a remarkably assured debut, equally comparable to the likes of Beach House and Youth Lagoon as it is Neil Young and Cocteau Twins.

Having spent the best part of a decade playing with the likes of The Walkmen's Peter Matthew Bauer, Lomelda, and Molly Burch, Ryan Von Gonten finally crafted his own solo album in the wake of a move from Texas to Oakland, California. The album also features contributions from a number of significant players from his home state, including Hannah Read (Lomelda) and Andrew Stevens (Hovvdy, Lomelda).
Ryan Von Gonten on Tour
10.06 - Oakland, CA - Octopus Literary Salon
10.27 - Austin, TX - Cheer Up Charlies
10.28 - Marfa, TX - House Show
10.29 - Albuquerque, NM - Corrales Bistro Brewery
10.30 - Tucson, AZ - Hotel Congress
10.31 - Phoenix, AZ - tbd
11.1 - Los Angeles, CA - tbd
11.2 - Oakland, CA - Martial Arts

Cassettes are available through Human Noise Records, the small Glasgow label that's grown out of Gold Flake Paint. Pick one up and support an incredible independent label!
Find Truthlikeness on Apple Music & Spotify
Related Articles View More Music

Stories
More Hot Stories For You