Piano Duo Shai Wosner And Orion Weiss Embark On Five-City U.S. Tour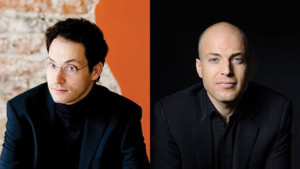 Pianist Shai Wosner is joined by longtime piano-duo partner Orion Weiss for a month-long, coast-to-coast tour to five cities across the U.S. Their recital program comprises Schubert's "Grand Duo" Sonata in C major, D. 812, Brahms's Sonata in F minor, Op. 34b, and David Lang's companion pieces gravity (2005) and after gravity (2007).
The duo performs on Thursday, February 21 at 7:00 p.m. in West Palm Beach, FL, at the Norton Museum of Art presented by the Chamber Music Society of Palm Beach; Sunday, February 24 at 4:00 p.m. in Portland, OR, at Congregation Beth Israel presented by Chamber Music Northwest and Portland Piano International; Tuesday, March 5 at 7:30 p.m. in Washington, DC, at the Kennedy Center as part of its Fortas Chamber Music Concerts series; Friday, March 8 at 8:00 p.m. in Asheville, NC, at Central United Methodist Church presented by the Asheville Symphony; and Saturday, March 23 at 6:00 p.m. in Bridgehampton, NY, at the Bridgehampton Chamber Music Festival.
Mr. Wosner and Mr. Weiss have been performing together for over 15 years. Fellow alumni of the Chamber Music Society of Lincoln Center's Bowers Program (formerly CMS Two), they opened the Society's 2002-03 season with a duo performance of Ravel's La valse at Alice Tully Hall. They are also both former students of Emanuel Ax.
In performing the "Grand Duo" Sonata with Mr. Weiss, Mr. Wosner continues his career-long, critically acclaimed engagement with the music of Franz Schubert. Highlights of his work as a Schubertian include two all-Schubert albums for Onyx Classics, a chamber series exploring Schubert in connection with contemporary composers (The Schubert Effect), and a solo recital series launched last season in which he surveys the composer's last six piano sonatas (Schubert: The Great Sonatas). Mr. Wosner's next recording comprises the four of these sonatas yet to appear on his previous albums: the Sonatas in A minor, D. 845; G major, D. 894; C minor, D. 958; and B-flat major, D. 960.
Composer David Lang, whose works gravity and after gravity are paired on this program, says:
"With gravity I had the image in my head of how to make a kind of music that would always be falling. The material is in a state of slow perpetual motion, moving inexorably downwards and yet never really resting or landing. ... In my piece after gravity I wanted to make something floating, something weightless, something airier than gravity but still structured in such a way that would keep the music from landing anywhere, or at least put the landing off as long as I could."
This tour caps off a busy season of chamber music for Mr. Wosner, including a New York Philharmonic Saturday Matinee concert, a tour with the Emerson String Quartet presented by the Chamber Music Society of Lincoln Center, a performance with violinist Laura Frautschi and cellist Steven Isserlis as part of Orpheus Chamber Orchestra's Twilight at Tarisio series, concerts presented by the Schubert Club in St. Paul and by the Brooklyn Chamber Music Society, and a program with violinist and longtime duo-partner Jennifer Koh from their Bridge to Beethoven series.
Pianist Shai Wosner has attracted international recognition for his exceptional artistry, musical integrity, and creative insight. His performances of a broad range of repertoire-from Beethoven and Schubert to Ligeti and the music of today-reflect a degree of virtuosity and intellectual curiosity that has made him a favorite among audiences and critics. A frequent recitalist, concerto soloist, and chamber musician, Mr. Wosner is known for imaginative programming that links music of widely divergent styles and eras. He is a recipient of Lincoln Center's Martin E. Segal Award, an Avery Fisher Career Grant, and a Borletti-Buitoni Trust Award-a prize he used to commission Michael Hersch's concerto Along the Ravines, which he performed with the Seattle Symphony and Deutsche Radio Philharmonie.
In addition to his chamber performances in New York, Mr. Wosner has upcoming engagements with orchestras including the Detroit, Jerusalem, and Toronto Symphonies, and he also continues his career-long, critically acclaimed engagement with Schubert's music both in recital and on record. He performs his recital series Schubert: The Great Sonatas, which surveys the composer's last six piano sonatas, at the Konzerthaus in Berlin, as well as across the U.S.-from Berkeley to Cambridge, MA. His next recording, to be released by Onyx Classics in spring 2019, features four Schubert sonatas and will complete his recorded cycle of the "great sonatas."
For more information, visit shaiwosner.com.