NY Singer/Songwriter Mark Newman to Perform in China with The Dave Keyes Band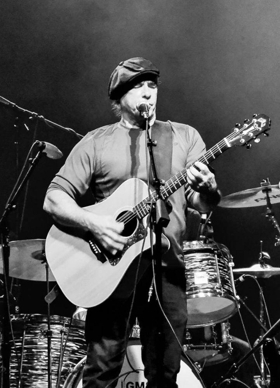 As he gets ready for the release of his latest LP "Empirical Truth" (set to drop in late August or early September via Danal Music) - multi-talented singer/songwriter and guitarist Mark Newman is heading to China for a string of dates performing in the Dave Keyes Band beginning Wednesday, July 4th! (Full List of Tour Dates Below)
Packed with Newman's usual penchant for dynamic storytelling and political commentary throughout his lyrics, Empirical Truth certainly lives up to its name. With songs ranging in topic from the state of gun control in the U.S. to the Dakota Access Pipeline, an innocent man blamed for murder, love and loss and even a few covers from Little Feat, John Oates, and more - the album will be brimming with a dynamic mix of Americana/Blues/Pop and slide-guitar work from start to finish. Newman is joined on the LP by Drummers Shawn Murray and John Michel, Keyboardists Kevin McKendree and Mark Bonder, Bassist Craig Privett and Vocalists Naomi Margolin, Janet Montalbo, Maag Stanley, Steve Bluth, Jeff Lubin, Jacob Koch, and Norm Madnick.
Mark Newman with the Dave Keyes Band Upcoming Dates:
Wednesday, July 4th @ Beijing Tianqiao Performing Arts Center, Xicheng District, Beijing
Friday, July 6th @ Chongqing Guotai Arts Center, Yuzhong District, Chinagquing
Saturday, July 7th @ Shandong Grand Theater, Jinan
Sunday, July 8th @ Dezhou Grand Theater, Shandong
Wednesday, July 11th @ Qinghai Grand Theater, Xining, Qinghai
Friday, July 13th @ Gansu Grand Theater, Chengguan District, Gansu
Sunday, July 15th @ Banlam Grand Theater, Siming District, Xiamen
Tuesday, July 17th @ Zhuhai Huafa & CPAA Grand Theatre, Wanzai, Zhuhai
Wednesday, July 18th @ Guangzhou Opera House, Guangdong Sheng
A New York native, Newman's musical prowess has taken him around the world several times over, playing with an eclectic mix of noted musical talents from Sting to Elvis Costello, and Travis Tritt as well as his own solo work. A multi stringsman, Mark has mastered electric/acoustic/lap steel guitar as well as the mandolin and dobro, and with a voice reminiscent of many rock and blues men before him- it has the familiarity of an old friend yet the power and soul of many of today's rock, soul, folk and R&B icons. For over five years, Newman and fellow songwriter Naomi Margolin have run the "Music From the Hive" Singer/Songwriter Series, and for the past two years- "The Original Music Series" for bands, in an attempt to keep original music alive on Long Island. Newman also records and produces local artists in the Long Island/NYC area.
Although Newman has played a ton of exciting solo and full-band showcases--notably NYC's B.B. King's for the Delbert McClinton Birthday Show, The Paramount in Huntington opening for The Doobie Brothers, The Space at Westbury opening for the one and only Don Felder and David Bromberg on separate occasions, The Blue Note in Tokyo, Japan, and NYC's Legendary Bitter End--he has also worked as sideman to so many soul, blues, and rock greats of our time like John Oates (Hall and Oates), Jim McCarty (The Yardbirds), Willy DeVille (Mink DeVille), Sam The Sham, Bobby Whitlock (Derek and the Dominos) and Sam Moore (Sam & Dave)!
Past releases include 2010's "Walls of Jericho" filled with intricate guitar work and mixed with a plethora of sounds from hard rock to a lighter more Dylanesque folk tinge, and 2015's "Brussels" - a live acoustic-driven EP that packs a bluesy punch reminiscent of Clapton's "Unplugged" album through both the guitar work and raw vocal power.
Now, as he gets ready to head to China for two weeks to perform with the Dave Keyes Band and drop his brand new album, there's plenty more on the horizon this summer and through the rest of 2018!