LA's Jace Mek & Alaska's Astronomar Drop House Anthem FLUCTUATE via Mad Decent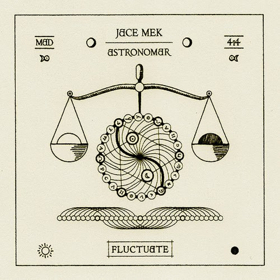 LA-based Jace Mek and Alaskan native Astronomar today drop "Fluctuate". Ebbing and flowing across the four-on-the-floor house anthem's 4-and-a-half minutes, the two producers show up and show out on Mad Decent, affirming that "this is how we fluctuate."
LISTEN: JACE MEK & ASTRONOMAR - "FLUCTUATE"
EMBED CODE:
From Los Angeles, 21-year-old Cesar Jauregui aka Jace Mek honed his musical abilities with a mastery of percussion stemming from a seven-year background in drumming. Jace Mek covets the opportunity to bring his vision of unconventionality, weird sound design, and savage drum patterns to the masses. His career commenced with two remix releases on Main Course Records for Wuki and Astronomar.
Soon after, he released 'Peyote' in collaboration with BIGGS, and 'Flip The Funk' on Steve Aoki's imprint Dim Mak as part of their latest project New Noise. Early 2016 marked Jace Mek's introduction to Tchami's imprint Confession with 'Whales'. The release of 'Understand' on Diplo's Good Enuff imprint gained huge support in late 2016. In 2017, Jace Mek released several other tracks on Confession such as 'It Said', 'I Wanna', with Habstrakt, and 'Loose Mind', with Asdek, and joined Tchami and Mercer on the Prophecy tour for a few dates In Southern California.
In 2018 Jace Mek's debut EP Confusion was released on Confession. He followed that up with his collaboration 'Why' with Australian producer Wongo on Insomniac. In March he joined Tchami on the official Confession showcase afterparty in Miami after Ultra Music Festival. April of the same year proved to be unforgettable with the launch of his first international tour. The five date Australia Tour touched down at prestigious venues such as: The Met in Brisbane, Chinese Laundry in Sydney, and Electric Circus in Adelaide. In May, he played 3 sets in 18 hours in Las Vegas over Electric Daisy Carnival weekend. The highlight was closing the Insomniac Records Stage on Day 1 of EDC. Over the past few years, Jace Mek has officially remixed Tchami, Malaa, GTA & Vince Staples, Wongo, Airwolf, and 4B.
Over the past decade, Astronomar has carved out his own unique and constantly evolving wonderland in the dance music landscape. His 2012 breakout hit, a remix of Neoteric & Wax Motif's "Go Deep" still echoes main stages at the hands of Skrillex, Boys Noize and countless other top dogs in the industry.
Between then & now, Mar has had embarked on a handful of world tours, released music through nearly every major American dance label and launched his own label, Main Course, with fellow purveyors Bot & Neoteric. Mar has always had his finger on the pulse of the underground, and the ability to gather the hottest up & coming sounds is something that comes naturally to the Alaskan wunderkind.
It's not an easy task to profile Astronomar's sound, but it's distinct, and will certainly serve as a fresh perspective to observant listeners.