Kobe Bryant & Cadence13 Launch THE PUNIES Podcast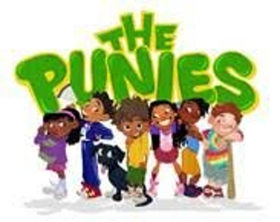 On the heels of a historic inaugural Oscar win for its animated short "Dear Basketball," Kobe Bryant's Granity Studios, in partnership with Cadence13, announced its first scripted family-friendly podcast series, "The Punies."
Set to premiere August 25, "The Punies" will air every Saturday morning for a 10-week run, reminiscent of Saturday morning cartoons of the past. It will be readily available for easy listening on Apple Podcasts, Google Play Podcasts, Stitcher, TuneIn, Spotify and iHeart Radio providing listening entertainment for the whole family. "The Punies" will also make history as the first youth sports podcast to market.
Created and directed by Kobe Bryant, "The Punies" is a collection of scripted audio stories where we meet a young boy named Puny Pete. Pete is ambitious and determined, yet meek and insecure with a fear of failure. Pete's friends, known as the "The Punies," are an ethnically and emotionally diverse group of kids who love to play sports together, and like all real friends, don't always get along. Told with humor, music and sound effects, each episode teaches important life lessons through a combination of character dialogue, sports radio commentary and fictional product commercial breaks related to youth sports. With an underlying theme of persistence in the face of failure, "The Punies," stems from Bryant's own experiences with defeat and success during his legendary career.
"Having spent my whole life playing basketball, there were many times I wasn't on the winning team. However, those experiences ultimately proved the most valuable because they taught me perseverance, determination, and teamwork. As the father of athletes myself, I created 'The Punies' so that these stories will not only entertain the whole family but inspire young listeners to reach their full potential," said Bryant.
"'The Punies' is another example of creative storytelling that will capture the imagination and hearts of children and parents alike in this innovative, important and impactful podcast series that will capture learning about perseverance and a willingness not to fail at its core. As a company looking to break new ground and strive for excellence with premium content, C13 is proud to align with someone who is so intensely and incredibly dedicated to his craft and storytelling. We are excited to welcome Kobe to podcasting with this groundbreaking series," said Chris Corcoran, Cadence13's Chief Content Officer.
"The Punies" is written by Jon Haller, who is currently the executive story editor for ABC's Emmy-nominated series, "Last Man Standing." Previously, he worked as a writing assistant for two seasons on NBC's "30 Rock" and as a writing assistant for HBO's "In Treatment."
Voice cast members of The Punies includes:
Cristoph Sanders - CLARK (Last Man Standing, Ghost Whisperer)
Diamond White - BB (Transformers: Rescue Bots, Disney's The Lion Guard)
Suzie McGrath - KIMBERLY (BBC's Eastenders, Law and Order: UK, and Star Wars: Resistance)
Ry Chase - PUNY PETE
Andy Cameron - GORDON
Rebecca Galarza - LILLY
ABOUT GRANITY STUDIOS
Formed by NBA Legend Kobe Bryant, Granity Studios is a multi-media original content company Bryant founded to enable young athletes to maximize their full potential through creative storytelling. Projects include the Bryant-created, critically-acclaimed Showtime-distributed documentary Kobe Bryant's Muse, the 2018 Academy-Award and Annie Award winning animated short Dear Basketball, and the groundbreaking television series DETAIL which currently airs on ESPN+. For more information about Granity Studios, please visit www.granitystudios.com.
ABOUT CADENCE13
Cadence13 is a leader in premium, on-demand audio entertainment. Our critically-acclaimed shows and personalities reflect the diverse conversations and interests happening in world today. Cadence13 shows are led by a collection of voices that matter, including Natalie Alzate, Sophia Amoruso, Nick Bilton, Flula Borg, Rachel Brathen, David Dobrik, Jon Favreau, Hannah Hart, Andrew Jenks, Peter Kafka, Peter King, Ezra Klein, Tony Kornheiser, Payne Lindsey, Jon Lovett, CJ McCollum, James Andrew Miller, Jim Norton, Gwyneth Paltrow, Josh Peck, Zac Stuart-Pontier, Paul Rabil, Rhett and Link, Sherrod Small, Marc Smerling, Kara Swisher, Tommy Vietor, Adrian Wojnarowski and many more. These groundbreaking influencers and thought leaders cover business, sports, tech, politics, entertainment, news, culture and much more. Cadence13's programming partners include Complex, Crooked Media, Entertainment Weekly, Girlboss Media, goop, Mythical Entertainment, Recode, Seven Bucks Productions, Sports Illustrated, theSkimm, Tenderfoot TV, Time Inc., UFC, UTA, Vanity Fair, The Verge, Vox Media, Yahoo Sports, and Yoga Girl, among others. The company is headquartered in New York, with offices in Los Angeles and San Francisco.
Related Articles View More Music

Stories
More Hot Stories For You