Headcount, Along with Paramore, Dave Matthews Band, Jack Johnson, & More, Hit the Road to Inspire Voter Registration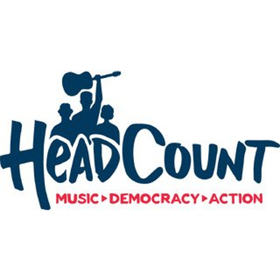 HeadCount, a non-partisan organization that works with entertainers to promote participation in democracy, is planning a remarkable summer mobilization to encourage voter registration and turnout across the United States.
The effort will include 60 national tours including summer treks by Dave Matthews Band, Dead & Company, David Byrne, G-Eazy, Phish, Jack Johnson, Paramore, and The Flatbush Zombies (see full list below). In addition, HeadCount street teams will be on hand at over 40 summer festivals - including Bonnaroo, LOCKN', Lollapalooza, Vans Warped Tour, Newport Folk Festival, Farm Aid, AFROPUNK, Camp Bisco and Electric Forest - as well as PRIDE Festivals, Comic Cons and other cultural events across the nation. The organization expects to register its 500,000th voter in the coming weeks.
"We're partnering with HeadCount to give people a chance to register to vote before midterm elections," says Paramore's Hayley Williams. "They'll be at the shows all summer and we'd like to encourage young people coming out to take this chance to make their presence known and their convictions noted."
"I'm proud to partner with HeadCount because they inspire music fans to get engaged in democracy," says longtime HeadCount supporter Jack Johnson. "I've invited HeadCount to register voters on tour for ten years now, and with midterm elections coming up, it's more important than ever for people to get educated and make their vote count."
Through a force of over 20,000 volunteers, HeadCount registers new voters at more than 25 events per week, and invites registered voters to sign up for "TurboVote" text message election reminders. HeadCount's summer schedule and volunteer opportunities can be found at www.headcount.org/events.
The activity has also extended to include comedians, as HeadCount has partnered with Funny or Die and Billy Eichner's Glam Up The Midterms campaign, including a presence at RuPaul's Drag Con L.A. The organization also working Mike Birbiglia, Chelsea Handler, Michael Ian Black, and Lewis Black to register voters at their appearances.
"We are experiencing unprecedented growth this year," says HeadCount Executive Director and co-founder Andy Bernstein, "The upcoming midterm elections seem to be capturing everyone's attention."
HeadCount recently partnered with the historic March for Our Lives to manage voter registration at 30 marches including the flagship event in Washington D.C. The organization continues to work with the student activists from that movement, spearheading an effort to get 90 percent of high schools to stage voter registration drives this academic year. Already, student or faculty from more than 500 schools have signed up at HeadCount.org/SignUp to stage new voter registration drives with HeadCount's support.
There are now more Millennials eligible to vote than any other generation. But according to U.S. Census Bureau statistics, less than half of eligible voters under the age of 30 voted in the 2016 Presidential election (46.13%). For the last Midterm Elections in 2014 turnout was a sparse 19.9% for Americans aged 18-29. With every member of the House of Representatives up for reelection, and more than two thirds of the states electing Governors and U.S. Senators, this November's election will have far reaching impact.
Further underscoring the importance of HeadCount's efforts, a recent congressional special election in Pennsylvania was decided by less than a thousand votes, and control of the Virginia House of Delegates came down to literally one vote in one district.
Widely seen as the community-organizing arm of the live concert scene, HeadCount ranks as one of the largest and most active music-based non-profit organizations in America. Since its creation in 2004, HeadCount has registered voters at more than 5,00 live events across the county, while also organizing "Participation Row" social action villages. In addition, HeadCount has produced themed concerts, network TV public service announcements, and award-winning digital media campaigns starring the likes of Jay-Z, Dave Matthews, and members of The Grateful Dead.
For more information, please see www.headcount.org.
HEADCOUNT TOURING PARTNERS - 2018 Albert Hammond Jr
Franz Ferdinand
Perpetual
Groove
Aly & AJ
G-Eazy
Phish
Amanda Palmer
Gov't Mule
Portugal. The Man
Ani DiFranco
Grizzly Bear
Punch Brothers
Big KRIT
HINDS
PVRIS
Bleachers
Jack Johnson
Revivalists
Bonnie Raitt
Jackson Browne
Sofi Tukker
BORNS
Jason Isbell
SoMo
Chromeo
Jason Mraz
Son Lux
David Byrne
Lake Street Dive
Spoon
David Crosby
Lewis Black
Tedeschi Trucks Band
Dead & Company
MGMT
The Avett Brothers
Death Cab for Cutie
Michael Ian Black
The Decemberists
Deer Tick
Mike Birbiglia
The Front Bottoms
Disco Biscuits
Minus the Bear
The Gaslight Anthem
Dispatch
Nada Surf
Trampled by Turtles
Dr. Dog
Nathaniel Rateliff
Trey Anastasio
Drive By Truckers
Nicole Atkins
Umphrey's McGee
Flatbush Zombies
Of Montreal
Unknown Mortal Orchestra
Fleet Foxes
Paramore
Yo La Tengo
About HeadCount:
HeadCount harnesses the power of music to drive social change. Since 2004, HeadCount has registered nearly 500,000 voters, and helped organize various initiatives in the live music community to promote civic participation. In their role as the organizing arm of the live music scene, HeadCount has hosted activism villages at over 100 concerts & festivals and has raised close to $10 million for other music-industry non-profits. With 20,000 volunteers, street teams in most major U.S. cities and affiliations with over 200 touring musicians, HeadCount ranks as one of the largest and most active music-based non-profit organizations in America.