First Ever NY Apartment Concert Series Dubbed THE AFTERGLOW Supports Local NYC Musicians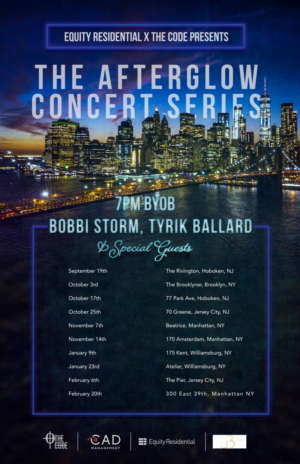 Grammy award winning strategic music management and Production Company, THE CODE along with CAD MANAGEMENT and GOLDEN COMMUNITY, are producing The Afterglow Concert Series, a series of intimate musical performances at Equity Residential Apartment Communities in Manhattan, Brooklyn and Jersey City.
The concert series will feature local New York and New Jersey based talent to support their musical endeavors providing Equity Residential residents with an exclusive look at some of the top rising artists across the tristate area.
"The Code is extremely excited to be sharing this exclusive series with Equity Residential," says Ashley Rose, CEO of The Code. "New York is known for producing great musicians. This mix of great up and coming talent paired with some of the best properties in NYC and New Jersey will make this concert series something special for their residents and for the culture at large."
The tour will feature New York headliners Bobbi Storm and Tyrik Ballard with support from other local tristate area acts.
"We are excited to bring some of New York and New Jersey's rising stars to our communities," says Tatiana Bond, Vice President at Equity Residential. "So many of our residents are connected to the culture of the city. We wanted to bridge that gap by showcasing the incredible talent that is on the rise here, while offering our residents intimate and unique music events."
The concert series will begin mid September and continue until the end of February with a break during the holidays. The showcase routing can be found below. Please reach out to Meghan Callanan if you would like any more information at mcallanan@cadmusicmgmt.com.
LEG 1
DATE LOCATION
September 19th The Rivington, Hoboken
October 3rd The Brooklyner, Downtown Brooklyn
October 17th 77 Park Ave, Hoboken
October 25th 70 Greene, Jersey City
November 7th Beatrice
November 14th 170 Amsterdam
LEG 2
DATE LOCATION
January 9th 175 Kent, Williamsburg
January 23rd Atelier, Williamsburg
February 6th The Pier
February 20th 300 East 39th
Founded in 2015, The Code has earned its place as one of independent music's premier management, artist development and production companies. Led by Grammy nominated songwriter Ashley Rose and Warren "LACK OF FLAWS" Griffin, the two have guided The Code to produce and write records for a some of music's most prominent names including Chris Brown, Sevyn Streeter, Tamar Braxton, Kat DeLuna and Zara Larsson among others. Growing beyond artist development, The Code in 2018 joined New York counseling agency CAD Management signing a joint partnership allowing the two organizations to serve clients in a 360 degree manor with services that include music production, writing, artist development, tour management, marketing, public relations and brand development. Paired with a distribution deal with EMPIRE and relationships at top management, technology and talent organizations, The Code is leveraging music to change culture and redefine the business of entertainment.
CAD MANAGEMENT is a boutique management, branding and consulting firm that sits at the center of artists, content creators and brands. Combining experts in brand direction, tour management, marketing and public relations with our accomplished roster and network of artists and producers, our team can take your campaign or musical project and help it stand above the rest. With a joint partnership with Grammy nominated production and A&R camp, The Code, CAD Management leverages its relationships with major streaming services, labels, talent agencies and management companies to build a brand and sound that is original, authentic and can stand the test of time.