Edjacated Phools Will Be Looking For Their Stash at Gypsy Sally's on Feb 16th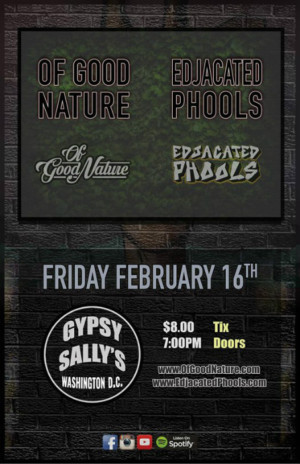 Edjacated Phools and Of Good Nature @
Gypsy Sally's - Washington DC
Friday, February 16th; Doors 7:00 pm/Show 8:30 pm; 21 and over
More Information & Tickets here!
Either you're all in or you're not, and Edjacated Phools have taken a very forward, all-in approach as a band. There's nothing that comes before music for any of the six members -- all are willing to eschew exploring other avenues in life because they're right on the one they want to be cruising. And they'll tell you that every sacrifice they have made has been worth it.
Check the feature on their popular song "Lost My Stash" on Grungecake: http://grungecake.com/arlie-gilbert-lee/articles/41207
Guitarist/vocalist Logan Sappington shared his thoughts on what sets Edjacated Phools apart in today's crowded musical world: "Over the past three years, the band has worked incredibly hard. We've had Kyle commuting more than three hours twice a week for the past three years just to come to band practice, multiple members going through breakups and heartache with loved ones due to conflicting schedules and lifestyles, as well all of us working full-time jobs outside of the band so we can pay for our own lives because not one band member has taken any money that we have brought in as a band. All of the money the band has generated has gone right back into investments for the band such as album recordings, merchandise, and equipment. I moved less than a mile away from Tyler and got a house that Ben and Dev both moved into so we could all focus on the music and live closer together. We have all uprooted our living situations and changed everything over the past three years just to try to make this band work - blood, sweat, tears and, most importantly, the memories have gotten us to where we are today."
Edjacated Phools are rooted in Baltimore and its music scene, spearheading a highly successful and rapidly growing music festival, the Hightopps Backstage Bash, and turning up the energy levels at every live venue throughout the DMV, sharing bills with several major national acts in the process. But they have every intention to harness their tenacity and fearlessness to make opportunities develop and continue establishing themselves nationally.
Check the Vibes gained several adds on college radio upon its release, garnering spins on over 50 college radio stations. It was released on Jeff Pliskin's Raised Fist Records label, a natural fit given Pliskin's background working with bands like Slightly Stoopid, The Aggrolites, Redman, Method Man, and G. Love & Special Sauce, among others. When given the opportunity to release their debut LP with Raised Fist, it was a move that made total sense.
Raised Fist Records is a record label founded by Jeff Pliskin in 2016. Headquartered in New York City, Raised Fist Records is home to artists that showcase reggae, ska, and classic hip-hop sounds.
Listen to Check The Vibes on Spotify:
https://open.spotify.com/album/4KZsi8vi5AlHfolNO6tLGp
Edjacated Phools FB: https://www.facebook.com/EdjacatedPhools/
Instagram: https://www.instagram.com/edjacatedphools/