Desert Daze 2018 Reveals Phase Four Transmission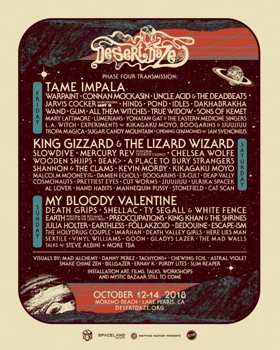 Amidst crackling static, cosmic bird calls and din of unfamiliar voices whispering in a strange tongue, a new transmission has been received from the source. With less than 7 weeks until festivities begin, Desert Daze 2018 announces new lineup additions, daily schedules and new program information with more surprises on the way. The magnificent and quintessential shoegaze/dream pop group Slowdive joins the bill, along with modern West Coast psych rock/drone forerunners Wooden Shjips. Other new additions to the main programming include: Idles, Cosmonauts, L.A. Witch , Death Valley Girls, Vinyl Williams, Goon, Stonefield, Sugar Candy Mountain and The Mad Walls. After the regular festival schedule ends for the day, the lighting changes, the mood shifts and things get experimental with the inclusion of late night collaborative sets by Kikagaku Moyo with Boogarins and JJUUJJUU (and more to be revealed), plus full sets from Deap Vally, Lumerians, Prettiest Eyes. Late night programming will be available to all Desert Daze visitors.
Single Day tickets are now available as we reveal the daily lineup. Friday includes: Tame Impala, Warpaint, Connan Mockasin, Uncle Acid & The Deadbeats, and Jarvis Cockerintroducing JARV IS.... Saturday includes: King Gizzard & The Lizard Wizard, Slowdive, Mercury Rev performing Deserter's Songs, Chelsea Wolfe, and Wooden Shjips. Closing out the weekend, Sunday includes: My Bloody Valentine, Death Grips, Shellac, Ty Segall & White Fence, and Earth performing The Bees Made Honey in the Lion's Skull. You could choose between Tame Impala, King Gizzard or My Bloody Valentine, but why do that to yourself? Weekend passes and upgrades, including extra fun VIP options, are still available, though prices will rise as the festival approaches.
In addition to three full days and nights of curated sonic conjuring, Desert Daze 2018 includes camping in state park facilities with bathrooms and showers, power and water hookups for RVs, swimming, boat rides and lounging in our Italian style beach club. Still to be announced are this years installation artists, full film schedule, talks, workshops, and the Mystic Bazaar schedule, so stay tuned.
Desert Daze 2018 takes place Oct 12-14 at Moreno Beach, Lake Perris, Southern California. Weekend Tickets and Camping Passes are on sale now.
Visit desertdaze.org for more information.