Billboard Shares SHAED's Takeover Tuesday Playlist, MELT EP Out This Friday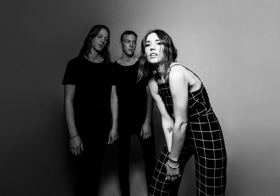 Takeover Tuesday Playlist: SHAED Share Their Modern Inspirations, Including Childish Gambino & Khalid.
Electropop trio SHAED initially stormed onto the scene back in 2016 with the release of their breakthrough single, "Perfume." The bubbly track has racked up 2.9 million streams on Spotify, elevated by lead singer Chelsea Lee's capitvatingly sultry vocals. Two years later, the group garnered similar attention with another 2016 track, "Name On It," which is featured in a recent Victoria's Secret campaign and has more than 5 million YouTube views.
CHECK OUT THE SPOTIFY PLAYLIST HERE:
Now, Lee and twin brothers Max and Spencer Ernst (production, programming and backing vocals), are on the precipice of following up their 2016 EP Just Wanna See with the release of their second EP, Melt, due Sept. 21. In preparation for the release, SHAED put together a specially curated a playlist of songs that inspired the writing on their latest set.
SHAED is singer Chelsea Lee, her fiancée Spencer Ernst and his twin brother Max Ernst. After spending most of last year on the road, the three members - who have been best friends since high school - moved into a house together in the suburbs of D.C. where the twins produced the bulk of the genre-bending Melt EP. Since dropping their debut EP Just Wanna See in 2016, SHAED has toured with the likes of Marian Hill, Bishop Briggs, VÉRITÉ, Coast Modern, X Ambassadors, andJacob Banks, while garnering accolades from the likes of Billboard, Interview Magazine, C-Heads, NYLON, V Magazine, The Washington Post, Paste Magazine, The Washington Times, Live Nation's Ones to Watch and more. This summer, the band was featured in a national TV campaign for Victoria's Secretwhich has been viewed over 5.3 MILLION times on YouTube alone.

SHAED's new video for "You Got Me Like" (feat. snny) can be streamed HERE, and the song is available for stream/purchase today via all DSPs. Be sure to catch the band live this week in New York City featuring a special appearance from snny on "You Got Me Like" and an opening set from Mannywellz, and next week in Washington, DC. Melt is out September 21st via Photo Finish Records - for all up-to-date information on new music and tour dates, stay tuned towww.shaedband.com.