Baynk Releases Official Video For SETTLE (ft. Sinéad Harnett)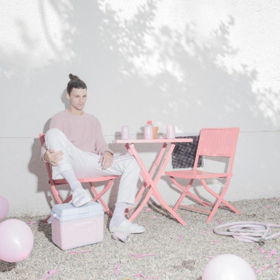 Today, New Zealand producer and songwriter BAYNK has released the official video for new single"Settle," a collaborative track with UK artist and vocalist Sinéad Harnett. The video follows in line with BAYNK's gorgeously sleek visual output, showcasing his masterful artistic sense across disciplines.BAYNK co-directed the video with Spencer Graves, whose credits include work with Kendrick Lamar and Lauv. View the video now here.

On the video, Jock explains, "Usually my favorite part of any song release is the video creation process. I was particularly excited for this one as I had always wanted to create a white world where space was endless and scenes shifted from one to another seamlessly plus I knew Sinéad was a great performer and would shine on camera so it was a match made in heaven."

The video release comes as a precursor to BAYNK's upcoming U.S. fall U.S. tour as special guest withSan Holo, which kicks off next week in Tampa. Full date listing below:

Oct 31 // Tampa, FL @ Jannus Live
Nov 1 // Orlando, FL @ The Plaza
Nov 2 // Jacksonville, FL @ Mavericks
Nov 3 // Charlotte, NC @ Fillmore
Nov 6 // Nashville, TN @ Cannery Ballroom
Nov 7 // Tuscaloosa, AL @ Druid City Music Hall
Nov 8 // Atlanta, GA @ Buckhead Theatre
Nov 9 // Washington, DC @ Echostage
Nov 10 // Raleigh, NC @ The Ritz
Nov 11 // Charlottesville, VA @ Jefferson Theatre
Nov 14 // Toronto, ON @ Danforth Music Hall
Nov 15 // Buffalo, NY @ Town Ballroom
Nov 16 // New York, NY @ Terminal 5
Nov 17 // Pittsburgh, PA @ Stage AE

"Settle," which debuted with Complex earlier this month here, is already nearing 1MM streams on Spotify and is available everywhere now via AllPoints here.

"Settle" finds BAYNK showcasing his signature pop sensibilities alongside textured electronic elements and tight arrangement, revealing some of his best work to-date. Previously collaborating with artists such as Disclosure, Rudimental, and Ryan Hemsworth, Sinéad Harnett adds a stunningly raw vocal with sweeping melodies giving the track a sensuous, poignant edge.

Of the single, BAYNK details, "Meeting Sinead for the first time was like seeing a friend I hadn't seen in 10 years. Catching up about what we'd missed over the years led to settle being written. I didn't want to overshadow the touching vocal with intense production so I left it minimal and let the words dictate the music. Can't wait for you all to hear it, Sinead's voice is incredible." Harnett adds, "The first day I met Baynk was the day we wrote settle. As soon as I walked into the room I felt like he was family. I always enjoy those writing sessions the most because you feel comfortable enough to open up. The story behind the song was based on the in between before you're with someone and after you've started seeing each other. That dreaded unknown and the confession that you do want it to move forward. BAYNK's clean heart translates in his music and I'm so excited for us to do more together!"

The new single is a precursor to an upcoming EP from the NZ producer and a follow-up to a previous double A-side release "Be In Love" / "Years," which dropped earlier this year. His first release since fall 2017's debut Someone's EP, the double A-side was released alongside an incredible video for "Be In Love," which was also co-directed by Spencer Graves. See the videos' premiere with Highsnobiety here and watch the visual here.

Summer 2018 saw BAYNK set out on a debut U.S. headline tour, selling out all four shows in NYC, Los Angeles, Washington DC and Denver. Prior to this was a *sold out* spring 2018 tour with Kasbo, which traversed 10 cities across N. America.
Born Jock Nowell-Usticke, BAYNK has seen a meteoric rise from sheer obscurity to the brink of breakout in just 2 years with releases amassing 50MM+ plays on Spotify to-date. Early singles like "About Me" and "Could You" began turning heads in 2016 with follow-up's "What You Need" (featuring fellow NZ-native NÏKA) and "Poolside" further establishing BAYNK as a top new contender. Recent Someone's EP singles "Come Home" (with Shallou) and "Want 2" further showcase BAYNK's ability to span various styles while retaining the essence of hope and subtle melancholy that line the effortlessly smooth tracks.
Stream "Settle" now at the links below and be on the lookout for more to come from BAYNK as he preps for his upcoming new EP.
Related Articles View More Music

Stories
More Hot Stories For You