Click Here for More Articles on FOOD & WINE
MAN CRATES are Excellent and Creative Gift Sets for that Special Someone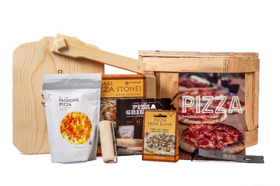 If you haven't heard about "Man Crates" yet, it's time you did. The company's Crates and other gift items are an inspired collection of top-quality themed items, perfectly selected, and wonderfully packaged in a rugged wooden crate. While a Man Crate is a distinctive gift item, we suggest that you treat yourself to one. The company's online store is wonderfully efficient, making ordering a pleasure.
When you receive your Crate and pry it open with the special tool, the presentation is more than impressive. We ordered the "Pizza Grilling Crate" that contained Four 7.5" Pizza Stones; Passione Pizza Flour; Pizzacraft's Neopolitan Herb Blend; Foldable Pizza Peel; 2-Sided Dough Roller; and a recipe book, "Pizza: From Every Day to Gourmet." The Pizza Grilling Crate retails for $99.99 and the items it contained are well worth the price. You'll find that Man Crates should be shared. Since we received ours, the entire family has enjoyed preparing and eating delicious handmade pizzas from the recipe book that includes Backyard Barbecue Chicken, Eat Your Veggies, and Tastes of Thailand.
Man Crates include sets for many tastes and styles. They have selections for Eating, Sports, Outdoor, Drinking, and Grilling. They have a nice variety of price points to suit many budgets. Order Crates like their Whiskey Appreciation Crate, Exotic Meats Crate, Grill Master Crate, NFL Barware Crate, Muscle Hustle Fitness Crate, The Sriracha Crate, and Office Golf Crate. The contents are sure to please. For instance, the Whiskey Appreciation Crate includes a Personalized Hand-Made Whiskey Decanter, 2 Personalized Heavy Bottom Rocks Glasses, 2 Ice Sphere Molds, 2 Slate Coasters, Whiskey Drinking Journal, Spiced Peppercorn Peanuts, Salted Pistachios, and Cranberry Pecans.
Just in time for the holidays! Man Crates is launching exciting roster of new products that includes the Leather Bag Making Kit, Watch Making Kit, Pinecone & Birchbark Expert Knife Making Kits, and the World Domination Jerky Kit.
Man Crates online destination is where you'll find something to please dads, sons, brothers, and significant others. There are unlimited possibilities for people who have a special interest or wish to develop one. They are great for gifting bosses or party hosts. Purchasing presents will become a pleasure when you discover this innovative gift company.
Check out the website for Man Crates at https://www.mancrates.com/.
Photo Credit: Courtesy of Man Crates
Related Articles