ChocoVoice by MICHEL CLUIZEL is an Inspired Gift of Fine Chocolates with a Jingle or Recorded Message
One of the world's finest French Chocolatiers, Michel Cluizel, has a tempting and exciting gift concept, ChocoVoice. The distinctive chocolate-lover's display comes with a jingle or a personalized recorded message. Imagine how happy your friends, family, or co-workers will be when they open their box of luscious chocolates and hear a festive song. For a slight additional cost, people can personalize a greeting that is ideal for extending special wishes or even for making an invitation or proposal. The ChocoVoice box is available in all of Michel Cluizel's truffle varieties. It is currently available for the holiday season and beyond.
We stopped by the New York City Michel Cluizel boutique on Madison Avenue at 35th Street to become acquainted with ChocoVoice and meet Jacques Dahan, the President of Michel Cluizel USA/Noble Ingredients, Ltd. As he told us about the company, we were impressed by their history, creativity, and dedication to the highest quality production of chocolate.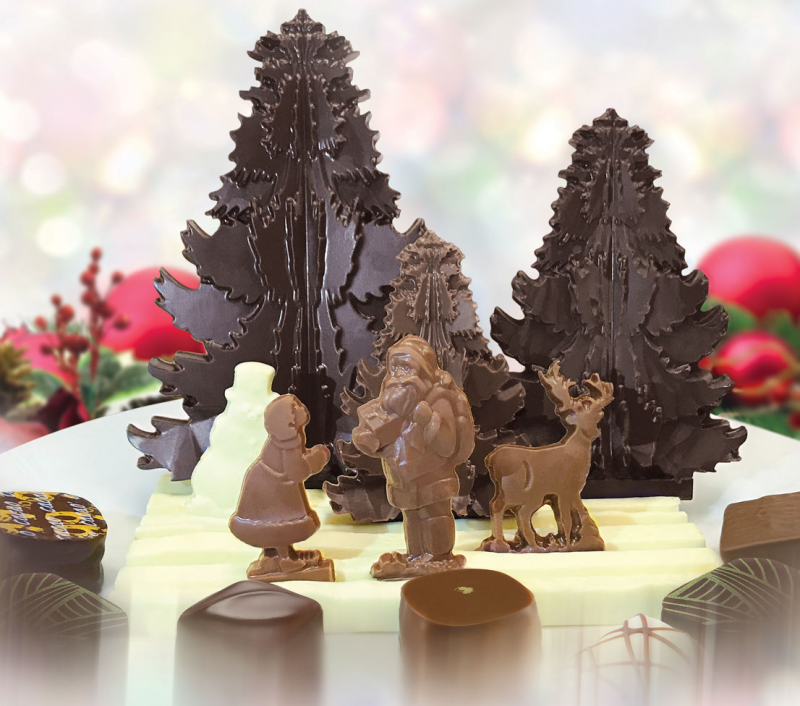 Since 1948, gourmet Chocolat Michel Cluizel has been handcrafting chocolate from bean to bar with pure cocoa butter, bourbon vanilla pod and never any soy or artificial flavorings. For three generations, the Cluizel family has embraced the sweet and spicy aromas of chocolate. This dedicated, enthusiastic and innovative family has become a chocolate dynasty that runs three very special trades in their masterly style that include cocoa bean transformer, confectioner, and experienced chocolate-maker. People worldwide have come to value and admire Michel Cluizel chocolates.
You will be delighted by the happy expression on people's faces when they open ChocoVoice. It is also an ideal gift for hosts and hostesses at holiday parties.
ChocoVoice is just one of the many items that is available from Michel Cluizel. Learn more about it on YouTube at: https://www.youtube.com/watch?v=JCBEZNjLlyQ For more information on Chocolat Michel Cluizel, their products, online store, and the locations of their boutiques, please visit: https://cluizel.us/.
Photo Credit: Courtesy of Chocolat Michel Cluizel