Click Here for More Articles on FOOD & WINE
BWW Review: HO-HO-KUS INN & TAVERN in Bergen County NJ for a Dining Experience to Treasure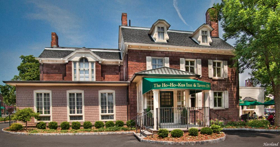 Elegant and welcoming. Those are just a few of the many reasons why we suggest you visit Ho-Ho-Kus Inn & Tavern, a North Jersey gem. An extraordinary dining experience is yours to treasure at this historic venue. It is also a spot where you can relax in their comfortable bar and lounge or the lovely patio area that is perfect for al fresco dining. We found the service to be gracious, attentive, and very helpful.
Under the new ownership, Ho-Ho-Kus Inn & Tavern experienced an extensive renovation that touched every aspect of the venue and evokes a true sense of history. From the addition of the thirty-three seat Tavern and the spacious bluestone patio to the complete renovation of the Inn's four stunning dining rooms, every detail has been wonderfully designed.
We visited for a delightful Sunday dinner. There are seating options that are ideal for an intimate gathering or a large family get-together. The location is central to many North Jersey towns, making it a great choice for pre or post theatre dining when seeing a show in the area.
The updated classic American menu features dishes with locally sourced and seasonal ingredients that will please a wide variety of tastes. Be sure to speak with your server about any dietary restrictions. There are items on the menu that are gluten free, vegan, and vegetarian.
We started our culinary adventure with a few of our favorites. The Maryland Crab Cake is full of succulent jumbo lump crabmeat accompanied by Jersey corn, red peppers, leeks, avocado, basil, and garnished with citrus remoulade. We also selected the fresh, delicious Beet Salad with arugula, mache, pistachios topped with spiced yogurt with meyer lemon dressing. There is an exciting array of entrees that includes meat, seafood, and pasta dishes. We decided on the Pan Seared Cod served with roasted cauliflower, sage crushed carrots, herb oil, pernot sauce, and a nut butter sauce. And the Bolognese Tagliatelle is as good as your Italian grandmother makes with al dente pasta, tomato, parmesan, and herb ricotta.
Complement your meal with a savory side like Grilled Asparagus, Eggplant Caponata, Whipped Potatoes, or Buttermilk Onion Rings. While the Inn features a sophisticated, upscale dining experience with small plates, inventive entrees, and steak house fare, the tavern features items like soup, pizza, sandwiches, burgers as well as the venue's main entrees. And you'll like that your meal is wonderfully presented, a feast for the eyes and the palate.
Save a little room for a housemade dessert like Cheesecake, Warm Chocolate Lava Cake, Ice Cream or Sorbet. We selected a scrumptious specialty, the warm Apple Crisp with walnut oat crumble and vanilla ice cream.
Ho-Ho-Kus Inn & Tavern has an outstanding beverage program that features an award-winning wine list and a top selection of beers. Their cocktail menu includes classics as well as inventive originals like The Grape Escape with Bombay gin, champagne, simple syrup, lime juice, grapes, and lime zest. Bourbon lovers will enjoy the Cardamom Mark Sour with Makers Mark Bourbon, cardamom bitters, pear juice, lemon juice, lime juice, and simple syrup.
Don't miss an opportunity to dine at Ho-Ho-Kus Inn & Tavern, a truly classic restaurant. Check out specials like BYOB Mondays and Kids Eat Free on Mondays. Thursdays are "Ladies Night" with drink and small plate specials. They also host wine tastings and other exciting events.
Ho-Ho-Kus Inn & Tavern is listed on the National Register of Historic Places. They are located at One East Franklin Turnpike, Ho-Ho-Kus, New Jersey 07423. Open for lunch and dinner seven days a week, Sunday Brunch is served from 11:00 am to 3:00 pm. Private party and meeting spaces are available. Reservations are recommended. Call 201.445.4115 and visit their web site at http://hohokusinn.com/. You can also contact them at info@hohokusinn.com.
Read our "Chef Spotlight" for Jon Suarez of Ho-Ho-Kus Inn & Tavern.
/bwwfood-wine/article/Chef-Spotlight-Jon-Suarez-of-HO-HO-KUS-INN-AND-TAVERN-20170530
Read our "Master Mixologist" for Caitlyn Ritz of Ho-Ho-Kus Inn & Tavern.
/bwwfood-wine/article/Master-Mixologist-Caitlyn-Ritz-of-HO-HO-KUS-INN-AND-TAVERN-20170619
Photo Credit: Courtesy of Ho-Ho-Kus Inn & Tavern
Related Articles
Marina P. Kennedy writes articles and reviews for Broadwayworld.com on productions in New York City and New Jersey. She is the Editor in Chief of (read more about this author...)