Sutlr Launches New Site, Deal Feed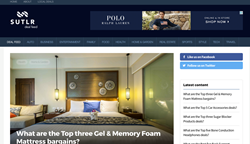 As the holiday season nears,
best deals online
website, Sutlr has launched a deals news site,
https://dealfeed.sutlr.com
. People are constantly trying to find tips and stories for products and services savings. With a lot of chaos in the deal finding industry, Sutlr deal feed brings you the top trending deals. The deals are organized by categories so can easily find what you're looking for whether it's the latest iPhone deals or the best deals for kitchen appliances. Sutlr deal feed has it all covered. Today, shoppers now have a portal to guide them on how they could easily save not only time, but money.
The team at Sutlr has been curating and reviewing through interesting products and helpful tips to share with readers. The website's categories are broken into groups such as "Technology," "Food," and "Entertainment" that make it easy to find what readers are searching for. The goal is to help consumers shop smarter not harder. There are tons of deals out there that people just aren't aware of. This is why Sutlr also engages with its social media channels, like Facebook, Pinterest, and Twitter to share valuable discounts and promotions online.
The best part is, that Sutlr deal feed is not some impersonal algorithm showcasing deals-these are real humans sorting deals for real people. Our deal sorters are the savviest in their industry from home & garden to fashion, they know it all. They know what you like and the what's trending these days. The deals listed are from reputable stores.
Located in Washington, DC, Sutlr provides some of the best deals online, with useful products and its respective markdowns, the site helps people find bargains and savings to help with their daily lives.
"I think with the Deal Feed news site, we're able to contribute not only to share helpful articles to shoppers, but also have an avenue for people to engage back." said Joseph Alexander, Sutlr's Marketing Growth Hacker.
Founded in 2016, Sutlr is a site which offers daily deals and discounts information for popular products like electronic gadgets, apparel, home and health products. For more information, visit http://www.sutlr.com. Also visit Sutlr's Facebook, Twitter, and Pinterest pages for their latest social media posts.
Related Articles View More Books

Stories
More Hot Stories For You