Co3 Australia Receives Four Finals Nominations For Australian Dance Awards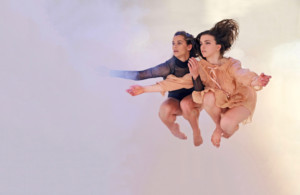 Co3 Australia represents the state with four nominations at the upcoming Australian Dance Awards in September 2018.
"As such a young company, it is a powerful statement to be nominated by our peers in four categories. It's testament to the work that we are so proudly doing here in WA alongside so many other inspiring West Australian dance artists and teachers", says Co3 founding Artistic Director, Raewyn Hill.
One of Australia's most prestigious performing arts awards, Co3, led by Raewyn Hill, has gained finals nominations in the following categories; Outstanding Performance by a Company (THE ZONE), Outstanding Achievement in Choreography (Raewyn Hill, THE ZONE), Services to Dance Education (Raewyn Hill), and Outstanding Achievement in Youth Dance (Co3's Act-Belong-Commit CoYouth Ensemble for Project NEXT 2017).
The Australian Dance Awards acknowledge people working in the professional dance sector who have made innovative and exceptional work of national significance or have made an outstanding and enduring contribution to the dance industry.
Selection in the shortlist is a significant achievement considering the volume of high-quality Australian dance work nominated. "We receive between 450 and 700 nominations each year. A thorough voting system is in place, with two, sometimes three rounds of voting" explains Julie Dyson, nominations coordinator for the 2018 Awards. "Arriving at the shortlist is a demanding job for the volunteer panel of 13 dance sector professionals representing all states and territories", said Dyson.
"Receiving these nominations has given the company another boost as we are working hard toward the premiere of WA Dance Makers Project as part of MoveMe Festival in September at Studio Underground. We will proudly open the season knowing that with our nominations, we have been acknowledged on such a prestigious level nationally." explains Hill.
Curated by Hill, WA Dance Makers Project season celebrates a powerhouse of WA female choreographic talent, headlined by Australian dance legend and WA State Living Treasure, Chrissie Parrott (who has created over 90 dance works), and a unique opportunity for the innovative trio of Unkempt Dance (Amy Wiseman, Carly Armstrong, and Jessica Lewis) to present their first main-stage work for Perth-based Co3 Australia.
Australian Dance Awards
Brisbane Powerhouse
Saturday 8 September
WA Dance Makers Project
Studio Underground
State Theatre Centre of WA
12 - 15 September, 7.30pm & 16 September, 5pm
Book now: ptt.wa.gov.au