PRETAGONISMO DAY I ATO Celebrates Black Culture Month at Teatro Liberdade
by Claudio Erlichman. For one night only the production will rut at November 30th.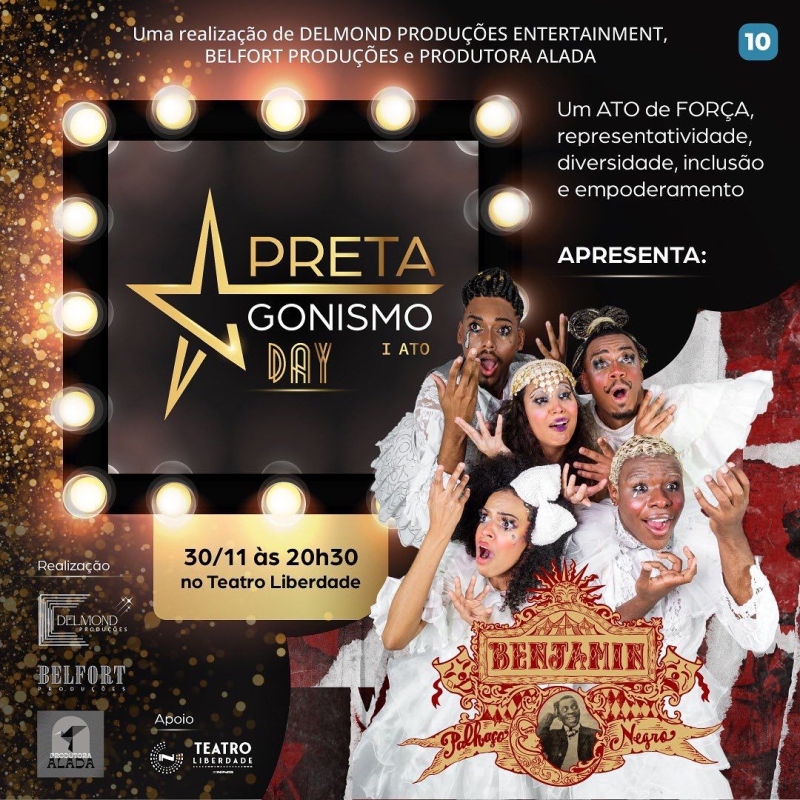 PRETAGONISMO DAY I ATO is a show conceived by Jorge Delmond and Lucas Honorato, with musical direction by Gui Leal, produced by Delmond Produções Entertainment with the support of Grupo Infinitus, the management company of Teatro Liberdade.

Confirmed personalities: Tiago Barbosa, Diva Menner, Gabriel Vicente, Luci Salutes, Léo Araujo, Marília Lopes, Willian Sancar, among others
An act of representation, diversity, inclusion and empowerment that aims to emphasize and value the strength and importance of black protagonism in culture and in all its aspects today. It will be a night of celebration in the Month of Black Awareness! A night that will bring together great personalities and black artists who report and reinforce their experiences as protagonists of their own achievements in a format never seen on stage. A mix of interviews, reports and musical numbers extolling protagonism and black culture.
A true Broadway talk show! And closing this day of celebration with a golden key, we will have the unique presentation of the musical BENJAMIN - O PALHAÇO NEGRO in São Paulo.
.
.
.
PRETAGONISMO DAY I ATO é um espetáculo idealizado por Jorge Delmond e Lucas Honorato, com direção musical de Gui Leal, em sua estreia enquanto produtora Delmond Produções Entertainment com apoio do Grupo Infinitus, empresa gestora do Teatro Liberdade. Personalidades confirmadas como: Tiago Barbosa, Diva Menner, Gabriel Vicente, Luci Salutes, Léo Araujo, Marília Lopes, Willian Sancar, entre outros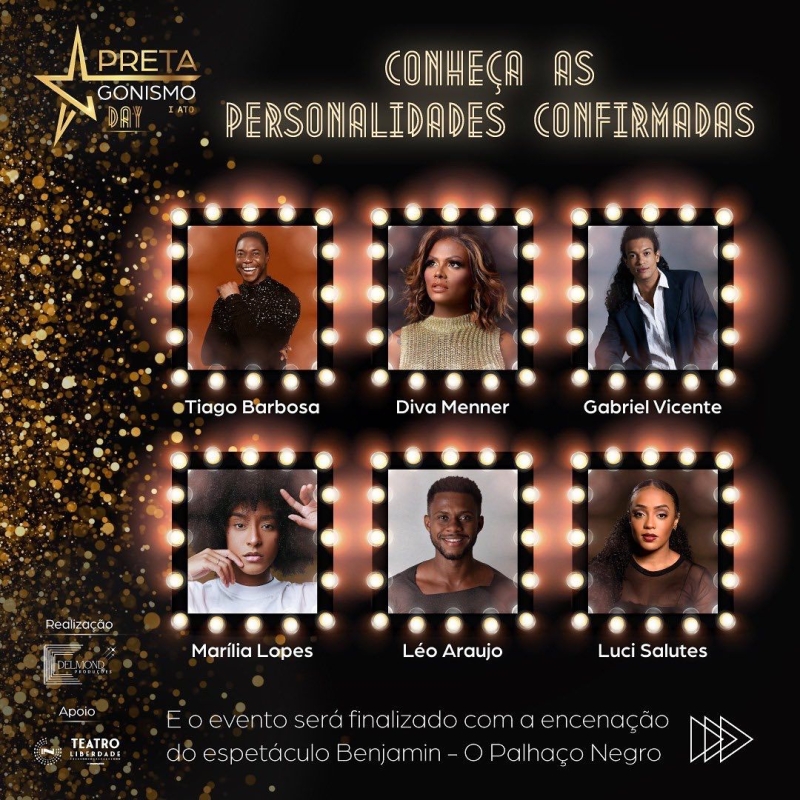 Pela primeira vez no Brasil PRETAGONISMO DAY - I ATO apresenta o musical BENJAMIN - O PALHAÇO NEGRO, de Belfort Produções e Produtora Alada com o apoio de Teatro Liberdade by Infinitus É um verdadeiro talk BROADWAY show! Um ato de representatividade, diversidade, inclusão e empoderamento que tem o intuito de enfatizar e valorizar a força e a importância do protagonismo preto na cultura e em todas as suas vertentes na atualidade. Será uma noite de celebração no Mês da Consciência Negra! Uma noite que reunirá grandes personalidades e artistas pretos que relatam e reforçam suas vivências enquanto protagonistas de suas próprias conquistas no formato nunca visto nos palcos. Uma mistura de entrevistas, relatos e números musicais enaltecendo o protagonismo e a cultura preta.
Um ato libertador. A arte salva! Mas salva a todos?
A VENDA DE INGRESSOS e alimentos arrecadados dos INGRESSOS SOLIDÁRIOS serão revertidos em prol de Causas, Projetos Sociais e ONGs ligados a questões de empoderamento racial e minorias
SERVIÇO:
PRETAGONISMO DAY - I ATO
Direção Musical: Gui Leal
Força De Cerimônia (Mestra De Cerimônia) Talk Show: Larissa Noel
Personalidades Confirmadas No Talk Show:
Tiago Barbosa
Diva Menner
Gabriel Vicente
Marília Lopes
Léo Araujo
Luci Salutes
Gui Leal
Willian Sancar
Instituição Beneficiada: Apaje (Associação De Pais Funcionários Do Tribunal De Justiça Do Estado De São Paulo)
Projeto Beneficiado:
"Menina De Opinião" - Ajudará No Fornecimento De Bolsas De Estudos Para Jovens Meninas Negras.
Atração Confirmada: Apresentação Do Espetáculo Musical "Benjamin - O Palhaço Negro" De Belfort Produções E Produtora Alada
Onde: Teatro Liberdade
R. São Joaquim, 129 - Liberdade
Quando: 30 de Novembro de 2022 às 20h30 - No mês da CONSCIÊNCIA NEGRA.
Ingressos: Ingressos já disponíveis em: https://www.sympla.com.br/eventos?s=pretagonismo&tab=eventos
ou na bilheteria do local (mediante disponibilidade)