Photo Flash: Irving Berlin's Family Drops In On A Performance of COMING BACK LIKE A SONG
It was a day to "REMEMBER" at the Berkshire Theatre Group on Sunday afternoon July 15, when the daughter and granddaughters of renowned composer Irving Berlin attended a performance of "COMING BACK LIKE A SONG!", which includes many of Berlin's most popular tunes.
Following the show, the ladies were thrilled to meet the cast, including David Garrison who plays Berlin. Check out a photo from the meeting below!
It's 1956, and three of America's great songwriters, are at a crossroads in their lives; rock 'n roll is now king, and their careers could be over. Directed by Tony Award-nominatedGregg Edelman (City of Angels, 1776, Into The Woods;BTF:Arsenic and Old Lace, Constellations), Emmy Award-winner Lee Kalcheim's (All in the Family), Coming Back Like a Song! follows the story of the three old friends and music icons on Christmas Eve in New York City, as they drink, fight and sing.
Coming Back Like A Song! July 1-21st Berkshire Theatre Group The Fitzpatrick Main Stage. By Lee Kalcheim, directed by Gregg Edelman, music direction by Daniel Mollett,featuring David Garrison, Philip Hoffman and David Rasche.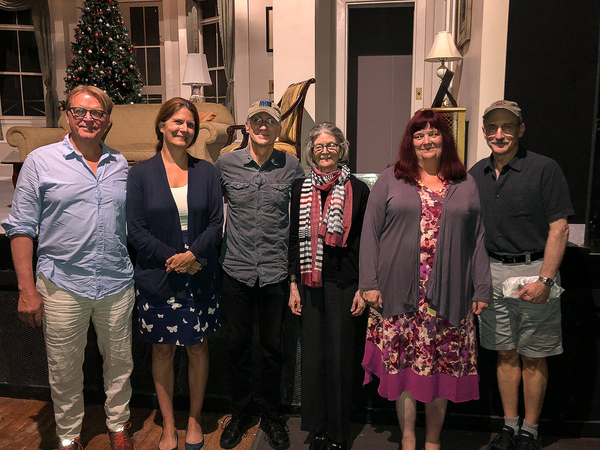 L to R: David Rasche, Katherine Swett (Irving Berlin's Granddaughter), David Garrison (playing Irving Berlin), Mary Ellin Barrett (Berlin's Daughter), Mary Ellin Barrett Lerner (Berlin's Granddaughter) and Philip Hoffman (playing Harold Arlen).
Photo Credit: Katie Brumfield.